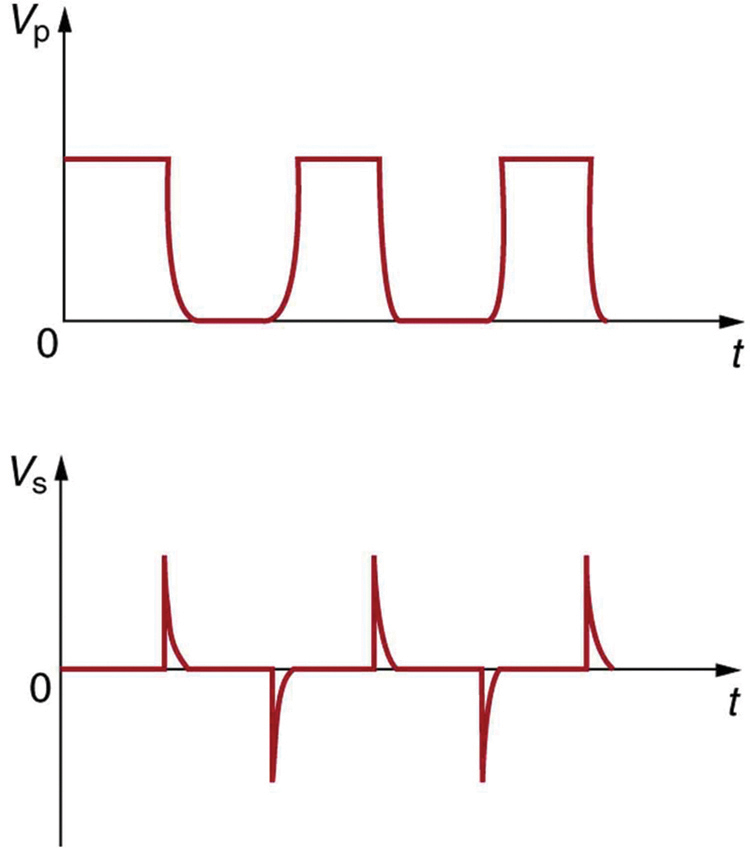 Calculating characteristics of a step-down transformer
A battery charger meant for a series connection of ten nickel-cadmium batteries (total emf of 12.5 V DC) needs to have a 15.0 V output to charge the batteries. It uses a step-down transformer with a 200-loop primary and a 120 V input. (a) How many loops should there be in the secondary coil? (b) If the charging current is 16.0 A, what is the input current?
Strategy and Solution for (a)
You would expect the secondary to have a small number of loops. Solving for and entering known values gives
Strategy and Solution for (b)
The current input can be obtained by solving for and entering known values. This gives
Discussion
The number of loops in the secondary is small, as expected for a step-down transformer. We also see that a small input current produces a larger output current in a step-down transformer. When transformers are used to operate large magnets, they sometimes have a small number of very heavy loops in the secondary. This allows the secondary to have low internal resistance and produce large currents. Note again that this solution is based on the assumption of 100% efficiency—or power out equals power in ( )—reasonable for good transformers. In this case the primary and secondary power is 240 W. (Verify this for yourself as a consistency check.) Note that the Ni-Cd batteries need to be charged from a DC power source (as would a 12 V battery). So the AC output of the secondary coil needs to be converted into DC. This is done using something called a rectifier, which uses devices called diodes that allow only a one-way flow of current.
Got questions? Get instant answers now!
Transformers have many applications in electrical safety systems, which are discussed in Electrical Safety: Systems and Devices .
Phet explorations: generator
Generate electricity with a bar magnet! Discover the physics behind the phenomena by exploring magnets and how you can use them to make a bulb light.

Section summary
Transformers use induction to transform voltages from one value to another.
For a transformer, the voltages across the primary and secondary coils are related by

where and are the voltages across primary and secondary coils having and turns.
The currents and in the primary and secondary coils are related by .
A step-up transformer increases voltage and decreases current, whereas a step-down transformer decreases voltage and increases current.
Conceptual questions
Problems&Exercises
A plug-in transformer, like that in [link] , supplies 9.00 V to a video game system. (a) How many turns are in its secondary coil, if its input voltage is 120 V and the primary coil has 400 turns? (b) What is its input current when its output is 1.30 A?
Got questions? Get instant answers now!
Questions & Answers
Receive real-time job alerts and never miss the right job again
Source:  OpenStax, College physics. OpenStax CNX. Jul 27, 2015 Download for free at http://legacy.cnx.org/content/col11406/1.9
Google Play and the Google Play logo are trademarks of Google Inc.
Notification Switch
Would you like to follow the 'College physics' conversation and receive update notifications?