Evolution of birds
The evolutionary history of birds is still somewhat unclear. Due to the fragility of bird bones, they do not fossilize as well as other vertebrates but it is commonly accepted that birds evolved from dinosaurs.
One important fossil of an animal intermediate to dinosaurs and birds is Archaeopteryx , which is from the Jurassic period ( [link] ). Archaeopteryx is important in establishing the relationship between birds and dinosaurs, because it is an intermediate fossil, meaning it has characteristics of both dinosaurs and birds. Some scientists propose classifying it as a bird, but others prefer to classify it as a dinosaur. The fossilized skeleton of Archaeopteryx looks like that of a dinosaur, and it had teeth whereas birds do not, but it also had feathers modified for flight, a trait associated only with birds among modern animals. Fossils of older feathered dinosaurs exist, but the feathers do not have the characteristics of flight feathers.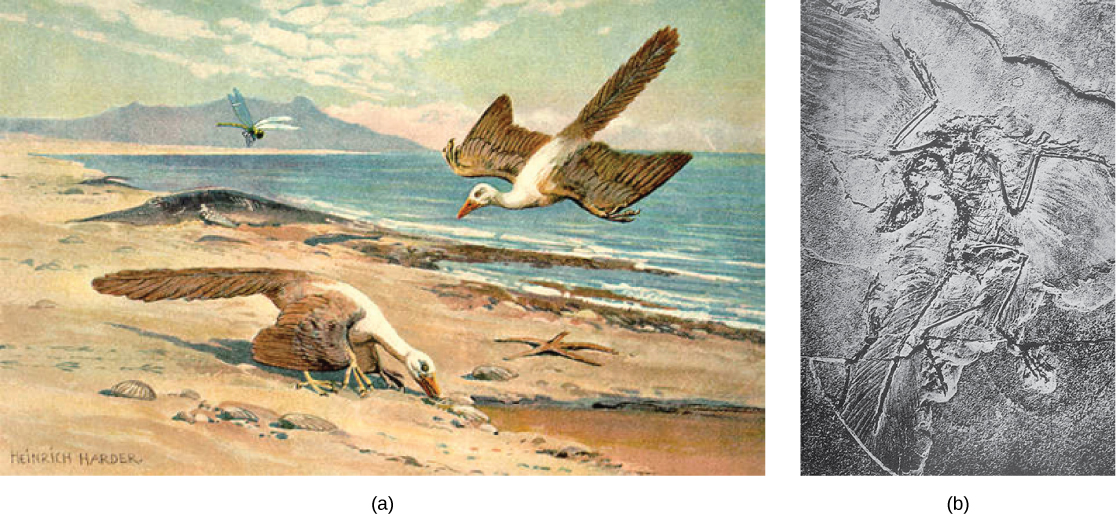 It is still unclear exactly how flight evolved in birds. Two main theories exist, the arboreal ("tree") hypothesis and the terrestrial ("land") hypothesis. The arboreal hypothesis posits that tree-dwelling precursors to modern birds jumped from branch to branch using their feathers for gliding before becoming fully capable of flapping flight. In contrast to this, the terrestrial hypothesis holds that running was the stimulus for flight, as wings could be used to improve running and then became used for flapping flight. Like the question of how flight evolved, the question of how endothermy evolved in birds still is unanswered. Feathers provide insulation, but this is only beneficial if body heat is being produced internally. Similarly, internal heat production is only viable if insulation is present to retain that heat. It has been suggested that one or the other—feathers or endothermy—evolved in response to some other selective pressure.
Section summary
The amniotes are distinguished from amphibians by the presence of a terrestrially adapted egg protected by amniotic membranes. The amniotes include reptiles, birds, and mammals. The early amniotes diverged into two main lines soon after the first amniotes arose. Reptiles are tetrapods either having four limbs or descending from such. Limbless reptiles (snakes) are classified as tetrapods, as they are descended from four-limbed organisms. One of the key adaptations that permitted reptiles to live on land was the development of scaly skin containing the protein keratin, which prevented water loss from the skin. Reptilia includes four living clades: Crocodilia (crocodiles and alligators), Sphenodontia (tuataras), Squamata (lizards and snakes), and Testudines (turtles).
Birds are endothermic, meaning they produce their own body heat and regulate their internal temperature independently of the external temperature. Feathers not only act as insulation but also allow for flight, providing lift with secondary feathers and thrust with primary feathers. Pneumatic bones are bones that are hollow rather than filled with tissue, containing air spaces that are sometimes connected to air sacs. Airflow through bird lungs travels in one direction, creating a cross-current exchange with the blood. The oldest known fossil of a bird is that of Archaeopteryx , which is from the Jurassic period.
Art connections