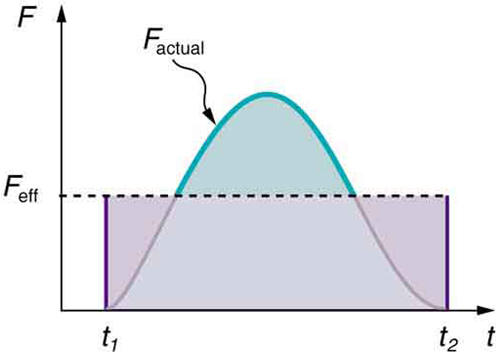 Making connections: take-home investigation—hand movement and impulse
Try catching a ball while "giving" with the ball, pulling your hands toward your body. Then, try catching a ball while keeping your hands still. Hit water in a tub with your full palm. After the water has settled, hit the water again by diving your hand with your fingers first into the water. (Your full palm represents a swimmer doing a belly flop and your diving hand represents a swimmer doing a dive.) Explain what happens in each case and why. Which orientations would you advise people to avoid and why?
Making connections: constant force and constant acceleration
The assumption of a constant force in the definition of impulse is analogous to the assumption of a constant acceleration in kinematics. In both cases, nature is adequately described without the use of calculus.
Section summary
Impulse, or change in momentum, equals the average net external force multiplied by the time this force acts:

Forces are usually not constant over a period of time.
Conceptual questions
Professional Application
Explain in terms of impulse how padding reduces forces in a collision. State this in terms of a real example, such as the advantages of a carpeted vs. tile floor for a day care center.
While jumping on a trampoline, sometimes you land on your back and other times on your feet. In which case can you reach a greater height and why?
Professional Application
Tennis racquets have "sweet spots." If the ball hits a sweet spot then the player's arm is not jarred as much as it would be otherwise. Explain why this is the case.
Problems&Exercises
A bullet is accelerated down the barrel of a gun by hot gases produced in the combustion of gun powder. What is the average force exerted on a 0.0300-kg bullet to accelerate it to a speed of 600 m/s in a time of 2.00 ms (milliseconds)?
Professional Application
A car moving at 10 m/s crashes into a tree and stops in 0.26 s. Calculate the force the seat belt exerts on a passenger in the car to bring him to a halt. The mass of the passenger is 70 kg.
A person slaps her leg with her hand, bringing her hand to rest in 2.50 milliseconds from an initial speed of 4.00 m/s. (a) What is the average force exerted on the leg, taking the effective mass of the hand and forearm to be 1.50 kg? (b) Would the force be any different if the woman clapped her hands together at the same speed and brought them to rest in the same time? Explain why or why not.
a) toward the leg
b) The force on each hand would have the same magnitude as that found in part (a) (but in opposite directions by Newton's third law) because the change in momentum and the time interval are the same.
Professional Application
A professional boxer hits his opponent with a 1000-N horizontal blow that lasts for 0.150 s. (a) Calculate the impulse imparted by this blow. (b) What is the opponent's final velocity, if his mass is 105 kg and he is motionless in midair when struck near his center of mass? (c) Calculate the recoil velocity of the opponent's 10.0-kg head if hit in this manner, assuming the head does not initially transfer significant momentum to the boxer's body. (d) Discuss the implications of your answers for parts (b) and (c).
Questions & Answers
Receive real-time job alerts and never miss the right job again
Source:  OpenStax, Abe advanced level physics. OpenStax CNX. Jul 11, 2013 Download for free at http://legacy.cnx.org/content/col11534/1.3
Google Play and the Google Play logo are trademarks of Google Inc.
Notification Switch
Would you like to follow the 'Abe advanced level physics' conversation and receive update notifications?