Do not touch the person.
Send for adult help.
Press the stop button to cut off the mains power.
Switch off the appliance at the socket and pull out the plug.
If this is not possible, try to push them away from the electricity. Use something made of wood which does not conduct the electricity to you.
If you are certain that the power is off, then you can attempt to give the person first aid if you have been trained to do it.
If you give yourself a slight electric shock you may feel weak, so relax a bit before carrying on working.
N.B.: Take good care of a person who has been injured. Keep him / her warm, let him / her lie down and call for help.
Safety measures with regard to
Scissors
A scissors must be good quality, sharp and in good working order.
Never let the tips of the scissors close when cutting a line greater than the length of the blades.
When cutting curves always turn the card and not the scissors.
Craft knives
Only to be used under very close supervision together with a metal safety ruler.
Cut onto a suitable safety surface e.g. Very thick card/ cutting board.
Stand when you cut and retract the blade when you need to put it away.
The blade should not be to far out.
You are allowed with the knife in your hand only when you are going to cut.
Drills
You should know how to change twist drills, how to hold the hand drill and how to keep it at right angles to their work.
The material to be drilled must be cramped securely.
Do not remove the chuck completely as it is very difficult to reassemble.
Select the appropriate twist drill – choosing one too small rather than one too big if in doubt.
When drilling turn the handle in a clockwise direction and continue turning the same way when removing the drill bit from the hole.
Hand drills are for holes up to 6mm in diameter; use a brace and bit for larger holes.
Never leave a hand drill lying on a work top as it can so easily fall off and damage the twist drill.
Glue guns
Must only be used under very close supervision.
It is suitable for wood, metals and certain plastics.
When it is switched on and not in use ensure that it is correctly positioned on its stand.
Switch off after use.
Be careful of glue that drips and put it away after the gun is cooled off.
General
When sawing plastics and metals, safety spectacles should be worn, because there is a risk of eye damage.
Some plastics become pliable when heated but care must be taken to control the temperature because the burning of plastics is dangerous as many give off poisonous fumes.
Polysterene should be cut with a hot wire cutter set low and used in a well ventilated room.
Soldering irons
Soldering irons must be treated with respect. They often use mains electricity and get very hot.
The rules for correct use are as follows:
Do not leave them switched on for possible future use. Always switch them off when not in use, because this will prolong the life of the iron.
Never touch the mains lead with the tip of the iron. It will melt and expose bare wires which could lead to an electric shock.
Always use a proper soldering iron stand. Failure to do so will mean that there is a risk of the hot iron setting fire to things.
Avoid breathing in the resin fumes from the flux.
Protect the work surface with hardboard.
First aid for other injuries
Small cuts
Wash the cut in cold water to clean it and stop the bleeding. Dry well with a clean cloth and cover it with sticky plaster to keep it clean.
Serious cuts
Press the wound hard with a clean handkerchief, tissue or your hands to reduce the bleeding.
Put the wound higher than the rest of your body to lessen the flow of blood.
Find or call someone to help you.
Splinters
Sterilize tweezers or a needle in the blue part of a flame.
Make sure you get all the splinter out.
Then clean the wound with antiseptic liquid and cover it with sticky plaster.
Bruises
Wash with cold water to reduce bruising and swelling.
A bruised fingernail may go black. If very painful, see a doctor.
Blood blisters should be left to dry up, not popped.
During investigations, plans a strategy for collecting data and information that includes:
using search techniques;
extracts relevant data for specific purposes;
produces meaningful summaries.
Activity 1:
To draw up a list of safety measures
[lo 1.11]
Write down five rules that you must obey with regard to wearing the correct clothing in the Technology class.
Activity 2:
To emphasise safe working practices
[lo 1.11]
Explain the rule that applies to each of the following sketches: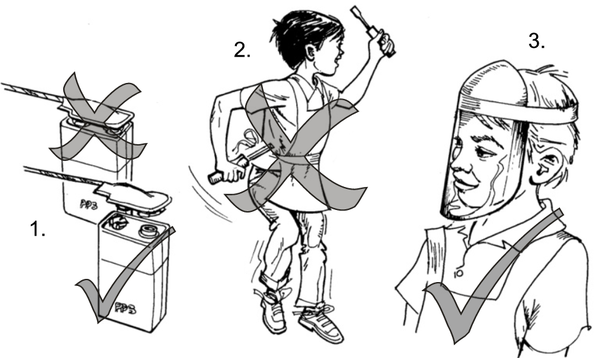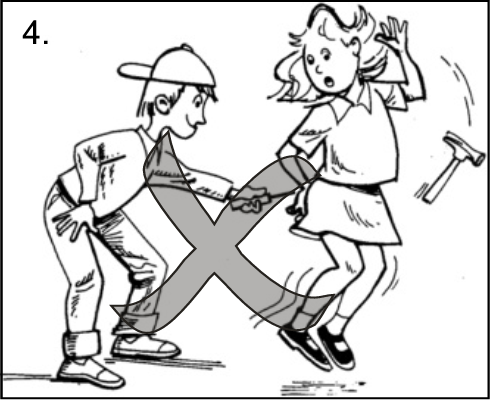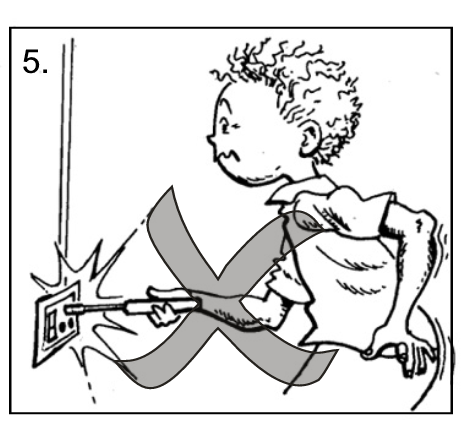 Activity 3:
To write a short and clear statement about the safe handling of tools
[lo 1.11]
Produce a short rule with a fitting lettering design for any tool that you use in the Technology class, for example soldering irons, utility knives, glue guns, drills, saws, ex. The emphasis in the lettering type, should be that it should be easily readable, a warning and informational. The rule/s must focus on a safety aspect.
Bright colours, a bold lettering style and asymmetrical lettering would be regarded as suitable. The best examples will be laminated and put up in the class. You must use a computer or stencils for your final product.
Assessment
Learning outcomes(LOs)
LO 1
Technological processes and skillsThe learner will be able to apply technological processes and skills ethically and responsibly using appropriate information and communication technology.
Assessment standards(ASs)
We know this when the learner:
Investigates :1.3 investigates the background context, the nature of the need, the environmental situation, and the people concerned when given a problem, need or opportunity set in a local context;
Designs :1.7 generates at least two alternative solutions and annotates the ideas;
1.8 chooses possible solutions, gives sensible reasons for choice, and develops a chosen idea using graphics or modelling techniques;
Makes :1.10 chooses and uses appropriate tools and materials to make products by measuring, marking, cutting or separating, shaping or forming, joining or combining, and finishing different materials with some accuracy;
1.11 use safe working practices and shows awareness of efficient ways of using materials and tools;