Scene #1: a problem to be solved
A teacher gave these instructions: "Can you connect all of the dots below using only four straight lines?" She drew the following display on the chalkboard: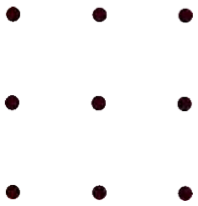 The problem itself and the procedure for solving it seemed very clear: simply experiment with different arrangements of four lines. But two volunteers tried doing it at the board, but were unsuccessful. Several others worked at it at their seats, but also without success.
Scene #2: coaxing students to re-frame the problem
When no one seemed to be getting it, the teacher asked, "Think about how you've set up the problem in your mind—about what you believe the problem is about. For instance, have you made any assumptions about how long the lines ought to be? Don't stay stuck on one approach if it's not working!"
Scene #3: alicia abandons a fixed response
After the teacher said this, Alicia indeed continued to think about how she saw the problem. "The lines need to be no longer than the distance across the square," she said to herself. So she tried several more solutions, but none of them worked either.
The teacher walked by Alicia's desk and saw what Alicia was doing. She repeated her earlier comment: "Have you assumed anything about how long the lines ought to be?"
Alicia stared at the teacher blankly, but then smiled and said, "Hmm! You didn't actually say that the lines could be no longer than the matrix! Why not make them longer?" So she experimented again using oversized lines and soon discovered a solution: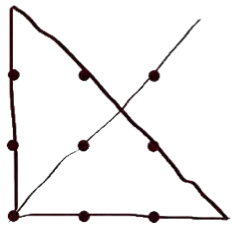 Scene #4: willem's and rachel's alternative strategies
Meanwhile, Willem worked on the problem. As it happened, Willem loved puzzles of all kinds, and had ample experience with them. He had not, however, seen this particular problem. "It must be a trick," he said to himself, because he knew from experience that problems posed in this way often were not what they first appeared to be. He mused to himself: "Think outside the box, they always tell you…" And that was just the hint he needed: he drew lines outside the box by making them longer than the matrix and soon came up with this solution: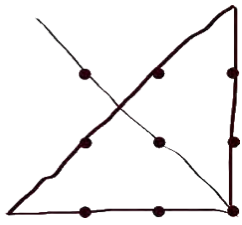 When Rachel went to work, she took one look at the problem and knew the answer immediately: she had seen this problem before, though she could not remember where. She had also seen other drawing-related puzzles, and knew that their solution always depended on making the lines longer, shorter, or differently angled than first expected. After staring at the dots briefly, she drew a solution faster than Alicia or even Willem. Her solution looked exactly like Willem's.
This story illustrates two common features of problem solving: the effect of degree of structure or constraint on problem solving, and the effect of mental obstacles to solving problems. The next sections discuss each of these features, and then looks at common techniques for solving problems.