For each there is a unique such that if and only if . Moreover,
if is irrational, then ;
if or where is a positive integer, then .
The lines and can be seen in [link] as the blue and red lines, respectively.
A partial to this result was given by Cabrelli, Hare, and Molter in 2002, regarding the possibilities that or [link] .
Theorem 3.5 (Cabrelli, Hare, and Molter 2002) Using the notation from above, we have the following results:
if and only if or for some positive integer ;
Let where and or let with . Then, .
Theorem 3.4 proved that (i) is sufficient, and this theorem proves that it is also necessary. As for (ii) , we now know that there are some rational , but not necessarily all, for which must lie strictly below . It is conjectured, but not known, that this is true for all rational .
A summary of the known results presented in this section is given below in [link] .
As mentioned in "Sums of Mid-α Cantor Sets" , we now know that because and that is a Cantor set because the point in the -plane lies in Region I.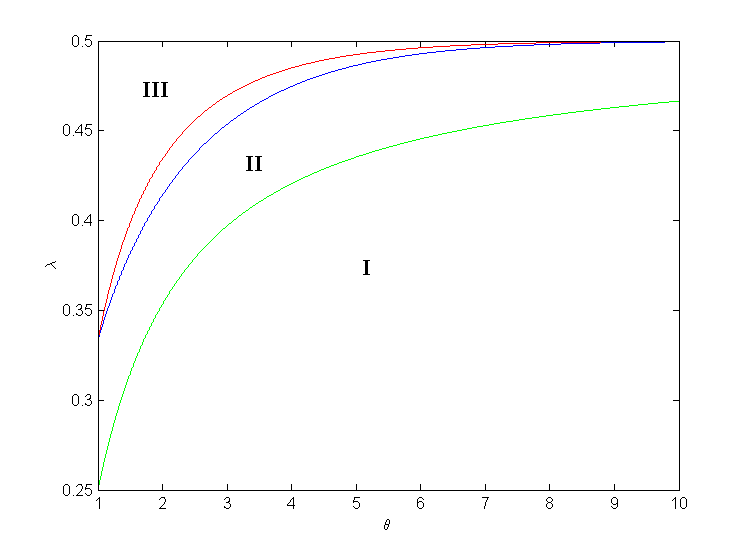 Results from the study
In our study, we decided to focus on rational . We found a nice way to write the sum set when , where , that is similar to the notation used for homogeneous Cantor sets. Sets of this form may be homogeneous Cantor sets, but in many cases they are not. We will present this process first for and then for general rational .
The idea behind this process is to write the two mid- Cantor sets as homogeneous Cantor sets with the same scaling factor. For , remember that we may write as a homogeneous Cantor set with scaling factor , as in
The second stage of the construction of , as described in "Mid-α Cantor Sets" , is the union of 4 intervals, each of length , starting at the points . With this in mind, we can rewrite as a homogeneous Cantor set with scaling factor and 4 offsets. That is,
One might notice here that . And since , we have also that
Now, we can take the sum
Or equivalently,
where is considered as the normal set-wise sum. In this case, we have
This sum is contained in the interval . However, due to our notation, it is much simpler and more convenient to consider a scaled-down copy of this set so that it is contained in the interval . We do this by halving the offsets. This does not change any properties of the set. Also, each offset contains a factor of . This is not an accident, and we will use it here to condense the notation, writing