By the end of this section, you will be able to:
Describe hypertrophy and atrophy
Explain how resistance exercise builds muscle
Explain how performance-enhancing substances affect muscle
Physical training alters the appearance of skeletal muscles and can produce changes in muscle performance. Conversely, a lack of use can result in decreased performance and muscle appearance. Although muscle cells can change in size, new cells are not formed when muscles grow. Instead, structural proteins are added to muscle fibers in a process called hypertrophy , so cell diameter increases. The reverse, when structural proteins are lost and muscle mass decreases, is called atrophy . Age-related muscle atrophy is called sarcopenia . Cellular components of muscles can also undergo changes in response to changes in muscle use.
Endurance exercise
Slow fibers are predominantly used in endurance exercises that require little force but involve numerous repetitions. The aerobic metabolism used by slow-twitch fibers allows them to maintain contractions over long periods. Endurance training modifies these slow fibers to make them even more efficient by producing more mitochondria to enable more aerobic metabolism and more ATP production. Endurance exercise can also increase the amount of myoglobin in a cell, as increased aerobic respiration increases the need for oxygen. Myoglobin is found in the sarcoplasm and acts as an oxygen storage supply for the mitochondria.
The training can trigger the formation of more extensive capillary networks around the fiber, a process called angiogenesis , to supply oxygen and remove metabolic waste. To allow these capillary networks to supply the deep portions of the muscle, muscle mass does not greatly increase in order to maintain a smaller area for the diffusion of nutrients and gases. All of these cellular changes result in the ability to sustain low levels of muscle contractions for greater periods without fatiguing.
The proportion of SO muscle fibers in muscle determines the suitability of that muscle for endurance, and may benefit those participating in endurance activities. Postural muscles have a large number of SO fibers and relatively few FO and FG fibers, to keep the back straight ( [link] ). Endurance athletes, like marathon-runners also would benefit from a larger proportion of SO fibers, but it is unclear if the most-successful marathoners are those with naturally high numbers of SO fibers, or whether the most successful marathon runners develop high numbers of SO fibers with repetitive training. Endurance training can result in overuse injuries such as stress fractures and joint and tendon inflammation.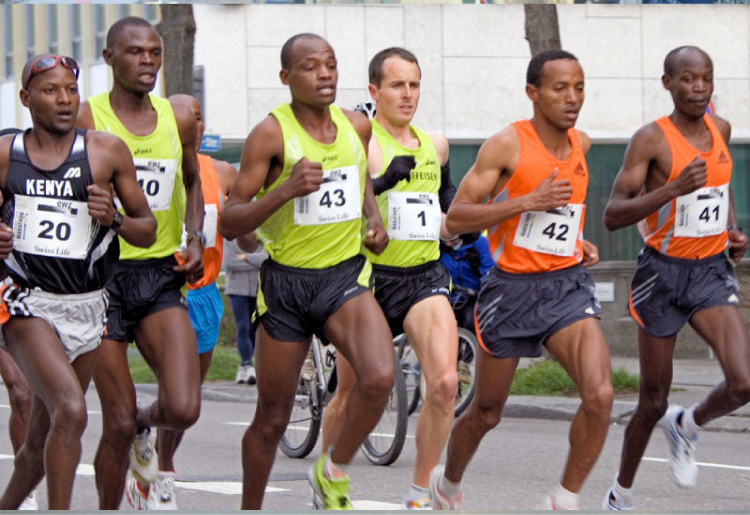 Resistance exercise
Resistance exercises, as opposed to endurance exercise, require large amounts of FG fibers to produce short, powerful movements that are not repeated over long periods. The high rates of ATP hydrolysis and cross-bridge formation in FG fibers result in powerful muscle contractions. Muscles used for power have a higher ratio of FG to SO/FO fibers, and trained athletes possess even higher levels of FG fibers in their muscles. Resistance exercise affects muscles by increasing the formation of myofibrils, thereby increasing the thickness of muscle fibers. This added structure causes hypertrophy, or the enlargement of muscles, exemplified by the large skeletal muscles seen in body builders and other athletes ( [link] ). Because this muscular enlargement is achieved by the addition of structural proteins, athletes trying to build muscle mass often ingest large amounts of protein.