Caecilians comprise an estimated 185 species. They lack external limbs and resemble giant earthworms. They inhabit soil and are found primarily in the tropics of South America, Africa, and southern Asia where they are adapted for a soil-burrowing lifestyle and are nearly blind. Unlike most of the other amphibians that breed in or near water, reproduction in a drier soil habitat means that caecilians must utilize internal fertilization, and most species give birth to live young ( [link] ).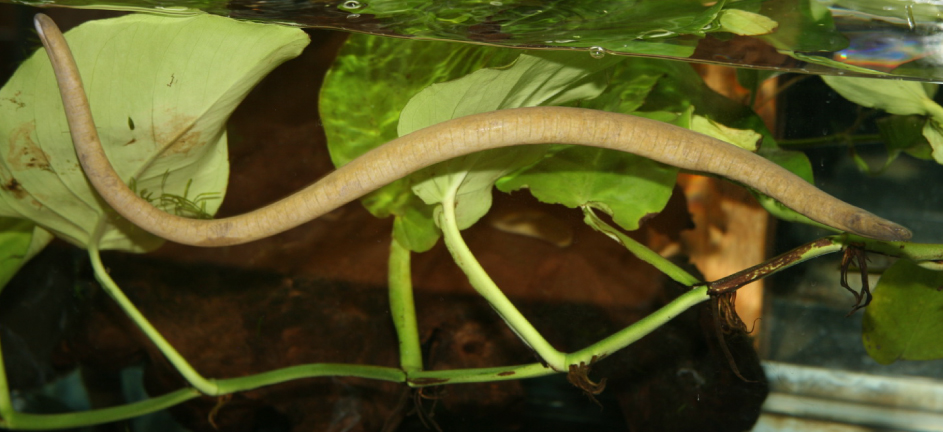 Reptiles and birds
The amniotes —reptiles, birds, and mammals—are distinguished from amphibians by their terrestrially adapted (shelled) egg and an embryo protected by amniotic membranes. The evolution of amniotic membranes meant that the embryos of amniotes could develop within an aquatic environment inside the egg. This led to less dependence on a water environment for development and allowed the amniotes to invade drier areas. This was a significant evolutionary change that distinguished them from amphibians, which were restricted to moist environments due to their shell-less eggs. Although the shells of various amniotic species vary significantly, they all allow retention of water. The membranes of the amniotic egg also allowed gas exchange and sequestering of wastes within the enclosure of an eggshell. The shells of bird eggs are composed of calcium carbonate and are hard and brittle, but possess pores for gas and water exchange. The shells of reptile eggs are more leathery and pliable. Most mammals do not lay eggs; however, even with internal gestation, amniotic membranes are still present.
In the past, the most common division of amniotes has been into classes Mammalia, Reptilia, and Aves. Birds are descended, however, from dinosaurs, so this classical scheme results in groups that are not true clades. We will discuss birds as a group distinct from reptiles with the understanding that this does not reflect evolutionary history.
Reptiles
Reptiles are tetrapods. Limbless reptiles—snakes—may have vestigial limbs and, like caecilians, are classified as tetrapods because they are descended from four-limbed ancestors. Reptiles lay shelled eggs on land. Even aquatic reptiles, like sea turtles, return to the land to lay eggs. They usually reproduce sexually with internal fertilization. Some species display ovoviviparity, with the eggs remaining in the mother's body until they are ready to hatch. Other species are viviparous, with the offspring born alive.
One of the key adaptations that permitted reptiles to live on land was the development of their scaly skin, containing the protein keratin and waxy lipids, which prevented water loss from the skin. This occlusive skin means that reptiles cannot use their skin for respiration, like amphibians, and thus all must breathe with lungs. In addition, reptiles conserve valuable body water by excreting nitrogen in the form of uric acid paste. These characteristics, along with the shelled, amniotic egg, were the major reasons why reptiles became so successful in colonizing a variety of terrestrial habitats far from water.