The GLOBE instruments will allow students to measure both the surface temperature (the temperature of Earth's surface or other objects) and the air temperature (the temperature of the air). Air and surface temperature measurements are not always equal at a given location. That's because surfaces tend to change temperature more quickly than the air, warming more quickly during the day and cooling more quickly at night. Some surfaces warm more quickly than others due to their color and composition, and this can affect the temperature of the air above them. You may want to have students experiment with measuring the temperatures of different surfaces outside.
An urban heat island occurs when a metropolitan area is significantly warmer than surrounding rural areas. This happens because surfaces like asphalt and concrete warm up quickly and conduct their heat to the air; by contrast, much of the energy absorbed by vegetation dissipates by evapotranspiration (the sum of evaporation and plant transpiration from the Earth's surface to the atmosphere). Waste heat from our use of energy adds to the heat island.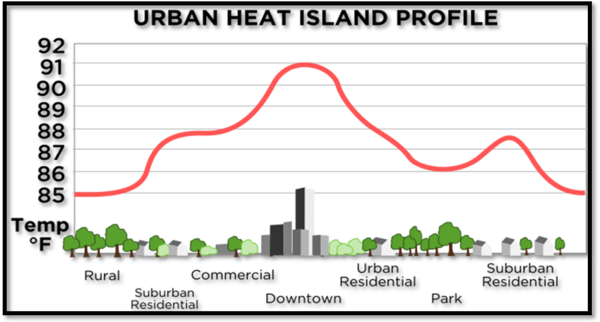 Differences in temperature due to the Sun's uneven heating of the Earth are the driving force behind wind , or moving air. A classic example of how temperature differences cause the wind to blow is the sea breeze. On summer days near the coast, the land warms faster than the sea. This creates a wind circulation pattern in which near the ground wind blows from sea to land. At night, a "land breeze" may blow in the opposite direction as the land cools more quickly than the sea.
A sea breeze circulation on a summer day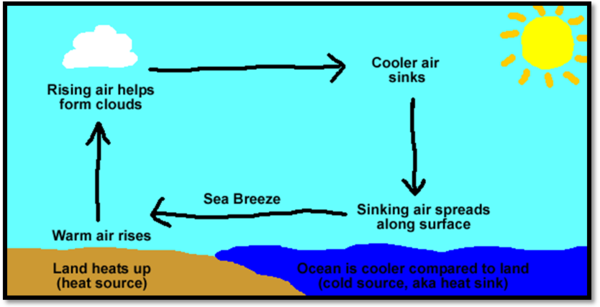 Students will use the wind vane to discover from what direction the wind is blowing. Though students will not directly measure wind speed, they can get a sense of it by feeling the wind blow and checking wind speed in weather reports.
Regarding globe measurements
Teachers should have already been trained in the following GLOBE protocols: Surface Ozone, Cloud, Humidity, Surface and Air Temperature, Wind Direction. An Instruction Manual has been included so that you may review how to set up and use each measuring tool. It also may be helpful to review the protocols (available at www.globe.gov) as you prepare for this lesson. Each day, beginning with today (Day Two) students will take all six measurements at the beginning and end of their class periods. Remember that there must be one hour between the measurements. For a teacher whose class periods are less than an hour, students from different classes can take the measurements.
Data sheets for students to record all of their results in an organized way are included in this handbook. It is recommended that the teacher split their classes into six groups or teams, and that each group takes turns using a different instrument. This way, all measurements can be taken at the same time. Small groups allow students to be more hands-on with the measuring tool.