Percent of themed issues
Many journals regularly include specific themed sections or have specific themed issues periodically. Three journals in particular, Educational Planning, The Journal of Educational Finance, and Theory into Practice , are fully themed. Knowing if and when a journal is using a specific theme can increase an author's chances of being published, by allowing the author to ensure that the manuscript is a good fit for the journal's theme.
Acceptance rate
An important consideration when choosing a journal or publication venue is the manuscript acceptance rate. Reported is the percentage of articles typically accepted for publication.
Length of time to decision
Another issue authors may want to consider is how long one can expect to wait before hearing whether the manuscript was accepted. Reported in the chart is the approximate length of time from submission to an acceptance decision.
Length of time from acceptance to publication
After a manuscript is accepted, another consideration is the length of time from acceptance to actual publication. Some journals accept manuscripts several months before they may actually be published. While this may not seem problematic, universities have different policies on whether "accepted" or "in press" manuscripts can be counted for tenure and promotion decisions.
Publication length
As authors prepare their manuscripts, they must consider manuscript length requirements. Editors will often reject manuscripts which do not fit within their expected or required page length range. However, with the advent of online publishing, some journals no longer have such limits. Following publisher guidelines about manuscript length can be a critical piece to having a manuscript accepted or rejected. Table 1 includes recommended manuscript lengths for each publication.
Style
Editors usually require that submitted manuscripts follow a particular publication style. This section indicates which style (APA, Chicago, Harvard, or MLA) is acceptable for each publication. Manuscripts that do not conform to the required publication style may be rejected automatically, regardless of the quality of the content.
Submission format
Editors also have required submission formats. Although the trend is toward electronic submission (E), some editors still accept hardcopies (H) and others accept both (B).
Preferred communication
At times, authors may need to contact editors for additional information or with questions. As a result, editors were asked to indicate their preferred means of communication with authors. In almost all cases, this is email (E). However, some editors indicated other required communication formats such as the NCPEA Fast-Track Web-Based System (FT) or written letter (L).
Table 1
Characteristics of Educational Leadership Publications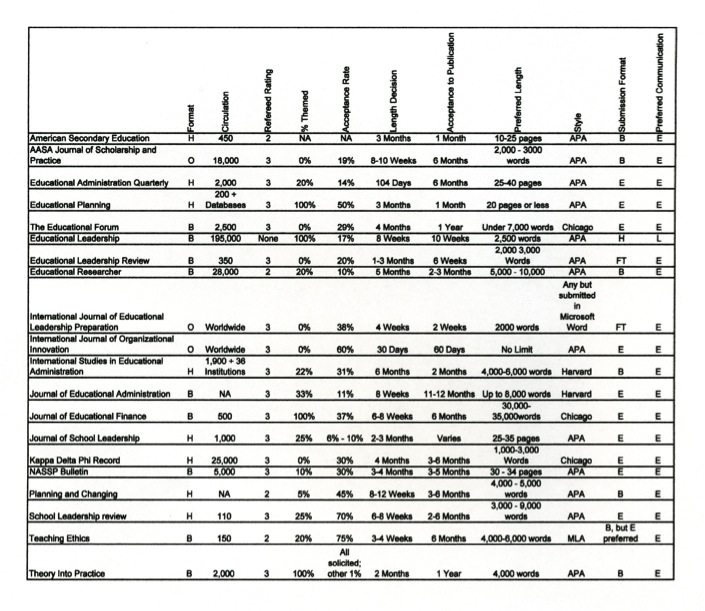 Closing thoughts
Publishing in educational journals can be one of the most daunting tasks for new professors, particularly professors who came to higher education from the world of public education administration, where publishing educational research and scholarly work was not a priority. A difficult but critically important part of publishing is choosing the right journal for submission. Even the most interesting, well written manuscript may be rejected if it is not a good fit for the journal to which it is received. In choosing a journal, authors must consider the readership of the journal, the submission length, the style guidelines, and the theme. If any of these are not right for a particular manuscript, then the chances of being rejected increase. Thus, developing a familiarity with what types of journals serve the field of educational leadership and administration can be a valuable tool to mastering the "publish or perish" arena. In addition to being familiar with these journals, knowing what each journal expects from potential manuscripts greatly facilitates the process and may help speed up the time from submission to publication. In a world of tenure and promotion, every publication is important, and sharing research among peers is how the discipline of educational leadership continues to grow and improve. By understanding the characteristics of key educational leadership publications, new professors and emerging scholars can improve their productivity and contribute to this important area of research.
References
Cabell Publishing. (2007). Cabell's directory of publishing in educational psychology and administration, 8 th ed. Beaumont, TX: Cabell's Publishing.
Henson, T. (2003). Writing for professional publication: Some myths and some truths. Phi Delta Kappan , 85 , 788-790.