The esophagus
The esophagus is a muscular tube that connects the pharynx to the stomach. It is approximately 25.4 cm (10 in) in length, located posterior to the trachea, and remains in a collapsed form when not engaged in swallowing. As you can see in [link] , the esophagus runs a mainly straight route through the mediastinum of the thorax. To enter the abdomen, the esophagus penetrates the diaphragm through an opening called the esophageal hiatus.
Passage of food through the esophagus
The upper esophageal sphincter , controls the movement of food from the pharynx into the esophagus. Rhythmic waves of peristalsis, which begin in the upper esophagus, propel the bolus of food toward the stomach. Meanwhile, secretions from the esophagus lubricate the esophagus and food. Food passes from the esophagus into the stomach at the lower esophageal sphincter (also called the gastroesophageal or cardiac sphincter). Recall that sphincters are muscles that surround tubes and serve as valves, closing the tube when the sphincters contract and opening it when they relax. The lower esophageal sphincter relaxes to let food pass into the stomach, and then contracts to prevent stomach acids from backing up into the esophagus. When the lower esophageal sphincter does not completely close, the stomach's contents can reflux (that is, back up into the esophagus), causing heartburn or gastroesophageal reflux disease (GERD ).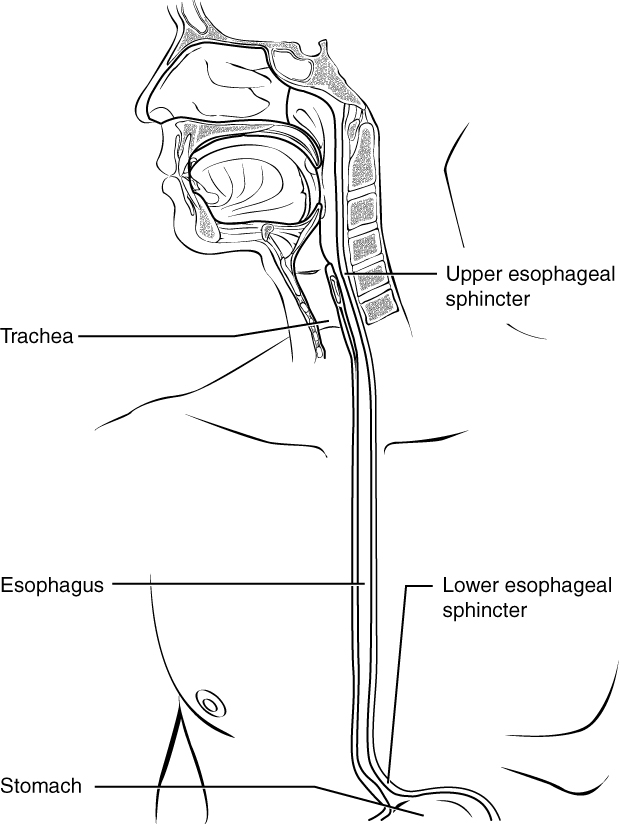 Deglutition
Deglutition is another word for swallowing—the movement of food from the mouth to the stomach. The entire process takes about 4 to 8 seconds for solid or semisolid food, and about 1 second for very soft food and liquids. Although this sounds quick and effortless, deglutition is, in fact, a complex process that involves both the skeletal muscle of the tongue and the muscles of the pharynx and esophagus. It is aided by the presence of mucus and saliva. There are three stages in deglutition: the voluntary phase, the pharyngeal phase, and the esophageal phase ( [link] ).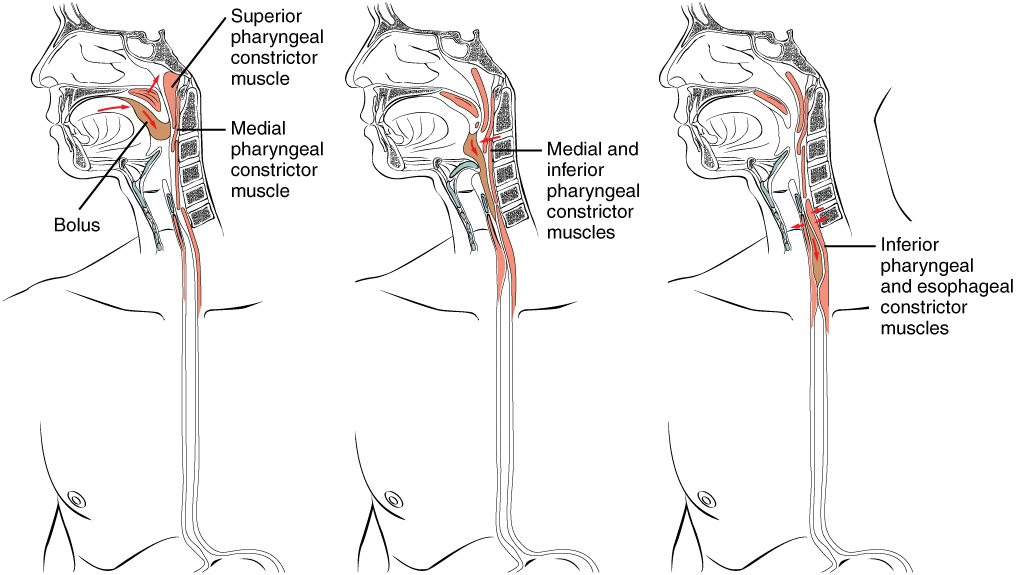 Chapter review
In the mouth, the tongue and the teeth begin mechanical digestion, and saliva begins chemical digestion. The pharynx, which plays roles in breathing and vocalization as well as digestion, runs from the nasal and oral cavities superiorly to the esophagus inferiorly (for digestion) and to the larynx anteriorly (for respiration). During deglutition (swallowing), the soft palate rises to close off the nasopharynx, the larynx elevates, and the epiglottis folds over the glottis. The esophagus includes an upper esophageal sphincter made of skeletal muscle, which regulates the movement of food from the pharynx to the esophagus. It also has a lower esophageal sphincter, made of smooth muscle, which controls the passage of food from the esophagus to the stomach. Cells in the esophageal wall secrete mucus that eases the passage of the food bolus.
References
van Loon FPL, Holmes SJ, Sirotkin B, Williams W, Cochi S, Hadler S, Lindegren ML. Morbidity and Mortality Weekly Report: Mumps surveillance -- United States, 1988–1993 [Internet]. Atlanta, GA: Center for Disease Control; [cited 2013 Apr 3]. Available from: (External Link) .