Carbohydrate digestion
The average American diet is about 50 percent carbohydrates, which may be classified according to the number of monomers they contain of simple sugars (monosaccharides and disaccharides) and/or complex sugars (polysaccharides). Glucose, galactose, and fructose are the three monosaccharides that are commonly consumed and are readily absorbed. Your digestive system is also able to break down the disaccharide sucrose (regular table sugar: glucose + fructose), lactose (milk sugar: glucose + galactose), and maltose (grain sugar: glucose + glucose), and the polysaccharides glycogen and starch (chains of monosaccharides). Your bodies do not produce enzymes that can break down most fibrous polysaccharides, such as cellulose. While indigestible polysaccharides do not provide any nutritional value, they do provide dietary fiber, which helps propel food through the alimentary canal.
The chemical digestion of starches begins in the mouth and has been reviewed above.
In the small intestine, pancreatic amylase does the 'heavy lifting' for starch and carbohydrate digestion ( [link] ). After amylases break down starch into smaller fragments, the brush border enzyme α-dextrinase starts working on α-dextrin , breaking off one glucose unit at a time. Three brush border enzymes hydrolyze sucrose, lactose, and maltose into monosaccharides. Sucrase splits sucrose into one molecule of fructose and one molecule of glucose; maltase breaks down maltose and maltotriose into two and three glucose molecules, respectively; and lactase breaks down lactose into one molecule of glucose and one molecule of galactose. Insufficient lactase can lead to lactose intolerance.
Protein digestion
Proteins are polymers composed of amino acids linked by peptide bonds to form long chains. Digestion reduces them to their constituent amino acids. You usually consume about 15 to 20 percent of your total calorie intake as protein.
The digestion of protein starts in the stomach, where HCl and pepsin break proteins into smaller polypeptides, which then travel to the small intestine ( [link] ). Chemical digestion in the small intestine is continued by pancreatic enzymes, including chymotrypsin and trypsin, each of which act on specific bonds in amino acid sequences. At the same time, the cells of the brush border secrete enzymes such as aminopeptidase and dipeptidase , which further break down peptide chains. This results in molecules small enough to enter the bloodstream ( [link] ).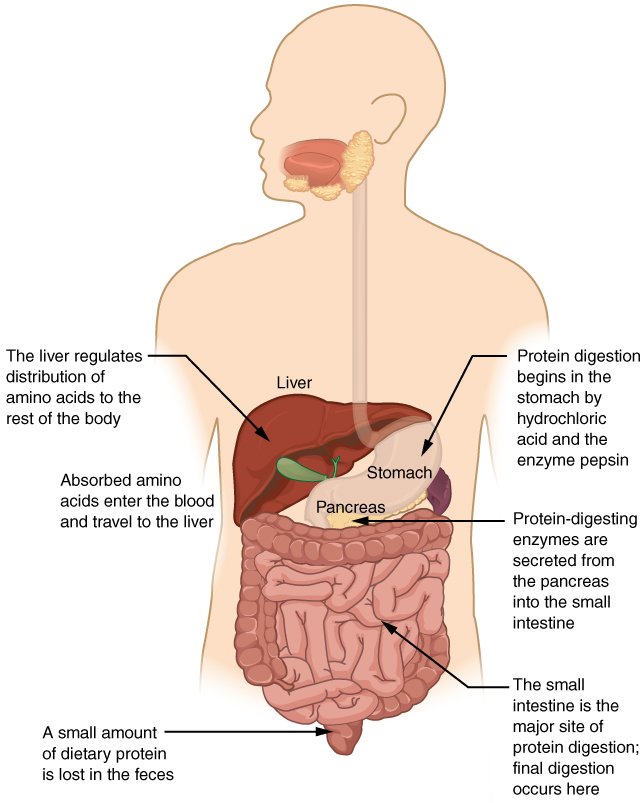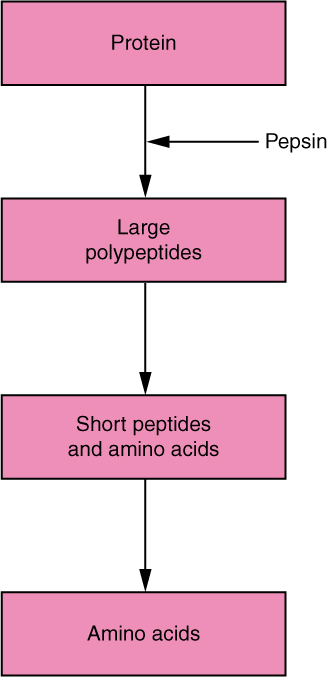 Lipid digestion
A healthy diet limits lipid intake to 35 percent of total calorie intake. The most common dietary lipids are triglycerides, which are made up of a glycerol molecule bound to three fatty acid chains. Small amounts of dietary cholesterol and phospholipids are also consumed.