Technology
Grade 5
Processing materials
Module 12
Discovering textile fabrics
Background information
People have worn clothes as protection from the elements (heat and cold) since the earliest times of the Stone Age (12 000 B.C.). Stone Age people used animal pelts and parts of plants to make clothes, which means that they used things that occurred naturally in their environment. Animal pelts were joined together with sinews and needles made from bone to make simple garments. Seeds, feathers and husks were used as simple decorations.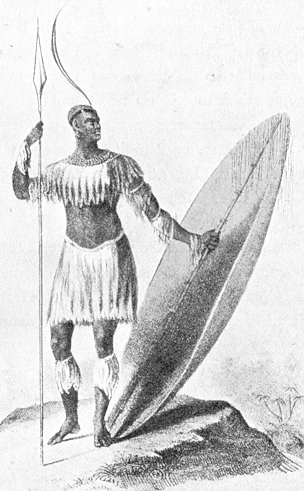 Assignment 1
Here you have a sketch of Shaka, the Zulu king who lived in 1825. Consult a reliable source to get the information you need and describe the traditional garments of a Zulu warrior and the material that was used to make each part of his outfit.
[LO 3.1]
Assignment 2
Would you wear a coat made from the pelt of a jaguar nowadays? Provide reasons for your answer.
[LO 3.2]
Background information
The people of Ancient Egyptian started to weave textiles during the Bronze Age (3 000 B.C.). Textile fabrics can be woven from fibres obtained from animals (silk and wool) or plants (cotton and linen) and are used to make coverings and decorations like clothes, mats, blankets, curtains, etc. The development of technology made it possible to use many other fibres and materials to make textiles, so that we nowadays make textiles from textile fibres found in nature (from plants and animals) or from materials made by people (from wood, oil and coal). We therefore have natural and manmade (synthetic) textile fabrics. The first textile fabrics made of plastics (rayon, polyester, nylon, viscose) were produced in England, round about 1850. The manmade synthetic yarns are manufactured in factories, from oil or coal. Chemicals are extracted from these minerals and are made into plastic fibres.

Assignment 3
Sort each of the following objects into natural or manmade: a plastic bag, a fur coat, a wooden bowl, a glass bottle, a polystyrene container, a wooden table.
| | |
| --- | --- |
| NATURAL FABRICS | MANMADE FABRICS |
| | |
| | |
| | |
| | |
[l [lo 3.1]
Background information
The advantages of plastics are:
It is cheaper to manufacture.
It can be processes into many different forms.
It can be dyed easily.
It is very durable.
It lasts very long.
Disadvantages of plastics:
It cannot be recycled readily.
Natural fabrics
Natural fabrics can be of animal, plant or mineral origin. Examples of animals that provide fibres for fabrics are sheep, goats, rabbits, camels, silkworms, llamas and horses. Plant fibres are obtained from the bark, leaves, seeds and fruit of particular plants, like cotton, sisal and flax, and coconut fibre from coconuts.
Wool is obtained from sheep by shearing the sheep annually. A sheep provides about four kilograms of wool per year. There are different breeds of sheep and they provide different types of wool. The wool from merino sheep is regarded as the finest and as the best as far as quality is concerned. Merinos are bred mainly in Australia and South Africa because they do very well where the climate is warm and dry. Australia is one of the top wool producing countries in the world.