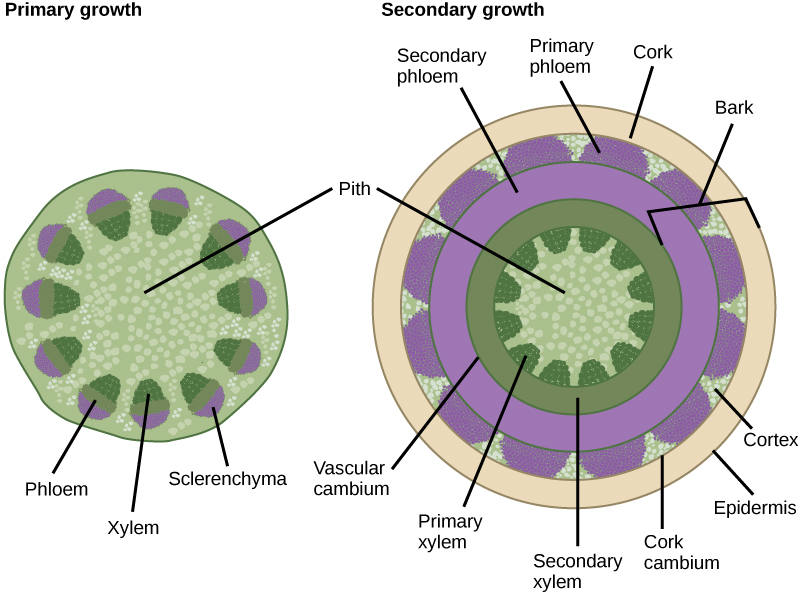 Some plant parts, such as stems and roots, continue to grow throughout a plant's life: a phenomenon called indeterminate growth. Other plant parts, such as leaves and flowers, exhibit determinate growth, which ceases when a plant part reaches a particular size.
Primary growth
Most primary growth occurs at the apices, or tips, of stems and roots. Primary growth is a result of rapidly dividing cells in the apical meristems at the shoot tip and root tip. Subsequent cell elongation also contributes to primary growth. The growth of shoots and roots during primary growth enables plants to continuously seek water (roots) or sunlight (shoots).
The influence of the apical bud on overall plant growth is known as apical dominance, which diminishes the growth of axillary buds that form along the sides of branches and stems. Most coniferous trees exhibit strong apical dominance, thus producing the typical conical Christmas tree shape. If the apical bud is removed, then the axillary buds will start forming lateral branches. Gardeners make use of this fact when they prune plants by cutting off the tops of branches, thus encouraging the axillary buds to grow out, giving the plant a bushy shape.
Link to learning
Watch this BBC Nature video showing how time-lapse photography captures plant growth at high speed.
Secondary growth
The increase in stem thickness that results from secondary growth is due to the activity of the lateral meristems, which are lacking in herbaceous plants. Lateral meristems include the vascular cambium and, in woody plants, the cork cambium (see [link] ). The vascular cambium is located just outside the primary xylem and to the interior of the primary phloem. The cells of the vascular cambium divide and form secondary xylem (tracheids and vessel elements) to the inside, and secondary phloem (sieve elements and companion cells) to the outside. The thickening of the stem that occurs in secondary growth is due to the formation of secondary phloem and secondary xylem by the vascular cambium, plus the action of cork cambium, which forms the tough outermost layer of the stem. The cells of the secondary xylem contain lignin, which provides hardiness and strength.
In woody plants, cork cambium is the outermost lateral meristem. It produces cork cells (bark) containing a waxy substance known as suberin that can repel water. The bark protects the plant against physical damage and helps reduce water loss. The cork cambium also produces a layer of cells known as phelloderm, which grows inward from the cambium. The cork cambium, cork cells, and phelloderm are collectively termed the periderm . The periderm substitutes for the epidermis in mature plants. In some plants, the periderm has many openings, known as lenticels , which allow the interior cells to exchange gases with the outside atmosphere ( [link] ). This supplies oxygen to the living and metabolically active cells of the cortex, xylem and phloem.