Eventually all of the actions will be completed and the condition will be tested again.
Need to avoid infinite loops
Generally speaking, unless something is done in one of the actions to cause the test to eventually return false, control will never exit the loop.
In this case, the program will be caught in what is commonly referred to as an infinite loop.
Other possible structures
In some programming languages, there are structures other than sequence, selection, and loop that structured-programming experts are willing toaccept for convenience including:
The switch-case structure.
The do-until structure.
The for loop
The for-each loop
While sometimes more convenient than the three main structures, these structures are not required for the solution of programming logic problems.
Preview
In this module, I will present and explain the simplest example of a selection structure that I was able to write in Scratch without using variablesand without using relational or logical operators. (I will explain operators, including relational and logical operators in future modules.)
Screen output for the program named IfSimple01
The program places a basketball and two beach balls on the Stage as shown in Image 4 .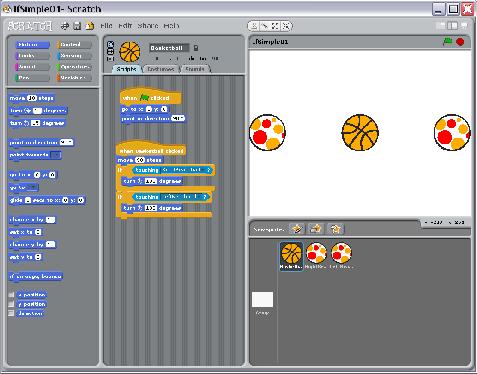 Click the green flag or the basketball
When the user clicks the green flag in the upper right corner, the three balls are placed in a horizontal line with the basketball in the center.
Scratch code, which can be paraphrased as shown in Image 5 , is executed each time the user clicks the basketball with the mouse.
In other words, if you repetitively click the basketball with the mouse, it will move back and forth from left to right bouncing off of the two beach balls.The basketball will keep bouncing back and forth between the two beach balls for as long as you continue clicking on the basketball.
Discussion and sample code
Let's walk through the steps required to develop this program. I will deal first with the code that defines the behavior of the program when the userclicks the green flag in the upper right corner of Image 4 .
The Cartesian coordinate system The position of sprites on the Stage in the Scratch user interface is based on a two-dimensional Cartesian coordinate system with the origin at the center of the Stage.
Three sprites
Note in the lower right corner of Image 4 that this program contains two beach balls and one basketball in addition to the Stage.
You add sprites to your program by clicking on the button with the icon of the file folder in the grayarea immediately below the white Stage area in Image 4 .
When you click on one of the sprites that you have added to the program, that sprite appears at the top of the center pane. Having done that, you canthen drag programming blocks into the center pane that define the behavior of that sprite.