By the end of this section, you will be able to:
Discuss the predator-prey cycle
Give examples of defenses against predation and herbivory
Describe the competitive exclusion principle
Give examples of symbiotic relationships between species
Describe community structure and succession
In general, populations of one species never live in isolation from populations of other species. The interacting populations occupying a given habitat form an ecological community. The number of species occupying the same habitat and their relative abundance is known as the diversity of the community. Scientists study ecology at the community level to understand how species interact with each other and compete for the same resources.
Predation and herbivory
Perhaps the classical example of species interaction is the predator-prey relationship. The narrowest definition of the predator-prey interaction describes individuals of one population that kill and then consume the individuals of another population. Population sizes of predators and prey in a community are not constant over time, and they may vary in cycles that appear to be related. The most often cited example of predator-prey population dynamics is seen in the cycling of the lynx (predator) and the snowshoe hare (prey), using 100 years of trapping data from North America ( [link] ). This cycling of predator and prey population sizes has a period of approximately ten years, with the predator population lagging one to two years behind the prey population. An apparent explanation for this pattern is that as the hare numbers increase, there is more food available for the lynx, allowing the lynx population to increase as well. When the lynx population grows to a threshold level, however, they kill so many hares that hare numbers begin to decline, followed by a decline in the lynx population because of scarcity of food. When the lynx population is low, the hare population size begins to increase due, in part, to low predation pressure, starting the cycle anew.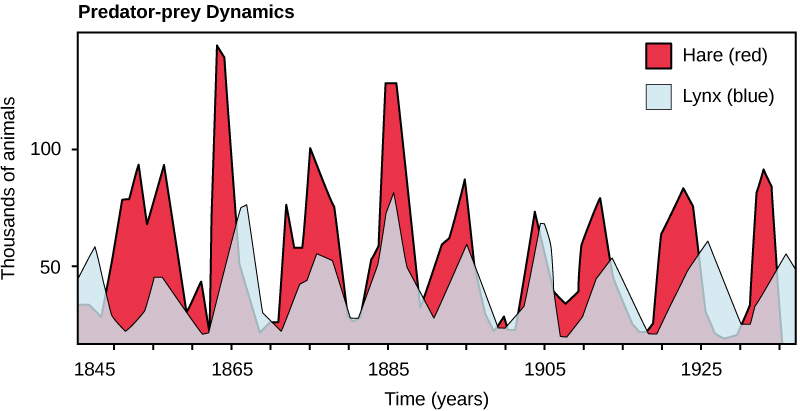 Defense mechanisms against predation and herbivory
Predation and predator avoidance are strong selective agents. Any heritable character that allows an individual of a prey population to better evade its predators will be represented in greater numbers in later generations. Likewise, traits that allow a predator to more efficiently locate and capture its prey will lead to a greater number of offspring and an increase in the commonness of the trait within the population. Such ecological relationships between specific populations lead to adaptations that are driven by reciprocal evolutionary responses in those populations, a process called coevolution. Species have evolved numerous mechanisms to escape predation and herbivory (the consumption of plants for food). Defenses may be mechanical, chemical, physical, or behavioral.
Mechanical defenses, such as the presence of armor in animals or thorns in plants, discourage predation and herbivory by discouraging physical contact ( [link] a ). Many animals produce or obtain chemical defenses from plants and store them to prevent predation. Many plant species produce secondary plant compounds that serve no function for the plant except that they are toxic to animals and discourage consumption. For example, the foxglove produces several compounds, including digitalis, that are extremely toxic when eaten ( [link] b ). (Biomedical scientists have purposed the chemical produced by foxglove as a heart medication, which has saved lives for many decades.)