Overview
Parabolas
Constructing Graphs of Parabolas
Parabolas
We will now study the graphs of quadratic equations in two variables with general form
Parabola
All such graphs have a similar shape. The graph of a quadratic equation of this type Parabola is called a parabola and it will assume one of the following shapes.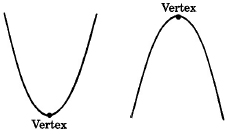 Vertex
The high point or low point of a parabola is called the vertex of the parabola.
Constructing graphs of parabolas
We will construct the graph of a parabola by choosing several -values, computing to find the corresponding -values, plotting these ordered pairs, then drawing a smooth curve through them.
Sample set a
Practice set a
Sample set b
Practice set b
Exercises
For the following problems, graph the quadratic equations.
For the following problems, try to guess the quadratic equation that corresponds to the given graph.
Exercises for review
Questions & Answers
Receive real-time job alerts and never miss the right job again
Source:  OpenStax, Elementary algebra. OpenStax CNX. May 08, 2009 Download for free at http://cnx.org/content/col10614/1.3
Google Play and the Google Play logo are trademarks of Google Inc.
Notification Switch
Would you like to follow the 'Elementary algebra' conversation and receive update notifications?