Let's think about square roots now. Square roots of perfect squares are always whole numbers , so they are rational. But the decimal forms of square roots of numbers that are not perfect squares never stop and never repeat, so these square roots are irrational.
Classify real numbers
We have seen that all counting numbers are whole numbers, all whole numbers are integers, and all integers are rational numbers . Irrational numbers are a separate category of their own. When we put together the rational numbers and the irrational numbers , we get the set of real numbers .
[link] illustrates how the number sets are related.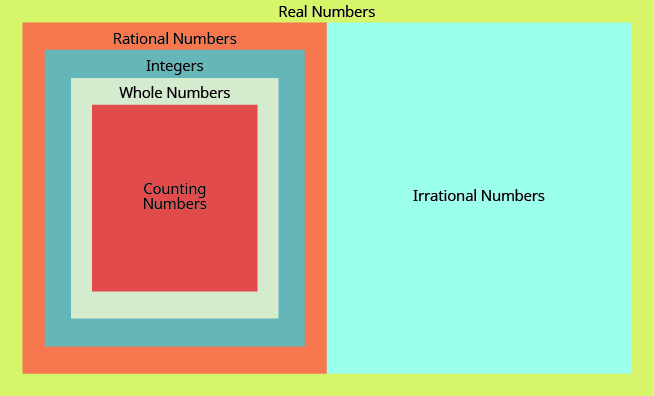 Does the term "real numbers" seem strange to you? Are there any numbers that are not "real", and, if so, what could they be? For centuries, the only numbers people knew about were what we now call the real numbers. Then mathematicians discovered the set of imaginary numbers. You won't encounter imaginary numbers in this course, but you will later on in your studies of algebra.
Key concepts
Practice makes perfect
Rational Numbers
In the following exercises, write as the ratio of two integers.
In the following exercises, determine which of the given numbers are rational and which are irrational.
In the following exercises, identify whether each number is rational or irrational.
Classifying Real Numbers
In the following exercises, determine whether each number is whole, integer, rational, irrational, and real.
Everyday math
Writing exercises
Self check
ⓐ After completing the exercises, use this checklist to evaluate your mastery of the objectives of this section.

ⓑ If most of your checks were:
…confidently. Congratulations! You have achieved the objectives in this section. Reflect on the study skills you used so that you can continue to use them. What did you do to become confident of your ability to do these things? Be specific.
…with some help. This must be addressed quickly because topics you do not master become potholes in your road to success. In math, every topic builds upon previous work. It is important to make sure you have a strong foundation before you move on. Who can you ask for help? Your fellow classmates and instructor are good resources. Is there a place on campus where math tutors are available? Can your study skills be improved?
…no—I don't get it! This is a warning sign and you must not ignore it. You should get help right away or you will quickly be overwhelmed. See your instructor as soon as you can to discuss your situation. Together you can come up with a plan to get you the help you need.