Water that has been re-circulated but has received no further treatment and water that has been recovered from processing of food by evaporation or drying, may be used again. This water cannot be used, however, if it poses a risk to the safety and suitability of food.
Water used as an ingredient
You must give careful consideration when using water as an ingredient to prevent problems with safety. Potable water must be used wherever necessary to avoid food contamination.
A safety problem could occur, for example, when water is used as an ingredient in ice cream. The freezing process does not kill microorganisms, so it is very easy for a person to become ill from eating contaminated ice cream.
Water used to make ice and steam
Water may also be used as an ingredient in the form of ice or steam. Certain pathogens can survive the ice- or steam-making process, thus potentially remaining a risk to health if the ice or steam from this source comes into direct contact with food.
Both ice and steam should be produced, handled, and stored to protect them from contaminants.
Many foods have direct contact with steam. The water used in the steaming process should not constitute a threat to the safety and suitability of the products.
Correct construction of wells and plumbing systems
Your facility must have adequate and safe wells and plumbing systems to prevent the risk of contamination by water. As a food safety manager, you should know the requirements for the factory for water usage and also all the systems used. With this knowledge, you can identify any maintenance problems and can thus prevent any subsequent contamination.
Facility requirements
The source of potable water to your facility must be a recognised one, from either a municipal supply or private well. For it to be acceptable for use, the water supply system must be properly constructed, properly maintained, and routinely tested to ensure the safety of the water coming into your factory.
If your factory receives water from a well, the well should be tested at least once a year; however, you should carry out a risk assessment to see how often testing needs to be done. This risk assessment may look at areas such as possible leaking of contaminates from farmland or industrial areas.
You must have potable hot and cold water available in processing areas. There should also be sufficient volume and water pressure to allow appropriate cleaning.
On-site water treatment
If your factory has a non-potable water supply which is required to be used as an ingredient or otherwise come into direct contact with food, then this must be effectively purified to potable water quality to remove any risk of contamination.
Water can be purified onsite by a number of methods:
sand filtration
membrane filtration
charcoal filtration
reverse osmosis
ion exchange.
Cross-connections and backflow
Cross-Connection
Any connection or structural arrangement between a potable water system and a non-potable system, liquid or otherwise, through which backflow can occur.
Backflow
The flow of water or other liquids, mixtures, or substances into a potable water system from any source other than the intended source.
Backflow, by its very nature of potentially mixing potable and non-potable water systems, can pose a high risk to the health of consumers.
(Source: U.S. Food and Drug Administration)
Plumbing connections to sewer lines
Within any water conveyance system, there are two types of plumbing connections: direct and indirect.
Direct Connection
A solid physical joining to a waste or soil line
Indirect Connection
Other than a solid physical joining to a waste or soil line. It can be either an air gap or an air break.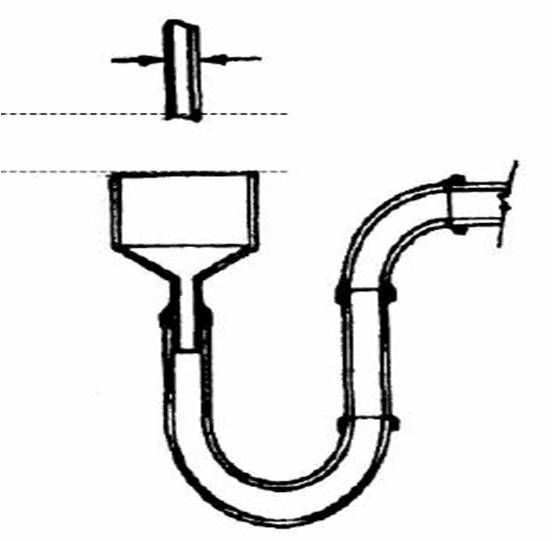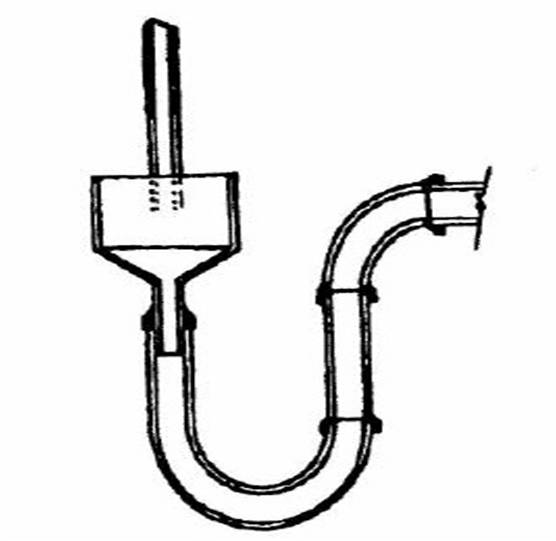 (Source: U.S. Food and Drug Administration)
Air gap
Air Gap
The unobstructed vertical distance through the free atmosphere between the lowest opening from any pipe or outlet supplying fixture, or other device, and the flood level rim of the receptacle.
The vertical physical separation must be at least two times the inside diameter of the water inlet pipe above the flood rim level, but cannot be less than one inch.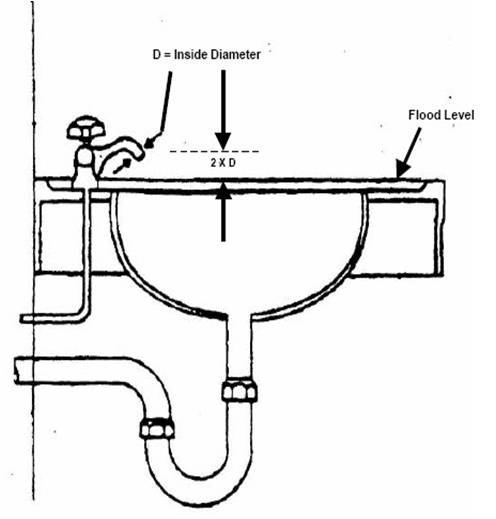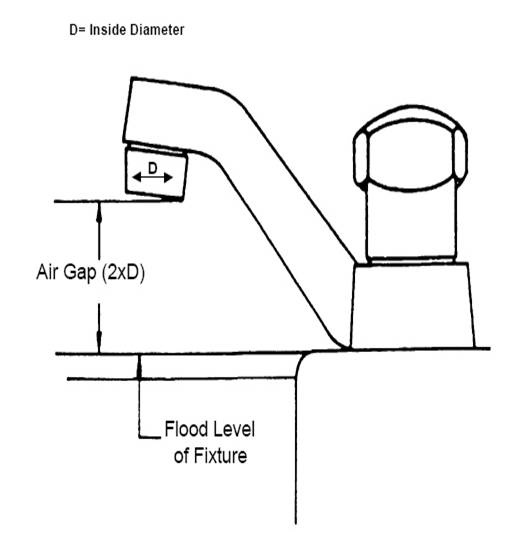 (Source: U.S. Food and Drug Administration)
Air break
Air Break
A piping arrangement in which a drain from a fixture, appliance, or device discharges indirectly into another fixture, receptacle or interception at a point below the flood level rim.
The connection does not provide an unobstructed vertical distance through the free atmosphere and is not solidly connected, but precludes the possibility of backflow to a potable water source into a sink or dishwasher/or fixture being drained.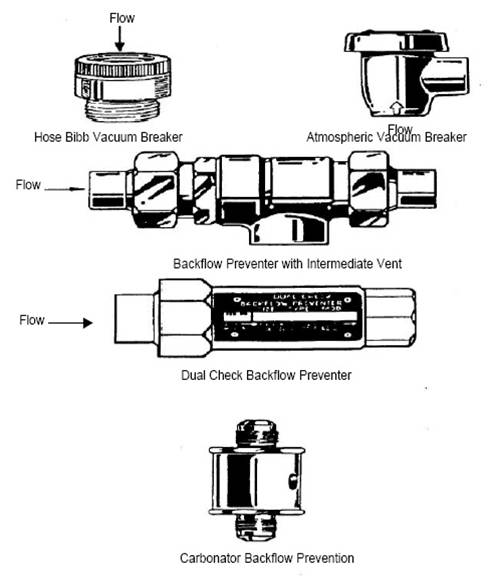 (Source: U.S. Food and Drug Administration)
Monitoring and management
The management of water quality in your company is extremely important. You must develop a routine monitoring system to ensure water safety for the various uses in food production. You must also be aware of any risks posed by the design of the water conveyance system; for example, the cross- connections in the plumbing system.
When your company commissions any new equipment that uses water, it must be monitored prior to full use to ensure that the safety of water is not compromised.