As expected, honeybees use olfactory signals in selecting which flowers they wish to pollinate (Heiling et al. 2004). Crab spiders can also use scent in their hunting site decision. This was found in a study performed by Astrid M. Heiling et al. in 2004, where honeybees and crab spiders were presented the choice between two flowers in the presence and absence of olfactory cues. In their presence, crab spiders and honeybees selected the same flower for hunting and foraging, respectively, 75% of the time (n=60), however in the absence of the cues, the selection of the same flower boiled down to little more than chance.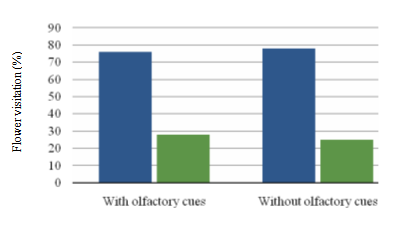 Of course, flower selection for both species is not as easy as a quick sniff. Both also use visual cues. For example, foraging honeybees have been found to prefer flowers with radial symmetry over bilateral symmetry , examples of both seen in the insert to the left, in tests where olfactory signals were removed (Wignall et al. 2005). Some visual signals are harder to detect. In particular, visual signals communicated at ultraviolet wavelengths are difficult to study as they are invisible to the human eye, but are the likely culprit for much of the manipulation of floral signals used by crab spiders to attract honeybees. It has been shown that honeybees are more likely to approach flowers occupied by crab spiders than those without (Heiling et al. 2003), although native Australian bees are less likely than introduced European bees to actually land on occupied flowers (Heiling and Herberstein, 2004).
In a spectral study conducted by Heiling et al. in 2003, it was shown that crab spiders sitting on white daisies have high UV contrast, thus making the signaling strategy of the Australian crab spider quite different than those who lurk in tree bark or blend into the background. In fact, this makes them particularly conspicuous in the insect visual spectrum when seen at close quarters. So why are honeybees attracted to these risky flowers? The findings of the study are consistent with empirical data that show that bees innately prefer flowers with strongly contrasting markings. Thus a contrasted spider, even with the known danger, makes a flower incredibly enticing.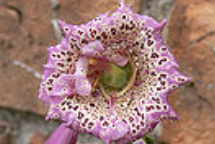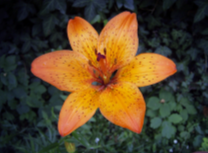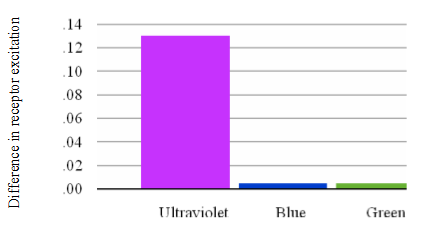 Playing the game: australian crab spiders alter their behavior to attract prey
What do honeybees see?
Imagine you're a honeybee, flying around, looking for a delicious flower to pollinate. What would you see? This intriguing question is in the process of being answered by some of the world's top ecologists, physiologists, and evolutionary biologists.
Honeybees are UV-blue-green trichromats, a combination so popular that it must have appeared early in the evolution of insects. UV vision is the most common wavelengths detected by insects; in fact, not a single species of insects has a confirmed absence of UV vision.
Honeybees are capable of viewing their world at high sensitivity and enhance contrast, a capability that comes in handy in UV-rich environments where they often live such as meadows.