Intracellular hormone receptors
Lipid-soluble hormones such as steroid hormones diffuse across the membranes of the cells where they are produced. Once outside the cell, they bind to transport proteins that keep them soluble in the bloodstream. At the target cell, the hormones are released from the carrier protein and diffuse across the lipid bilayer of the plasma membrane of cells. The steroid hormones pass through the plasma membrane of a target cell and bind to intracellular receptors residing in the cytoplasm or in the nucleus. The cell signaling pathways induced by the steroid hormones regulate specific genes on the cell's DNA. The hormones and receptor complex act as transcription regulators by increasing or decreasing the synthesis of mRNA molecules of specific genes. The cellular responses are varied, ranging from changes in the structure of the cell to the production of enzymes that catalyze new chemical reactions. In this way, the steroid hormone regulates specific cell processes as illustrated in [link] .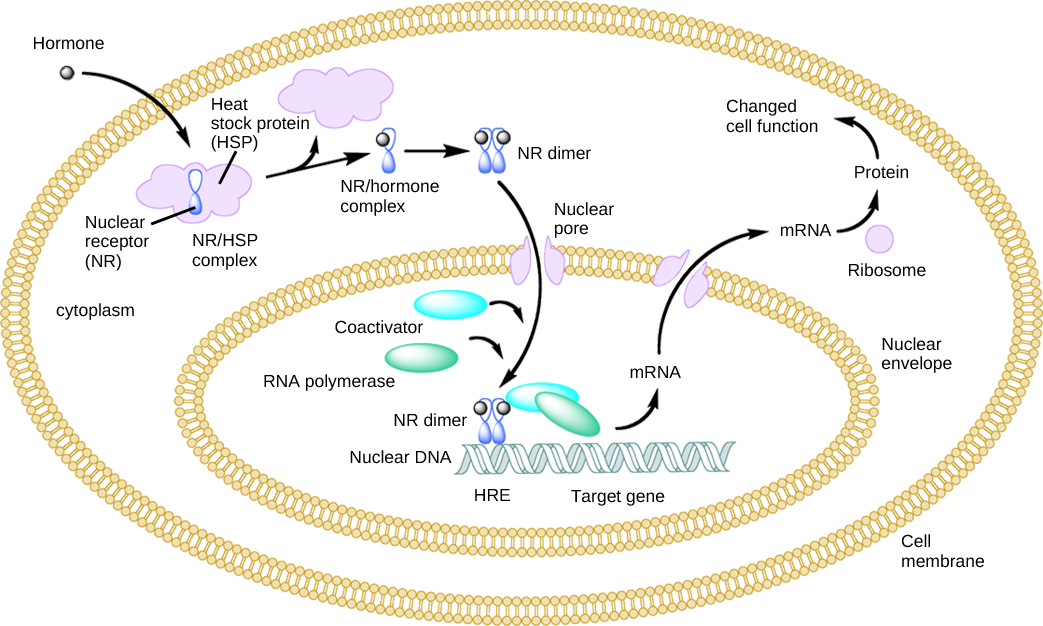 Other lipid-soluble hormones that are not steroid hormones, such as vitamin D and thyroxine, have receptors located in the nucleus. The hormones diffuse across both the plasma membrane and the nuclear envelope, then bind to receptors in the nucleus. The hormone-receptor complex stimulates transcription of specific genes.
Plasma membrane hormone receptors
Peptide hormones are not lipid-soluble, and therefore cannot diffuse through the plasma membrane of cells. Lipid insoluble hormones bind to receptors on the outer surface of the plasma membrane. Unlike steroid hormones, lipid insoluble hormones do not directly affect the target cell because they cannot enter the cell and act directly on DNA. Binding of these hormones to a cell surface receptor results in activation of a signaling pathway; this triggers intracellular activity and carries out the specific effects associated with the hormone. In this way, nothing passes through the cell membrane; the hormone that binds at the surface remains at the surface of the cell while the intracellular product remains inside the cell. The hormone that initiates the signaling pathway is called a first messenger, which activates a second messenger in the cytoplasm, as illustrated in [link] .