Anatomy of dicotyledonous plants
Plant structure:
http://www.emc.maricopa.edu/faculty/farabee/biobk/biobookplantanat.html
Plants are made up of roots, stems, leaves and flowers. The function of the root is to hold the plant firmly in the ground as well as to absorb water from thesoil. The function of the stem is to transport the food made by the leaf to the rest of the plant as well as to hold the plant upright. The main function ofthe leaves is to photosynthesize (make food).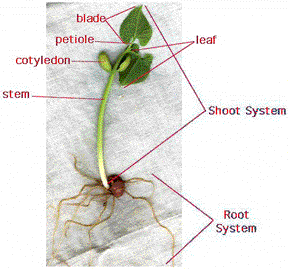 Differences between monocotyledonous and dicotyledonous plants
Traditionally the flowering plants (angiosperms) are divided into two groups, monocotyledons (monocots) and dicotyledons (dicots). Monocots are the grass andgrass-like flowering plants (e.g. maize), while dicots include the rest of the flowering plants (e.g. bean). The embryos of monocots have only a single(mono-) cotyledon (the first leaf) while the embryos of dicots have paired (di-) cotyledons. Other differences between monocots and dicots are shown inthe table below. Monocots have long narrow leaves with parallel veins while dicots have broad leaves with net-like veins. In monocots the flower parts arein multiples of three while in dicots they are in multiples of four or five. In monocots the vascular bundles of the stem are scattered while in dicots thereis a ring of vascular bundles. Monocots grains have one furrow or pore while dicot grains have three furrows or pores. Monocots have adventitious rootswhile in dicots the roots develop from a radicle.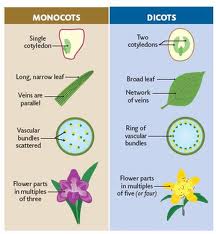 Plant structure
Most plants are stationary which means that they cannot move from place to place. Some plants grow really tall in order to obtain sunlight. They need tostand tall and erect and therefore need to support themselves. They have tissues present in almost all parts of their body e. g. roots, stems, branches,leaves. These supporting tissues keep the stem firm and other parts such as leaves in a favourable position for photosynthesis to occur as efficiently aspossible.
Refer to Unit 1.4 for functions of the different tissues found in roots, stems and leaves.
Dicotyledonous root
External structure of the dicot root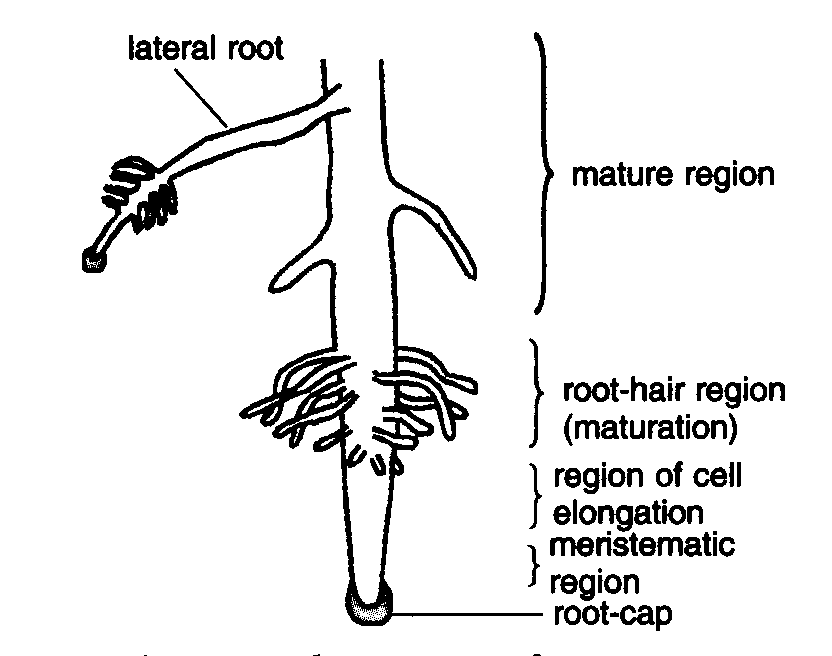 This diagram shows the external structure of a dicot root.
Root cap protects the tip of the root and it is slimy to facilitate movement through the soil as the root grows.
Above the root cap is the meristematic region where cells divide continuously by mitosis to produce new cells.
Cells enlarge in size in the region of elongation. This results in the root growing in length.
Thousands of tiny root hairs are found in the root hair region. The function of this region is to absorb water and dissolved mineral salts from the soil.
The root grows thicker and may produce lateral roots in the mature region.
Internal structure of the dicot root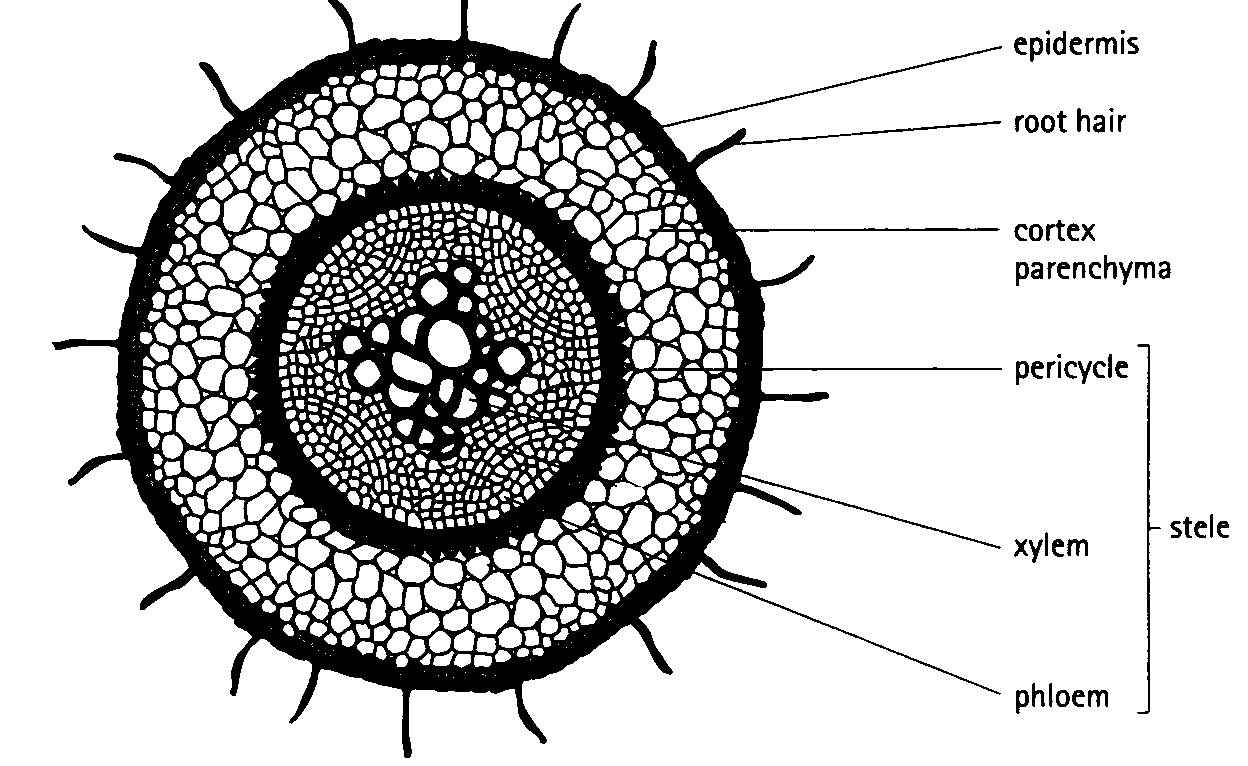 No waterproof cuticle in the root as this would hinder the absorption of water.
The epidermis is a single layer of cells on the outside that protects the inner tissues. Some epidermal cells are specialized to form root hair cells. Theseabsorb water and dissolved mineral salts.
The cortex consists of parenchyma cells. These cells are large to store water and food. They also facilitate the movement of water from the root hair cellson the outside to the xylem on the inside.
The endodermis is lined with Casparian strips, distinctive bands made of a water-impermeable, waxy substance called suberin, that prevents water andminerals from passively seeping between the cells and thus forces water to enter through the cell membranes of the endodermal cells in order to enter thestele (vascular cylinder).
The stele consists of the:

Pericycle (responsible for forming lateral roots)
Xylem (responsible for transporting water and mineral salts to the stem)
Phloem (responsible for transporting food from the leaves to the roots)