Unintentionally added chemicals
There are a number of unintentionally introduced chemicals added to foods by agricultural processes, including
pesticides
fungicides
herbicides
fertilizers
antibiotics
growth hormones.
These substances are prohibited in certain countries. To ensure your company is complying with legislation where the food is sold, you should carefully review the appropriate legislation.
There are private standards and business-to-business requirements that can be stricter than legislative requirements, and the customer will closely scrutinize the product for the presence and level of substances that violate these standards.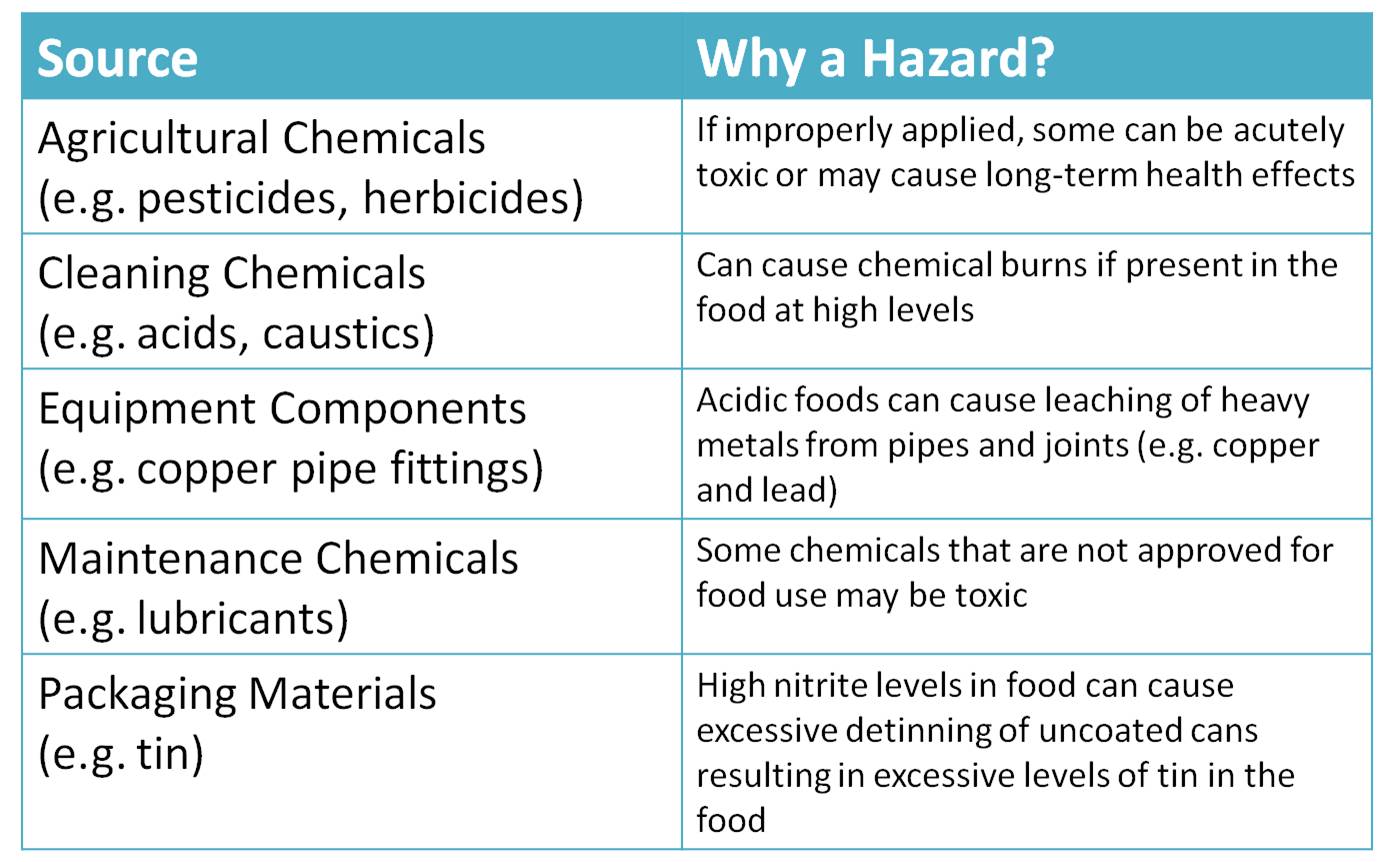 Controls of chemical hazards
Having a management system in place that indentifies sampling points and sampling levels is good practice to reduce the risk of chemical hazards. The table shows suggested areas of inspection.
Physical hazards
A physical hazard is any potential harmful extraneous matter not normally found in food. They are different to biological or chemical hazards: they generally cause problems for relatively few consumers per incident. The result of personal injuries is usually not life-threatening but can cause considerable personal distress to the consumer. Typical examples are broken teeth, cut mouths, and choking.
Examples of physical hazards
metal fragments
glass particles
wood splinters
rock fragments
stones
bone fragments (meat and poultry)
Control points for physical hazards must be identified during the process and storage of food products. Such can be done by using a hazard analysis technique.
Preventing physical hazards
Preventive maintenance of equipment is extremely important to greatly reduce the risk of physical contamination.
Equipment failure or breakage can allow physical hazards to enter foods. This happens usually during the processing stage. Routine inspections and maintenance of the equipment is good practice.
Screens and filters used in liquid processing can identify problems in equipment upstream. By regularly inspecting the screens or filters, objects from equipment (broken machine parts or rubber seals, for example) can easily be seen and further contamination reduced.
Control or detection equipment
Detection equipment is very useful in identifying physical hazards in foods. There are a number of methods that can be used for different processes:
magnet – ferrous metals
metal detector – ferrous and non-ferrous metals
X-ray equipment – all types of physical hazards
screen or sifter – separation by size
aspirator – segregation by weight
"Riffle Board" – removal of stones from beans
bone separator – mechanically-separated meat.
Employee practices and physical hazards
The staff can pose a risk to foods by physical hazard contamination. In order to prevent/reduce this risk, your staff must be made aware of company policies in regard to hazard prevention. An example is the wearing of jewelry.
Your staff should also be encouraged to make you aware of any risk of possible physical product contamination they observe while at work.
Sources and controls of physical hazards
As a food safety manager, you must have in place an effective management system that indentifies the source and control points to reduce the risk of physical hazards. The table shows physical hazard control methods.
Control of food safety hazards
To control food safety hazards effectively, it is important to understand the nature of possible hazards. Not all substances or microorganisms are hazardous until they reach a certain level, so it is important to know and understand the significance of these levels.
Possible hazards are always going to pose a risk to your company, so it is essential to know how to control these hazards. By using different methods such as destroying, removing, preventing, or reducing hazards to an acceptable level, contamination issues will be greatly reduced.
To control food hazards, you must have a system in place that maintains control points within the process. You must have knowledge of how to develop this system so that any change can be taken into account and managed correctly.