Proglottids are produced at the scolex and gradually migrate to the end of the tapeworm; at this point, they are "mature" and all structures except fertilized eggs have degenerated. Most reproduction occurs by cross-fertilization. The proglottid detaches from the body of the worm and is released into the feces of the organism. The eggs are eaten by an intermediate host. The juvenile worm infects the intermediate host and takes up residence, usually in muscle tissue. When the muscle tissue is eaten by the primary host, the cycle is completed. There are several tapeworm parasites of humans that are transmitted by eating uncooked or poorly cooked pork, beef, and fish.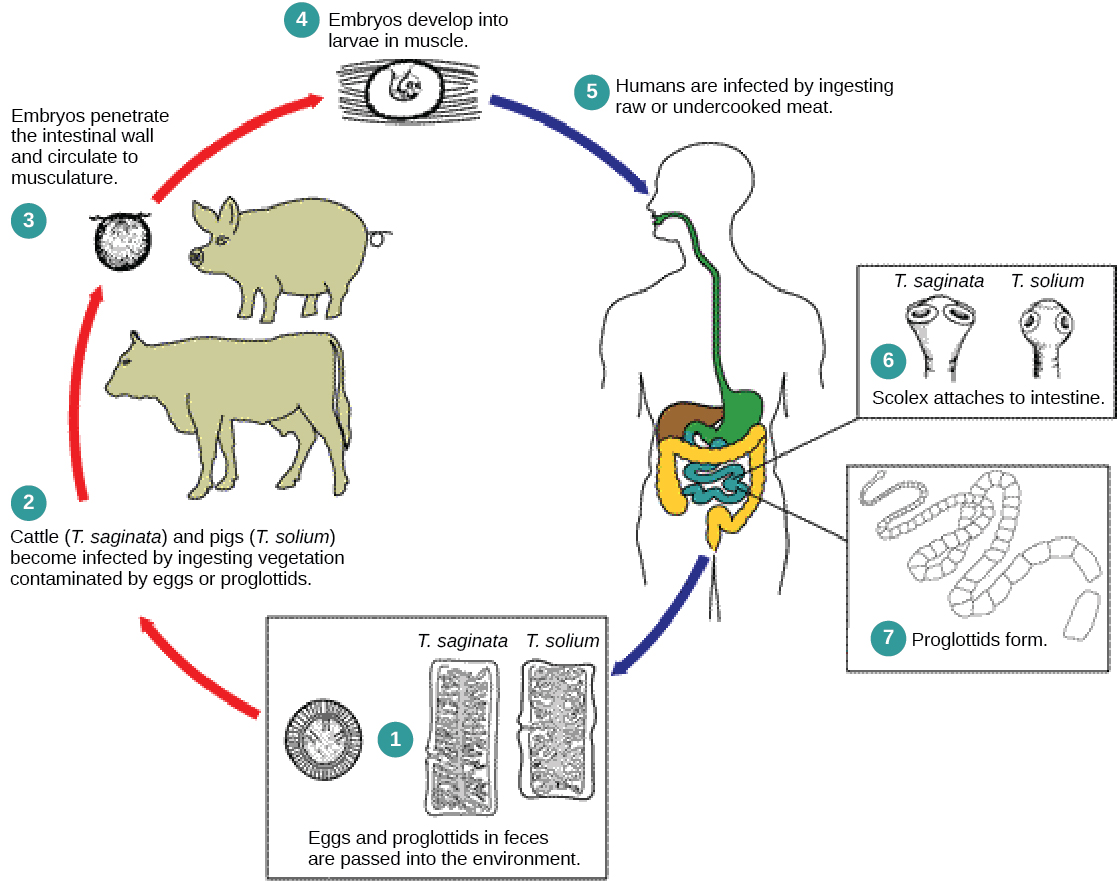 Phylum annelida
Phylum Annelida includes segmented worms. These animals are found in marine, terrestrial, and freshwater habitats, but a presence of water or humidity is a critical factor for their survival, especially in terrestrial habitats. The name of the phylum is derived from the Latin word annellus , which means a small ring. Animals in this phylum show parasitic and commensal symbioses with other species in their habitat. Approximately 16,500 species have been described in phylum Annelida. The phylum includes earthworms, polychaete worms, and leeches. Annelids are protostomes and are often called "segmented worms" due to their key characteristic of metamerism , or true segmentation.
Morphology
Annelids are bilaterally symmetrical and have a worm-like appearance. Their particular segmented body plan results in repetition of internal and external features in each body segment. Metamerism allows animals to become bigger by adding "compartments" while making their movement more efficient. The overall body can be divided into head, body, and tail. The clitellum is a reproductive structure that generates mucus that aids in sperm transfer and gives rise to a cocoon within which fertilization occurs; it appears as a fused band in the anterior third of the animal ( [link] ).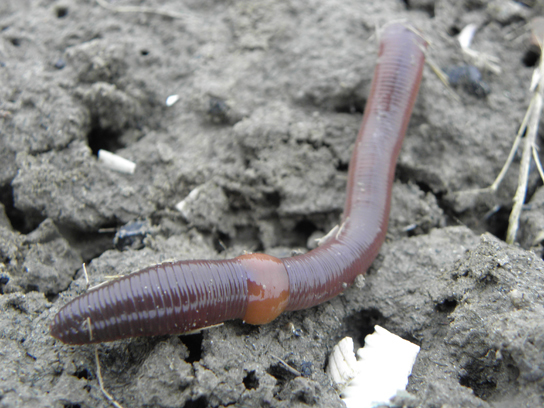 Anatomy
Annelids show the presence of a true coelom. Hence, they are the most advanced worms. Annelids possess a well-developed complete digestive system with specialized organs: mouth, muscular pharynx, esophagus, crop, and gizzard. The gizzard leads to the intestine and ends in an anal opening. A cross-sectional view of a body segment of an earthworm (a terrestrial type of annelid) is shown in [link] s.
Annelids have a closed circulatory system with muscular pumping "hearts" and blood vessels that run the length of the body with connections in each segment. These animals lack a well-developed respiratory system, and gas exchange occurs across the moist body surface. Excretion is carried out by pairs of primitive "kidneys" that is present in every segment. Annelids have a well-developed nervous system with two ventral nerve cords and a nerve ring.