The handling and control of allergens
Because of the importance of food allergens to consumer health, a system for managing the control of allergens should be in place. This system must have control measures for cleaning, packaging, and raw materials/ingredients as well as sessions for employee training and instruction.
As previously mentioned, very small qualities of certain food allergens can cause serious health effects or death, so good management of all these areas within the food business is essential.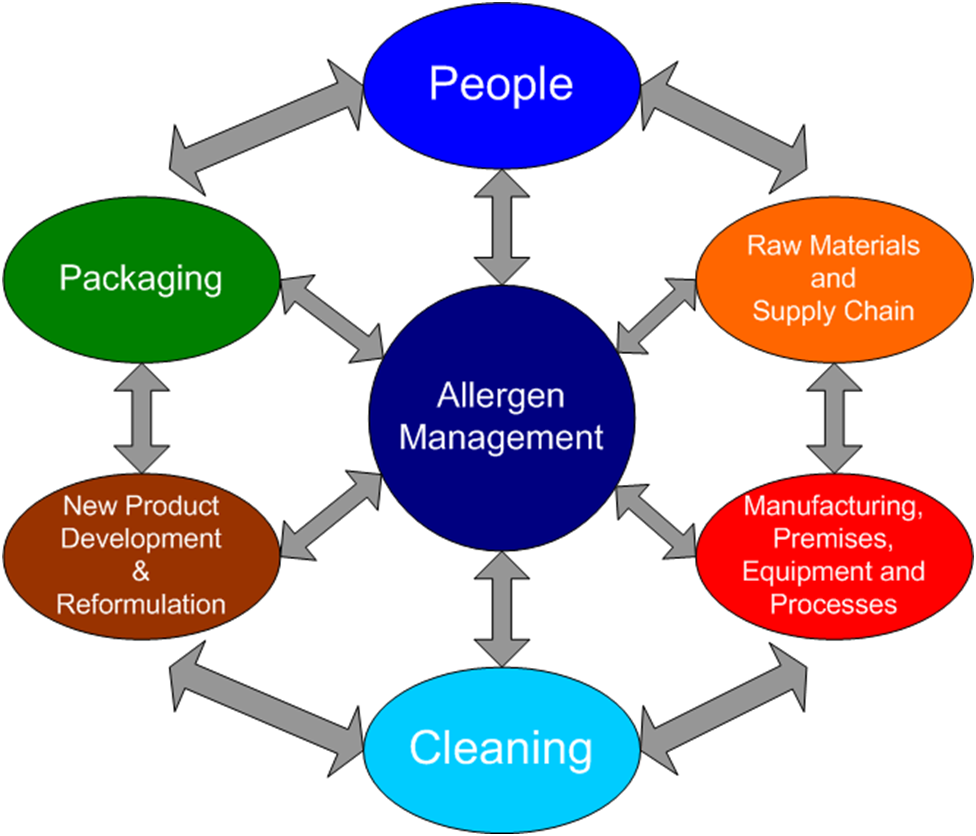 People control measures of food allergens
The knowledge and behavior of the staff is extremely important in the control of allergens.
Staff Awareness
All staff must be made aware of the importance of allergen control. The training should include product identification and recipe control. Where rework, is used staff should be aware of specific control measures to prevent cross-contamination.
Protective clothing soiled with a food allergen can pose a risk of contamination. Staff should be made aware that soiled clothing must be changed when working with specific food products.
Personal Hygiene
Hand washing is important in allergen control since contamination can occur when working with different ingredients. Staff members must wash their hands between the uses of different ingredients.
Waste Control
The staff should be aware of the correct procedures for waste disposal, particularly when the product contains allergens.
Equipment
When using utensils for the production of food products, the staff must be trained in reducing contamination by cleaning the utensils when using them for different foods. The production of chocolate provides a good example . Some factories make chocolate containing nuts and also without nuts. If they use the same utensils or equipment, they risk contaminating the product. The staff should clean all utensils and equipment to remove the risk of allergen contamination. It is good practice to use separate utensils for specific food products.
Food Consumption
Consumption of certain products by staff members can introduce allergens into the foodstuffs being produced. Good management practice dictates that eating and drinking shall be restricted to the canteen or external areas away from food products or ingredients. Good management practice also dictates a hand washing policy: all staff must wash their hands before entering a food production area.
Raw materials and ingredients control measures of food allergens
It is crucial to know the status of the raw materials and ingredients that you receive from your suppliers. If the ingredients you obtain from your suppliers are contaminated with allergens, then all your precautions you take in your factory to control allergens will be pointless. Ask questions of your suppliers. For example, ask them about their cleaning schedules and the ways they store their products.
If you have an allergen as an ingredient or an ingredient contains an allergen, then these products must be clearly indentified and controlled within your factory. The preferred means of identification is clear labeling of the product. Staff members can, therefore, easily indentify and control the use of these products throughout the process.