This Lab Module has the project outline for a simple assembly display program. The program is interrupt driven and combines GPIO, polling, and interrupt concepts.
A more complicated assembly program
By now you already have all of the tools you need to complete this assignment. Remember what you have learned about MSP430 assembly language , setting up GPIO , and using interrupts .
Coding in MSP430 assembly, implement an interrupt driven number sequence recorder . You will use the same input configuration from last week (get data from pins 9.4-9.7 on an interrupt from pin 3.7), but now will output a readable loop of the last 5 received numbers in order. Assignment Details
Part ii assignment detail
Your task is to write an assembly program to display a programmable sequence of 5 numbers on the MSP430 ESCAPE Platform.
You should use five slots to store the input numbers.
Since our simple setup only has one display, you will have to rotate through each of the five numbers after a "short" (in human terms) delay.
Use an ISR to store a new number in the "next" slot. (Next not necessarily meaning what is currently being displayed). The input should go from slot 1 to 2 to 3... etc. regardless of which slot is currently being output.
The program should only display a slot after a number has been input into it. You will need to keep track of which slots have been filled.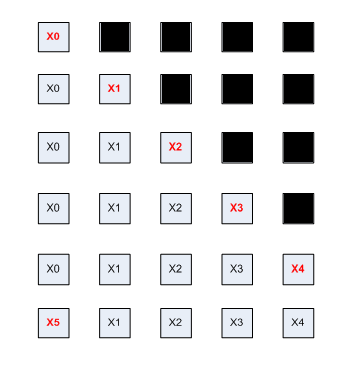 Your program should consist of:
A setup routine that readies all the components of your program.
A main loop that displays the stored numbers one after the other with a readable delay in between.
An ISR that stores each new input number to the appropriate slot.
Wrapup
Congratulations on completing lab 4! Your program sophistication has dramatically increased. You understand the basics of interrupt driven programming , and know how to use assembly level subroutines . You have had to keep track of data as well as design a responsive I/O interface to the outside world. Keep up the good work!
Labs based on the original Elec 220 labs maintained by Michael Wu.
Images from original lab documents by Yang Sun. Modified by Matt Johnson.