Introduction
Geometry (Greek: geo = earth, metria = measure) arose as the field of knowledge dealing with spatial relationships. It was one of the two fields of pre-modern mathematics, the other being the study of numbers. In modern times, geometric concepts have become very complex and abstract and are barely recognizable as the descendants of early geometry. Geometry is often split into Euclidean geometry and analytical geometry. Euclidean geometry is covered in this chapter.
Research project : history of geometry
Work in pairs or groups and investigate the history of the foundation of geometry. Describe the various stages of development and how the following cultures used geometry to improve their lives. This list should serve as a guideline and provide the minimum requirement, there are many other people who contributed to the foundation of geometry.
Ancient Indian geometry (c. 3000 - 500 B.C.)

Harappan geometry
Vedic geometry

Classical Greek geometry (c. 600 - 300 B.C.)

Thales and Pythagoras
Plato

Hellenistic geometry (c. 300 B.C - 500 C.E.)

Euclid
Archimedes
Quadrilaterals
In this section we will look at the properties of some special quadrilaterals. We will then use these properties to solve geometrical problems. It should be noted that although all the properties of a figure are given, we only need one unique property of the quadrilateral to prove that it is that quadrilateral. For example, if we have a quadrilateral with two pairs of opposite sides parallel, then that quadrilateral is a parallelogram. We can then prove the other properties of the quadrilateral using what we have learnt about parallel lines and triangles.
Trapezium
A trapezium is a quadrilateral with one pair of parallel opposite sides. It may also be called a trapezoid . A special type of trapezium is the isosceles trapezium , where one pair of opposite sides is parallel, the other pair of sides is equal in length and the angles at the ends of each parallel side are equal. An isosceles trapezium has one line of symmetry and its diagonals are equal in length.
Note: The term trapezoid is predominantly used in North America and refers to what we call a trapezium. Rather confusingly, they use the term 'trapezium' to refer to a general irregular quadrilateral, that is a quadrilateral with no parallel sides!
Parallelogram
A trapezium with both sets of opposite sides parallel is called a parallelogram . A summary of the properties of a parallelogram is:
Both pairs of opposite sides are parallel.
Both pairs of opposite sides are equal in length.
Both pairs of opposite angles are equal.
Both diagonals bisect each other (i.e. they cut each other in half).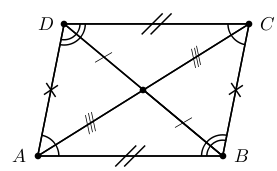 Rectangle
A rectangle is a parallelogram that has all four angles equal to . A summary of the properties of a rectangle is:
Both pairs of opposite sides are parallel.
Both pairs of opposite sides are of equal length.
Both diagonals bisect each other.
Diagonals are equal in length.
All angles at the corners are right angles.