Parabolic functions
Investigation : average gradient - parabolic function
Fill in the table by calculating the average gradient over the indicated intervals for the function :
What do you notice about the average gradient over each interval? What can you say about the average gradients between A and D compared to the averagegradients between D and G?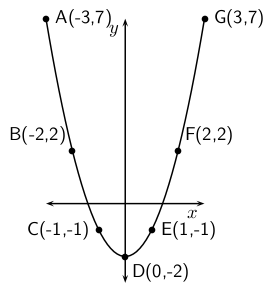 The average gradient of a parabolic function depends on the interval and is the gradient of a straight line that passes through the points on the interval.
For example, in [link] the various points have been joined by straight-lines. The average gradients between the joined points are then the gradients of the straight lines that pass through the points.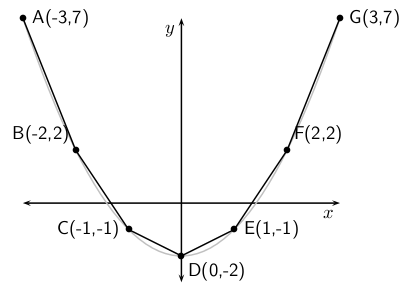 Method: average gradient
Given the equation of a curve and two points ( , ):
Write the equation of the curve in the form .
Calculate by substituting into the equation for the curve.
Calculate by substituting into the equation for the curve.
Calculate the average gradient using:
Find the average gradient of the curve between the points and
Label the points as follows:

to make it easier to calculate the gradient.

We use the equation for the curve to calculate the -value at and .

The average gradient between and on the curve is 0.
Summary
Definition of average gradient
Average gradient of straight line
Average gradient of parabola
End of chapter exercises
An object moves according to the function , where is the distance in metres and the time in seconds. Calculate the average speed of the object between 2 and 3 seconds. The speed is the gradient of the function
Given: . Determine the average gradient between the points where and .