Rice air curriculum
Overview
Ozone is a gas that is quite interesting because of its dual or "two-sided" nature. Ozone high up in the stratosphere naturally protects Earth from the Sun's harmful ultraviolet light. However, ozone that forms close to the ground is a major air pollutant. This type of ozone can hurt humans and our surrounding environment.
Today, we will focus on the good ozone, which is called stratospheric ozone. You will learn a lot more about the "bad ozone" air pollution near the ground during Lesson Five.
Ozone
What does it mean that ozone is "Good up high, Bad nearby"?
Can you think of another example of something that is good to have in one place, but bad to have somewhere else?
Label the stratosphere, troposphere, and ozone layer in the diagram.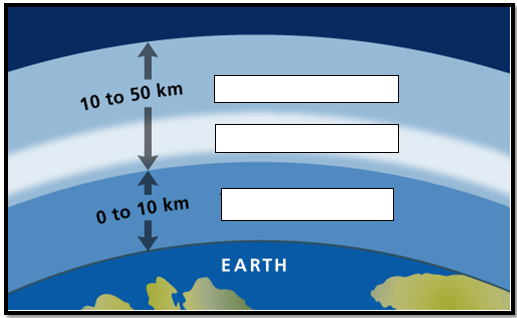 What did you learn about the ozone layer in the video?
In the map that your teacher showed, where was the ozone hole?
Questions & Answers
Receive real-time job alerts and never miss a matching job again
Source:  OpenStax, Rice air curriculum. OpenStax CNX. May 09, 2010 Download for free at http://cnx.org/content/col11200/1.1
Google Play and the Google Play logo are trademarks of Google Inc.
Notification Switch
Would you like to follow the 'Rice air curriculum' conversation and receive update notifications?