By the end of this section, you will be able to:
Define ecology and the four levels of ecological research
Describe examples of the ways in which ecology requires the integration of different scientific disciplines
Distinguish between abiotic and biotic components of the environment
Recognize the relationship between abiotic and biotic components of the environment
Ecology is the study of the interactions of living organisms with their environment. One core goal of ecology is to understand the distribution and abundance of living things in the physical environment. Attainment of this goal requires the integration of scientific disciplines inside and outside of biology, such as biochemistry, physiology, evolution, biodiversity, molecular biology, geology, and climatology. Some ecological research also applies aspects of chemistry and physics, and it frequently uses mathematical models.
Link to learning
Climate change can alter where organisms live, which can sometimes directly affect human health. Watch the PBS video "Feeling the Effects of Climate Change" in which researchers discover a pathogenic organism living far outside of its normal range.
Levels of ecological study
When a discipline such as biology is studied, it is often helpful to subdivide it into smaller, related areas. For instance, cell biologists interested in cell signaling need to understand the chemistry of the signal molecules (which are usually proteins) as well as the result of cell signaling. Ecologists interested in the factors that influence the survival of an endangered species might use mathematical models to predict how current conservation efforts affect endangered organisms. To produce a sound set of management options, a conservation biologist needs to collect accurate data, including current population size, factors affecting reproduction (like physiology and behavior), habitat requirements (such as plants and soils), and potential human influences on the endangered population and its habitat (which might be derived through studies in sociology and urban ecology). Within the discipline of ecology, researchers work at four specific levels, sometimes discretely and sometimes with overlap: organism, population, community, and ecosystem ( [link] ).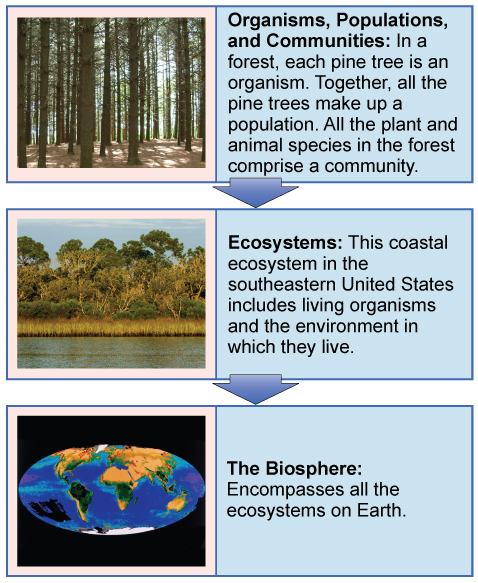 Organismal ecology
Researchers studying ecology at the organismal level are interested in the adaptations that enable individuals to live in specific habitats. These adaptations can be morphological, physiological, and behavioral. For instance, the Karner blue butterfly ( Lycaeides melissa samuelis ) ( [link] ) is considered a specialist because the females preferentially oviposit (that is, lay eggs) on wild lupine. This preferential adaptation means that the Karner blue butterfly is highly dependent on the presence of wild lupine plants for its continued survival.