Lewensvaardighede
Graad 1
Ek is gesond!
Module 5
My omgewing
Omkring alles wat in die prentjie verkeerd is: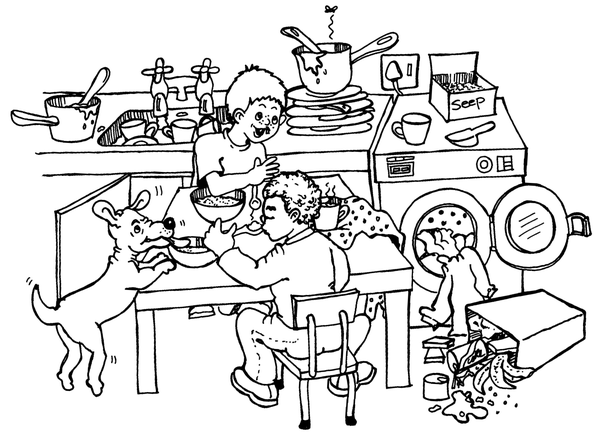 Wat het jy nodig om gesond en fiks te bly?
Kleur die korrekte prentjie in.
Karin het verkoue.
Skryf 'n sinnetjie om te sê wat sy verkeerd doen. Kyk mooi na die prentjie
1.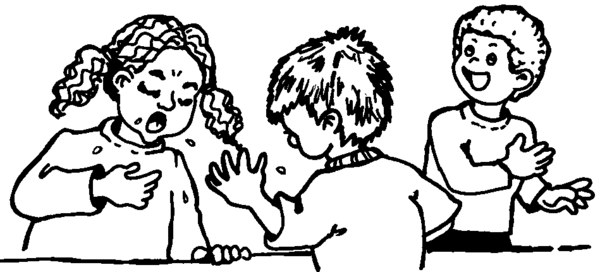 2.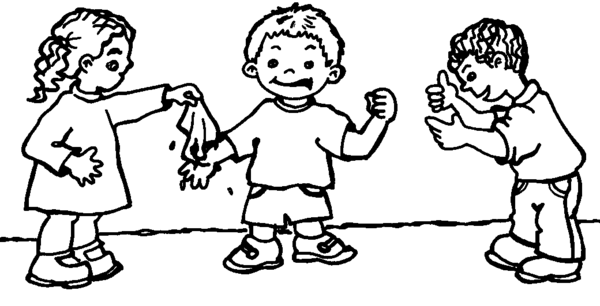 3.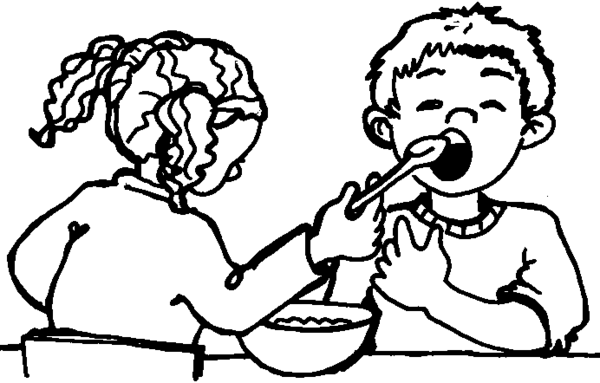 Ek pas my liggaam en my omgewing op.
Omkring die regte woordjie:
Wat kan ons by die skool met al die rommel doen?
Teken 'n prent.

Teken die produk wat jy graag uit rommel wil maak. Hoe gaan jy dit versier?
Watter rommel gaan jy alles vir jou produk gebruik?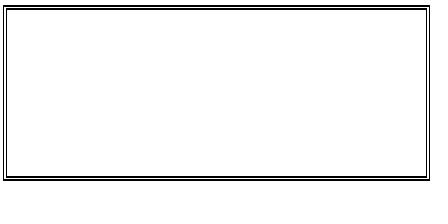 Assessering
Leeruitkomstes(LUs)
lewensoriënteringLU1
BEVORDERING VAN GESONDHEID Die leerder kan ingeligte besluite neem oor persoonlike, gemeenskaps- en omgewingsgesondheid.
Dit is duidelik wanneer die leerder:
1.2 stappe om persoonlike higiëne te verseker, verduidelik en dit aan omgewingsgesondheid koppel;1.3 onderskei tussen situasies wat veilig is en dié wat voorsorgmaatreëls teen oordraagbare siektes vereis.
AARDRYKSKUNDELU 3
VERKENNING VAN VRAAGSTUKKEDie leerder kan belangrike besluite neem t.o.v. sosiale en omgewingsprobleme.
Dit is duidelik wanneer die leerder:
3.1 vraagstukke wat eie gesondheid of veiligheid in die skool- en/of huisomgewing affekteer, identifiseer en beskryf;3.2 die faktore wat sekere plekke in die skool- en /of huisomgewing skadelik of onveilig maak, identifiseer;3.3 maniere noem om eie gesondheid of veiligheid te verbeter deur oplossings of alternatiewe voor te stel wat die gevaar vir eie gesondheid of veiligheid sal verminder (maak keuses).
KUNS EN KULTUURLU 1
SKEPPING, INTERPRETASIE EN AANBIEDING Die leerder kan werk skep, dit interpreteer en aanbied in elk van die verskillende kunsvorms – Dans, Drama, Musiek en Visuele Kunste.
Dit is duidelik wanneer die leerder:
1.9 ( Visuele kunste ) - betrokke raak by skeppende kunsprosesse – die gebruik van primêre kleure en lyn.
EBWLU 2
VOLHOUBARE GROEI ENONTWIKKELING Die leerder kan begrip van volhoubare groei, heropbou en ontwikkeling toon en krities oor verwante prosesse nadink.
Dit is duidelik wanneer die leerder:
2.3 maniere en die belangrikheid van die gebruik van beperkte klaskamermateriaal sonder vermorsing noem.
TEGNOLOGIELU 1
TEGNOLOGIESE PROSESSE EN VAARDIGHEDE Die leerder kan tegnologiese prosesse en vaardighede eties en met verantwoordelikheid toepas deur gepaste inligtings- en kommunikasietegnologie te gebruik.
Dit is duidelik wanneer die leerder:
1.2 ( Ontwerp ) – gepaste materiaal of stowwe kies om 'n eenvoudige produk te maak om 'n gegewe behoefte te bevredig;1.3 ( Maak ) – 'n eenvoudige produk van verskillende stowwe of soorte materiaal maak;1.4 ( Evalueer ) – uitdrukking en 'n verduideliking gee oor die gemaakte produk.
Memorandum:
Afvalhantering
Die hantering van afval is 'n groot probleem in Suid-Afrika. Mense gebruik bronne nie spaarsaam nie en te veel afval ontstaan. Ons moet meer effektief van afval ontslae raak. As ons hierdie potensiële groot probleem nie beter hanteer nie, kan dit lei tot gesondheidsgevare vir die inwoners van ons land. Daar is deesdae groter klem op herwinning.
Bespreek hoe klaskamervoorrade spaarsaam gebruik kan word sodat daar nie onnodige afval ontstaan nie. Indien u nie 'n herwinningsaksie in die klas het nie, is dit waarskynlik nou die regte tyd om een te begin. Toets die leerders om te sien of hulle so 'n uitdaging aanvaar om die omgewing skoon te hou en materiale te herwin. U kan dit oor 'n langer tydperk assesseer (EBW 2.3).
Vra die leerders om iets te maak uit produkte wat gewoonlik weggegooi word, soos leë bokse, ou koerante/tydskrifte, lekkergoedpapier en leë toiletrolle. (Die rommel kan vooraf bymekaar gemaak word).
Laat leerders wat onseker voel saam met 'n maat werk. U moet self vir hulle so veel as moontlik idees gee, bv. 'n "blikkie" vir potlode, 'n tandeborselhouer (nie van metaal nie), 'n vullishouer vir hulle slaapkamer, ensovoorts. Hulle moet hulle ontwerp teken en assesseer (Teg. 1.2 – 1.4).
Vir verryking kan hulle ook 'n etiket vir hulle houer ontwerp.
Ons onmiddellike omgewing
Hou 'n klasbespreking op 'n plek op of naby die skoolterrein wat onveilig of 'n gesondheidsgevaar kan wees. Vra die leerders om sulke plekke te identifiseer en redes vir hulle besluit te gee. Dit kan 'n vuil speelterrein / piekniekplek wees of 'n plek waar mens maklik kan seerkry. Hulle moet ook voorstelle maak oor hoe dit verbeter kan word. Die voorstelle kan dan aan die prinsipaal voorgelê word vir verdere optrede. Elke leerder kan een van hierdie plekke kies en dit teken.