Kuns en kultuur
Graad 7
Om tekens en simbole te herken
Module 15
Om tekens en simbole te herken
Visuele Kuns
Aktiwiteit 1:
Om tekens en simbole te herken
[lu 1.10]
In die vorige Modules het jy onder andere kleur, tekstuur, liggaamsversiering , die verskil tussen kuns, kunsvlyt en ontwerp , asook die waarde van erfenis ondersoek. In Module 4 gaan daar veral na ontwerp en die gebruik van simbole gekyk word. Jy gaan ook leer oor patrone en die aanbieding en uitstalling van jou eie kunswerke.
STAP 1
Wat beteken die simbool X ?
Kyk hoeveel betekenisse van X jy in jou joernaal kan neerskryf.
Kyk dan na die twee illustrasies hieronder en skryf neer wat hulle beteken: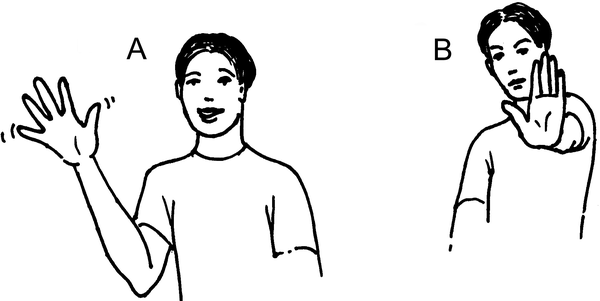 Betekenis A: Betekenis B:
Teken nou ten minste TWEE ander voorbeelde in jou joernaal.
STAP 2
Gebaretaal word gebruik wanneer iemand doof is of as gevolg van omstandighede nie kan hoor nie. Kyk of jy weet wat die volgende voorbeelde van gebaretaal beteken: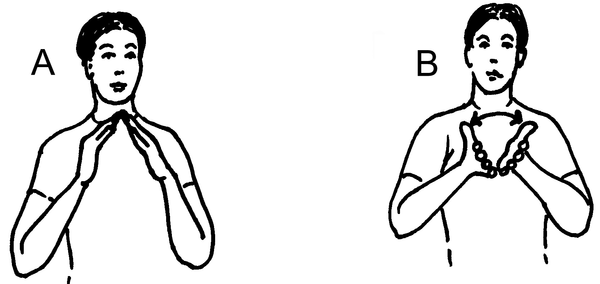 Betekenis A: Betekenis B:
Teken nou in jou joernaal om voorbeelde van slaap en stilbly te demonstreer.
STAP 3
Kyk na die padtekens en ander simbole hieronder en skryf hulle betekenisse neer: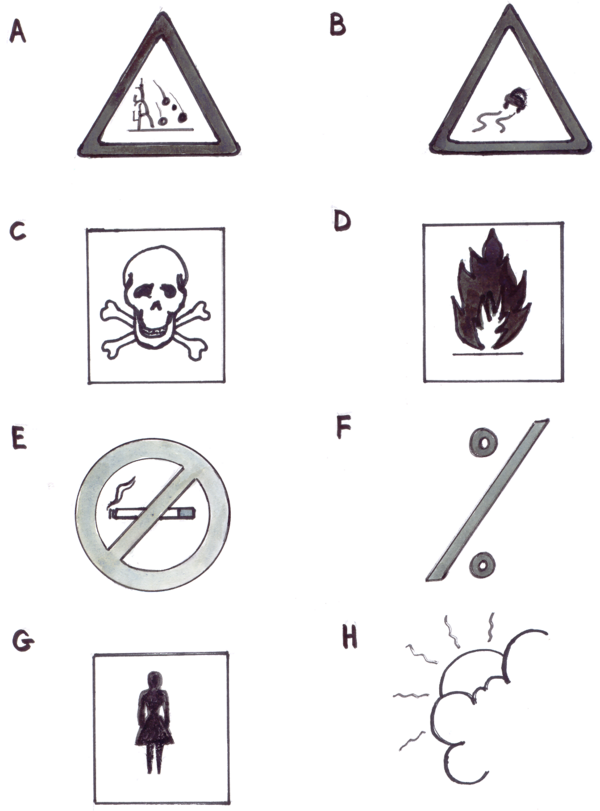 Betekenisse:
Skryf dan 'n kort paragraaf van ongeveer vyftig woorde in jou Leerderjoernaal oor die volgende onderwerp: PADTEKENS – MET OF SONDER WOORDE? Sê of dit beter is om slegs visuele taal in plaas van skriftelike taal op padtekens te gebruik of nie. Dink byvoorbeeld aan taalvoorkeure, ensovoorts.
Aktiwiteit 2:
Om menseregte as simbole uit te beeld
[lu 1.10]
STAP 1
Kyk na simbole A tot D hieronder en skryf eers neer wat hulle beteken. Skryf dan wat elkeen met menseregte te doen het. Kyk byvoorbeeld na die onderskeie kinderregte in Leereenheid 2.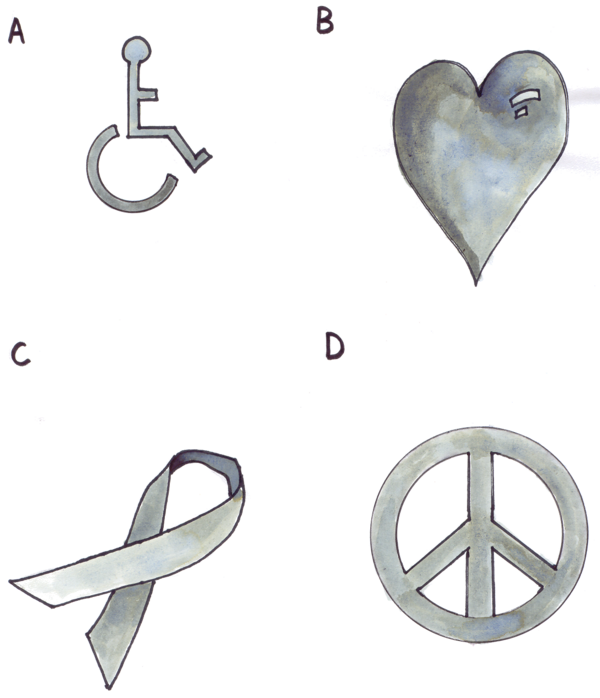 A
Betekenis:
Verbintenis met menseregte:
B
Betekenis:
Verbintenis met menseregte:
C
Betekenis:
Verbintenis met menseregte:
D
Betekenis:
Verbintenis met menseregte:
STAP 2
In 1952 het die kunstenaar Picasso 'n ou kerkie in die Tempel van Vrede verander deur groot muurskilderye te maak van hoe vrede oor oorlog kan seëvier. Gedurende daardie tyd het hy baie tekeninge van duiwe gemaak en selfs sy dogter 'Paloma' (Spaans vir 'duif') vernoem. Picasso het ook 'n plakkaat met die Duif van Vrede vir die Internasionale Vredeskonferensie ontwerp. Kyk na die twee voorbeelde van Picasso se vredesduiwe en ontwerp dan jou eie vredesimbool. Onthou om die ontwerpe eenvoudig te hou en gebruik te maak van wit en swart kontraste – dit verleen meer trefkrag aan die simbool.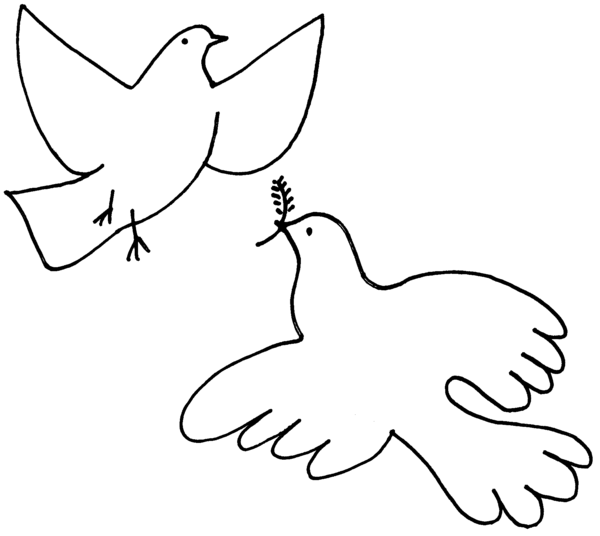 MY EIE VREDESIMBOOL
STAP 3
Maak 'n reeks eenvoudige tekeninge om EEN van die volgende temas visueel deur middel van tekens en/of simbole te kommunikeer:
A. Hou die omgewing skoon
B. Gelyke regte vir almal
Maak vrede
Aktiwiteit 3:
Om kunswerke voor te berei en aan te bied vir 'n uitstalling
[lu 1.10, 1.11]
STAP 1
Kies DRIE van jou beste kunswerke wat jy deur die loop van die jaar gemaak het vir 'n gesamentlike klasuitstalling. Al drie kunswerke moet saam op EEN agtergrond aangebied word. As agtergrond kan jy byvoorbeeld 'n groot stuk afvalpapier of -karton gebruik.
STAP 2
Sit eers die drie kunswerke op die agtergrond vas met gom, kleeflint of krammetjies. Berei dan jou agtergrond voor deur teksture aan te bring met afvalmateriale soos tou, gare, vere, ensovoorts en verf dit met 'n kleur wat by die drie kunswerke sal pas en hulle sal komplementeer. Om die kunswerke self moet jy randpatrone aanbring deur enige simbool te herhaal en dus as patroon te gebruik. Dit kan 'n bestaande simbool of 'n geskepte simbool wees, solank dit verband hou met jou en jou kunswerke.
STAP 3
Die opvoeder sal 'n uitstallokaal in die skool bespreek vir 'n amptelike uitstalling.
Assessering
Leeruitkomstes(LUs)
LU 1
SKEPPING, INTERPRETERING EN PRESENTERING Die leerder kan in elk van die kunsvorme skep, interpreteer en werk presenteer.
Assesseringstandaarde(ASe)
Dit is duidelik wanneer die leerder:
DANS
1.1 berei die liggaam met veilige danspraktyke voor en gebruik die liggaam op gesonde wyse, byvoorbeeld:
1.1.1 opwarming en afkoeling;
1.1.2 goeie postuurs- en gerigsoplyning;
1.1.3 vrystelling / sagte gebruik van gewrigte;
1.1.4 veilige landing na spronge;
1.1.5 veilige rek-/strekbewegings;
1.2 improviseer om choreografiese ontwerpbegrippe te verken:
1.2.1 ruimte – rigting, vlakke, simmetrie;
1.2.2 tyd – duur, pas, maatslag, frasering;
1.2.3 krag – om toe te gee aan en weerstand te bied teen swaartekrag, aktiewe en passiewe beweging;
1.3 skep en bied dansreekse aan wat, onder andere, op menseregtevraagstukke fokus en dit uitdaag, soos sosiale en kultrurele houdings teenoor dans en houdings teenoor geslag en liggaamlike gestremdheid in dans.
DRAMA
1.4 volg 'n onderwysergeleide opwarmingsroetine;
1.5 gebruik die verkenning van menseregtevraagstukke in Suid-Afrika as grondslag vir groepimprovisasies wat:
1.5.1 'n begrip van die basiese dramatiese struktuur (wie, wanneer, waar, wat) toon;
1.5.2 karakters wat uit waarneming, nabootsing en die verbeelding tot stand gebring word, toon;
1.5.3 sommige dramatiese elemente soos groepering, vorm en klimaks insluit om betekenis en gevoel oor te dra.
MUSIEK
1.6 kombineer en meng verskillende tromspeltegnieke en perkussiepatrone om ritmiese sinne te vorm;
1.7 improviseer en skep musiekfrases deur begrippe soos gemoedstemming, vorm en kontras te gebruik;
1.8 lees en sing of speel die toonleer en eenvoudige melodieë in G-majeur;
1.9 komponeer musiek, liedjies of wysies rondom menseregtevraagstukke of om 'n opvoering of aanbieding oor menseregte te begelei.
VISUELE KUNSTE
1.10 skep kuns, kunshandwerk of ontwerpstukke wat kommentaar op menseregtevraagstukke lewer en die volgende toon:
1.10.1 die vermoë om op 'n elementêre vlak met 'n wye reeks materiaal, tegnieke, gereedskap en vaardighede te eksperimenteer;
1.10.2 die vermoë om simbole en patrone te identifiseer en te gebruik;
1.11 gebruik riglyne om eie kunswerk uit sy of haar portefeulje te kies, voor te berei en vir 'n klasaanbieding te monteer.