Afrikaans huistaal
Graad 6
Module 4
Gebruik byvoeglike naamwoorde om betekenis oor te dra
Aktiwiteit 1:
Om 'n verskeidenheid byvoeglike naamwoorde te gebruik om betekenis oor te dra
[lu 4.4.1]
Die karaktervolle huisie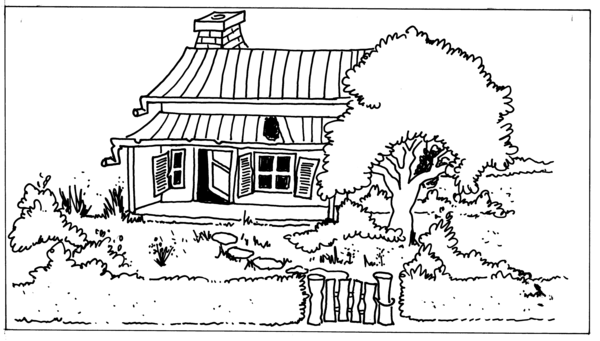 Byvoeglike naamwoorde kan inspan word om verskillende sieninge oor dieselfde saak weer te gee. Jy moet kommentaar oor die huisie uit die oogpunt van enige twee van die volgende persone skryf:
(Maak eers saam met jou maats 'n lys van byvoeglike naamwoorde wat jy by elke persoon sal kan gebruik.)
'n nutsman
'n huisagent
'n moontlike koper van die huis
'n skilder (kunstenaar)
'n gesondheidsinspekteur
Aktiwiteit 2:
Om inligting duidelik in geskrewe teks oor te dra [lu 4.1.2]
Om te beskryf wat gevisualiseer word [lu 5.4.1]
Skryf nou kommentaar oor die huisie soos gesien deur enige twee van die genoemde persone. Kies jou woorde so dat die verskil in hul sieninge duidelik na vore kom. Elke stuk moet ongeveer tagtig woorde bevat.
Aktiwiteit 3:
Om taal te gebruik om gevoelens oor te dra [lu 2.1.1]
Om taal te gebruik om te manipuleer [lu 2.4.2]
Luister
Hoe lees 'n mens vertolkend (met 'n verskil)?
Toonhoogte, tempo en intensiteit wissel volgens die aard en die betekenis van die inhoud. As ons opgewonde, bang, kwaad, onthuts of beledig is, praat ons anders as wanneer ons treurig, verslae, rustig of simpatiek is. Vra jul onderwyser om vir jul Pieter en die Wolf van Prokofiev te speel. Die bandopname en kompakskyf (CD) is by biblioteke beskikbaar. Let op hoe die musiek se tempo, toonhoogte en intensiteit wissel. Vergelyk die vinnige, hoë note (die voëltjie) met die stadige, lae note as die gevaar dreig.
Die woordjie Albert gaan op drie maniere aan jou voorgelees word, bv. as Albert se ma
| | | |
| --- | --- | --- |
| kwaad is; | | |
| | | |
| verras is; en as | | |
| | | |
| hy sy toon gestamp het. | | |
Luister aandagtig. As die woordjie " Albert " bv. derde gelees word soos wanneer Albert se ma verras is, skryf dan 'n syfer 3 in die blokkie daarnaas, ens.
Doen nou dieselfde met: " Het jy dit gedoen?"
Doen soos bostaande: "Ons het alles probeer. Niks wou help nie, maar môre is nog 'n dag."
"Faan, sê my: Hoe is ek? Ek bedoel as jy 'n seun was, ek meen, sê nou jy was nie my broer nie, sal jy gedink het … ek is oulik? Sou jy vir my in die kerk geloer het? Huh?"
Lees bostaande verliefderig.
Aktiwiteit 4:
Om te lees met die oog op begrip
[lu 3.1.2]
Lees die onderstaande gedeelte aandagtig deur en beantwoord die vrae. Ses minute word vir die deurlees van die stuk toegelaat.
Niks nuut onder die son nie
So verskillend, maar ai, tog so dieselfde. Dit is nou as ons ons kleredrag vergelyk met dié van ons voorgeslagte. Die grootste verskil vandag tussen mans en vroue se kleredrag is dat mans langbroeke dra en vroue rokke. Griekse en Romeinse mans het "rompe" gedra, terwyl baie vroue vandag weer langbroek dra. Dit lyk asof die kringloop voltooi is.
In die Griekse en Romeinse beskawings het mans en vroue 'n tipe rok, die "chiton" gedra; knielengte vir mans en enkellengte vir vroue. Dit het kort moue gehad. Die "chiton" was 'n reghoekige stuk materiaal wat nêrens gestik was nie. Jong mans het bo-oor die "chiton" 'n mantel gedra wat vasgemaak was oor een skouer. Vandag dra mans en vroue weer baiekeer dieselfde soort klere, maar vroeër het klere tussen mans en vroue baie verskil en natuurlik ook baie verskil van ons hedendaagse modes. Kom ons kyk 'n bietjie na die verskille.