Suggested Time: 65 minutes. Science TEKS: 3.11, 4.6, 5.1, 5.2, 5.3, 5.4, 5.5. Math TEKS: 5.11, 5.14, 5.15
Objective
Students have already learned about the most common gases in the atmosphere. Now they will begin to learn about how other substances in the atmosphere can strongly affect their health and the environment, even in minute concentrations. In this lesson, students will learn about stratospheric ozone and the difference between this high-level ozone (which protects the Earth from ultraviolet radiation) and low-level ozone (which is an air pollutant).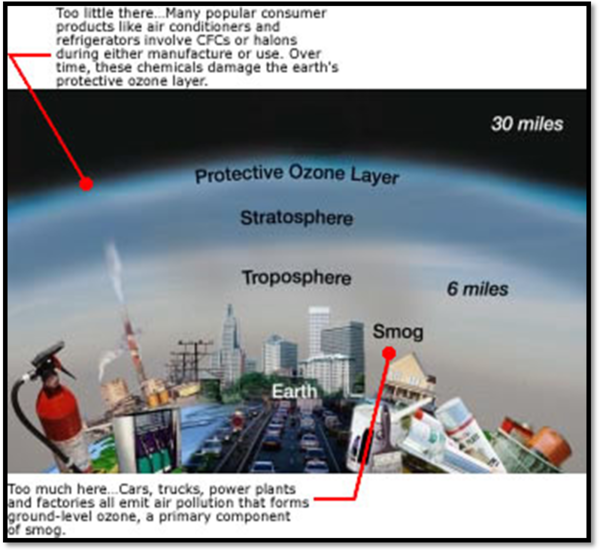 Background information
Most of the oxygen in the atmosphere, and the type that we need to sustain life, has two atoms per molecule (O2). Ozone , by contrast, has three oxygen atoms (O3). Ozone forms naturally in the stratosphere when intense ultraviolet radiation from the Sun splits an oxygen molecule (O2) into two O atoms. Each O can then combine with another O2 to form O3. [Note: The concept of molecules composed of atoms is above the 5th grade level; for your explanation to students, you can state that the Sun's intense UV radiation splits oxygen to form ozone].
About 90 percent of the ozone in the Earth's atmosphere is found in what is known as the ozone layer in the stratosphere (about 10-30 miles above Earth's surface). The ozone layer absorbs most of the Sun's ultraviolet radiation to shield us from these damaging rays. Ultraviolet rays can cause a range of negative effects: they can cause cancer, burn skin, damage eyes, weaken the human immune system, and harm both plants and animals. In fact, estimates show that a one percent reduction in the ozone layer results in a two to five percent increase in the number of cases of cancer!
Certain air pollutants can damage the ozone layer. The most dramatic depletion of the ozone layer is the Antarctic ozone hole . In the early 1980s, scientists discovered major thinning of the ozone layer above Antarctica during springtime . In fact, they observed nearly 70% less ozone than had been found there previously! Scientists realized that the depletion of the ozone layer is caused by the release of certain chemicals such as chlorofluorocarbons (CFCs) into the atmosphere. Just a few decades ago, CFCs were used in air conditioners, aerosol sprays, and cleaning products. When CFCs reach the stratosphere, they react with the sunlight to release chlorine atoms, which can destroy ozone molecules. In 1989, an international agreement known as the Montreal Protocol was signed to ban the most destructive ozone-depleting gases and preserve the ozone layer. If the agreement is adhered to, it is hoped that the ozone layer will completely recover by 2050.