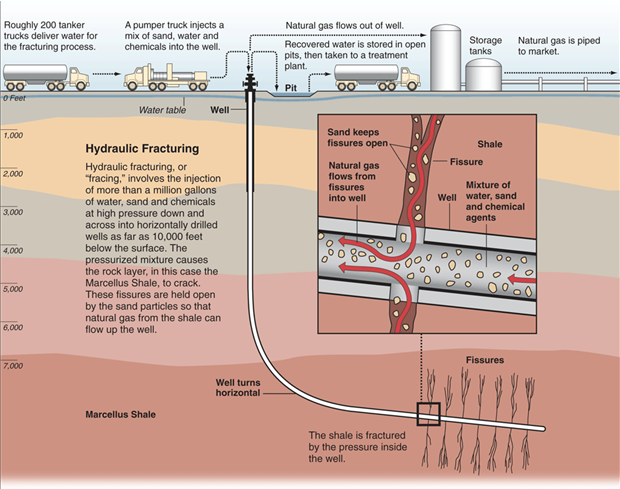 Alternatives to fossil fuels
Nuclear power
Nuclear power plants produce no carbon dioxide and, therefore, are often considered an alternative fuel, when the main concern is climate change. Currently, world production is about 19.1 trillion KWh, with the United States producing and consuming about 22 percent of that. Nuclear power provides about nine percent of our total consumption for electricity (see Figure U.S. Energy Consumption by Energy Source, 2009 ).
However, there are environmental challenges with nuclear power. Mining and refining uranium ore and making reactor fuel demands a lot of energy. The plants themselves are made of metal and concrete which also requires energy to make. The main environmental challenge for nuclear power is the wastes including uranium mill tailings, spent (used) reactor fuel, and other radioactive wastes. These materials have long radioactive half-lives and thus remain a threat to human health for thousands of years. The U.S. Nuclear Regulatory Commission regulates the operation of nuclear power plants and the handling, transportation, storage, and disposal of radioactive materials to protect human health and the environment.
By volume, uranium mill tailings are the largest waste and they contain the radioactive element radium, which decays to produce radon, a radioactive gas. This waste is placed near the processing facility or mill where they come from, and are covered with a barrier of a material such as clay to prevent radon from escaping into the atmosphere and then a layer of soil, rocks, or other materials to prevent erosion of the sealing barrier.
High-level radioactive waste consists of used nuclear reactor fuel. This fuel is in a solid form consisting of small fuel pellets in long metal tubes and must be stored and handled with multiple containment, first cooled by water and later in special outdoor concrete or steel containers that are cooled by air. There is no long-term storage facility for this fuel in the United States.
There are many other regulatory precautions governing permitting, construction, operation, and decommissioning of nuclear power plants due to risks from an uncontrolled nuclear reaction. The potential for contamination of air, water and food is high should an uncontrolled reaction occur. Even when planning for worst-case scenarios, there are always risks of unexpected events. For example, the March 2011 earthquake and subsequent tsunami that hit Japan resulted in reactor meltdowns at the Fukushima Daiichi Nuclear Power Station causing massive damage to the surrounding area.
Fukushima Daiichi Nuclear Power Station
March 11, 2011: Magnitude 9.0 earthquake 231 miles northeast of Tokyo. Less than 1 hour later a 14m tsunami hit
50 power station employees worked around the clock to try to stabilize the situation