Assignment 3:
Now draw designs in the rectangles below to indicate how you want to decorate your container in order to give it texture. circle your best idea.
Lo 1.6]
Assignment 4:
[lo 1.8]
1. Requirements
The lid of your container must fit firmly on the container. There must also be a handle by which you can lift the lid.
Assignment 5:
Make a freehand design of the lid showing a three-dimensional top view and bottom view. circle your best idea.
[lo 1.5]
Top views
Example:
Bottom view
Example: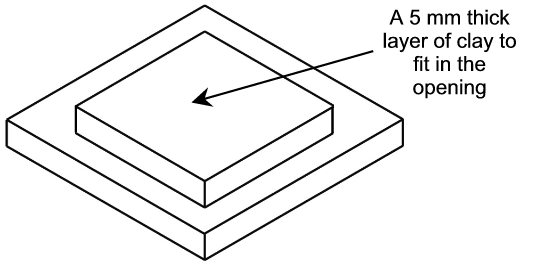 2. Manufacturing
Assignment 6:
Plan and make
[lo 1.5]
a) What kinds of tools do you require to roll out the clay to a thickness of 5 mm? (Choose from: wooden board, clay knife, rolling pin, and cake flour)
- a to roll out the clay smoothly.
- a to flatten the clay.
- a to scrape the dough from the rolling pin and wooden
board.
- so that the clay does not stick to the rolling pin or board.
b) Measure out a square tile on a piece of cardboard with sides of 10 cm and cut it out. This will be your TEMPLATE. Place the template on the rolled out clay and cut six tiles from the clay. Also use the modelling knife to make yourself a handle and the bottom of your lid.
Now decorate the vertical planes of your container (4 tiles).
Cut 5 mm from both left and right sides of the two vertical tiles. Roughen the edges with a kebab-stick. You may also use water.
Working very carefully, join the different parts of the container in the following way:
Put the tile that will be at the bottom, on a large greased baking pan.
Use a kebab-stick and roughen 1 cm of the edges all around.
Place the decorated tiles upright on the bottom part. Ensure that the edges join properly and that the edges form proper rectangles.
Place the container where it can dry properly. If the clay can be baked, it may be baked in the oven according to the instructions.
Complete your lid according to your design and put it next to your container.
As soon as your container and lid have dried and have cooled down, you may paint it in one colour with poster paint. Then you can varnish it in a transparent varnish so that the article is sealed and the colour of the paint that you used can show up.
Interesting!
As early as the Stone age (12000 BC), when people made utensils and weapons from stone and bone, they started to manufacture utensils from clay, mainly to store food and water. Clay is a very old substance that was used to manufacture utensils and jewellery People used it because clay was readily available.
During the Bronze age (3000 BC) people started to melt metals so that they could make utensils and weapons. In those days people made many articles that were used daily, such as containers, mugs, pots, etc, from clay. They also made bricks and tiles from clay and built houses with the clay bricks. Archaeologists, who excavate antique civilisations, frequently find many objects and relics of clay, which prove that this is true.