Sosiale wetenskappe: aardrykskunde
Graad 8
Nedersettings
Module 3
Funksies van grondgebruik
Die uitleg van 'n dorp- of stadplan toon dat verskillende dele vir verskillende funksies toegeken word. Die uitleg van 'n dorp of stad moet goed beplan word. Dit sou byvoorbeeld fataal wees om 'n nywerheid wat giftige afvalstowwe vrylaat, binne dieselfde gebied as 'n woonbuurt te plaas. Daarom is daar stadsbeplanners wat reeds jare vooruit beplan ten opsigte van funksies van gebiede, vervoer en grondgebruik. Dit kan egter gebeur dat die rol van sekere geboue verander.
In Port Elizabeth byvoorbeeld word baie huise nou in besighede omskep. Die gebied wat die sakekern gevorm het, het nou verskuif. Naby Greenacres vind ons reeds die hoofkantore van banke en versekeringsmaatskappye. Wat vroeër deel van die woonbuurt Mill Park was, verander toenemend in besigheids-eiendomme.
1. Grondgebruikfunksies in Suid-Afrikaanse stede
Indien ons na die grondgebruikfunksies van enige stedelike gebied kyk, is daar sekere funksies wat gewoonlik in alle stede aangetref word. Die totale stedelike area bestaan gewoonlik uit gebiede wat ontwikkel is, terwyl ander dele onontwikkel is.
Die ontwikkelde area bestaan gewoonlik uit twee groepe ontwikkelde gebiede, naamlik private en openbare ontwikkelde areas.
Private ontwikkelde areas
Die privaat ontwikkelde area behels gewoonlik drie tipes grondgebruikfunksies:
a) Residensieel – bv. Enkelwonings, skakelhuise, woonstelle en meenthuiskomplekse.
b) Industrieë – bv. Opberging, Ligte industrieë en Swaar Industrieë.
c) Handel – bv. Kleinhandel, Groothandel, Finansies en Professionele ondernemings
Openbare ontwikkelde areas
Die Openbare ontwikkelde area behels vier tipes grongebruikfunksies:
a) strate
b) ontspanning – soos parke, sportterreine en kultuur
c) openbare dienste – soos hospitale, lughawens, begraafplaas en afvalwerke
d) onderwys – soos laer- en hoërskole
Onontwikkelde areas
Die onontwikkelde gebied kan gewoonlik onder twee hoofde geklassifiseer word:
a) onbenutte, oop terrein
b) landbougrond
Aktiwiteit 1:
Om die rol en funksie van grondgebruik te beskryf
[lu 2.2]
Bestudeer die skets van die stedelike gebied en beantwoord die vrae: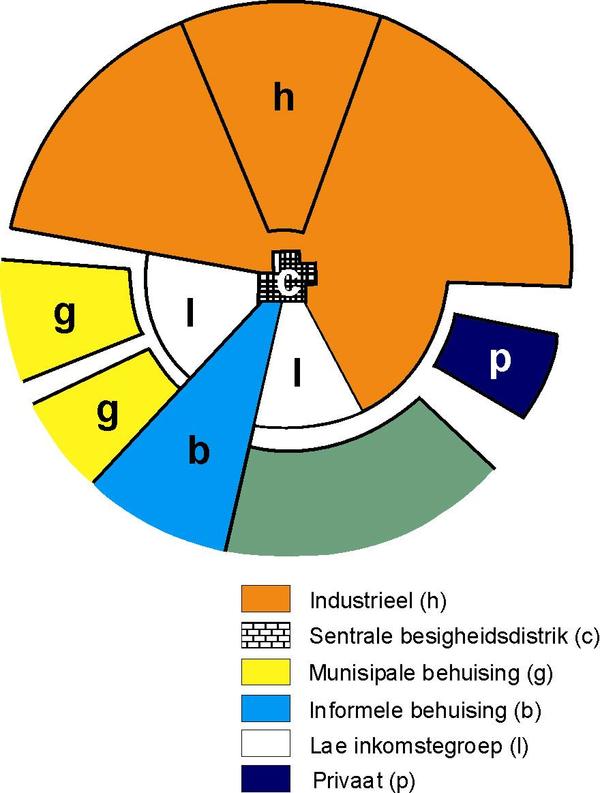 1. Waar word die sakekern van die stedelike gebied aangetref?
2. Sou jy B as 'n hoë-inkomste-woongebied beskryf of as 'n laerinkomstegroep woongebied? Gee 'n rede vir jou antwoord.
3. Wat belemmer moontlike toekomstige uitbreiding van die stad in 'n noordelike rigting (sien C).
4. Is daar genoegsame sportfasiliteite beskikbaar om in die inwoners van die stad se behoeftes te voorsien?
Aktiwiteit 2:
Om die funksie van grond in die omgewing te bespreek
[lu 2.2]
lw: opvoeders moet daarop let dat hierdie aktiwiteit 'n praktiese opdrag is wat in pare gedoen kan word.
2. Die funksie van die grond in my omgewing
Bestudeer die tabel en bykomende inligting en volg die instruksies van die opvoeder om die gebruik van grond in jou omgewing te bepaal.
| | | |
| --- | --- | --- |
| Grondgebruikkategorie | Beskrywing | Erf No. |
| Residensieel | | |
| Fabrieke/Nywerhede | | |
| Groothandel | | |
| Handel | | |
| Ontspanning | | |
| Openbare Dienste | Bv. kerke, hospitaal, lughawe, ens. | |
| Opvoeding | Bv. skool, universiteit, ens. | |
| Oop onbenutte terrein | | |
| Landbougrond | | |
| Strate | | |