Kuns en kultuur
Graad 4
Kritiese en kreatiewe refleksie
Module 16
Musiek: strykinstrumente
Strykinstrumente
Aktiwiteit
Om instrumente te identifiseer [lu 2.4, 2.5]
DIE SKILPAAIE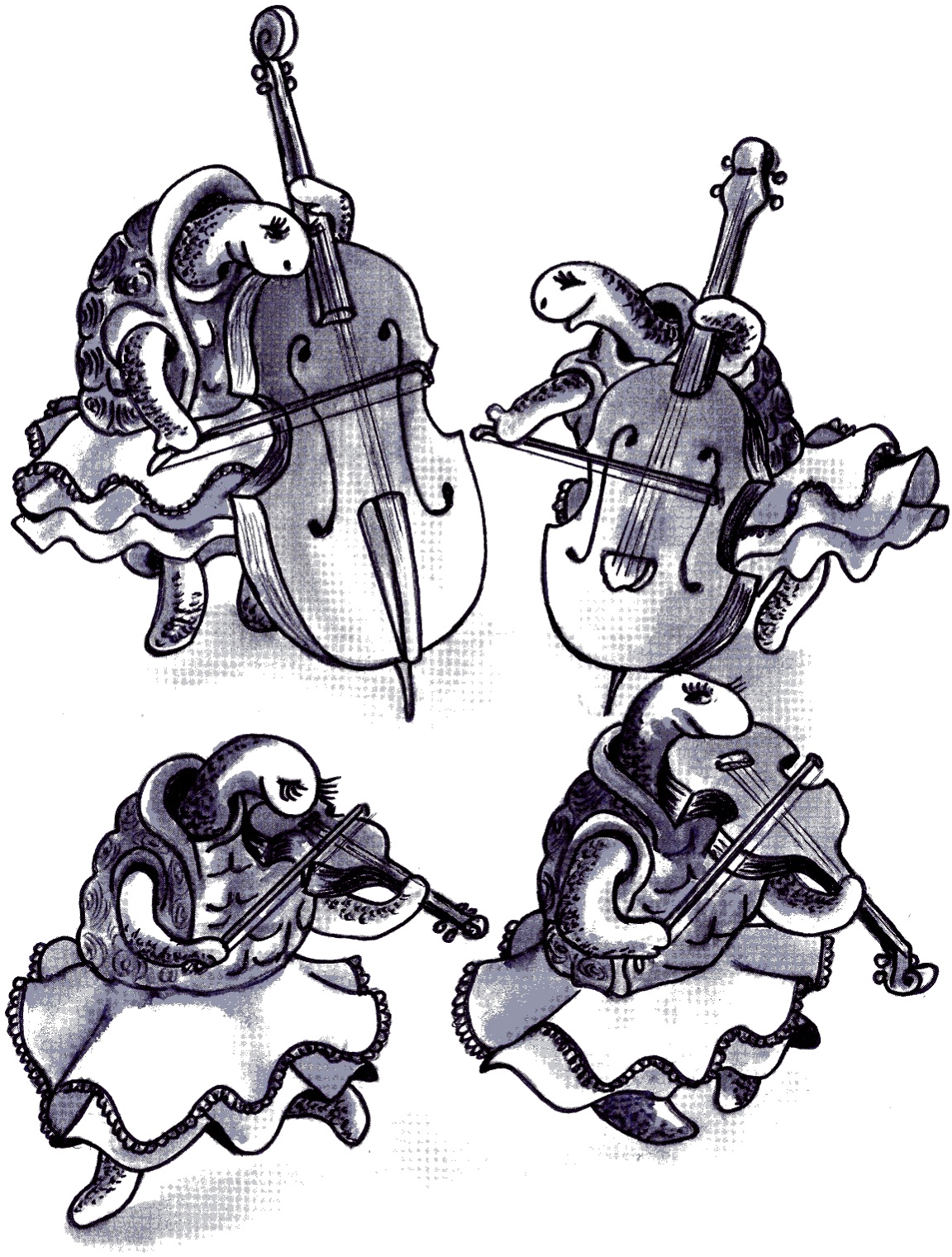 Voltooi eers:
| | |
| --- | --- |
| | |
| | |
| Is die instrumenteklank hoog en/of laag? | |
| | |
Om die skilpaaie uit te beeld, gebruik die komponis strykinstrumente.
Hoe lyk die strykinstrumente?
Kyk na die skets van die skilpaaie. Daar is VIER verskillende strykinstrumente:
Viool
Altviool
Tjello
Kontrabas
Hierdie vier instrumente vorm die strykinstrumente. Strykinstrumente bestaan uit 'n houtkas en vier snare. Die snare word met 'n strykstok bespeel.
Strykinstrumente word met groot sorg vervaardig. Al die houtdele word aanmekaar vasgegom en daar word geen spykers of skroewe gebruik nie. Hierdie groep instrumente wissel in grote: Hoe groter die instrument, hoe laer die klank; hoe kleiner die instrument, hoe hoër die klank.
(Vergelyk met groot en klein diere: 'n muis is klein, sy klank is hoog; 'n olifant is groot, sy klank is laag.)
Plak prentjies of maak tekeninge van die vier strykinstrumente.
Hoe bring ons klank voort op die strykinstrumente?
Sodra 'n mens die strykstok oor die snaar stryk, vibreer die snaar. Dit veroorsaak klank! Hoe langer die snaar is, hoe laer is die klank; hoe korter die snaar, hoe hoër is die klank. Om die snare korter of langer te maak, word die linkerhand hoër op of laer af op die snare gedruk.
In plaas van die strykstok te gebruik, kan die snare ook gepluk word met die regterhand. Dit veroorsaak kort klanke.
Die toonhoogte van die strykers:
Viool: hoog
Altviool: redelik hoog
Tjello: redelik laag
Kontrabas: laag
Rangskik die strykinstrumente soos volg:
1. van klein na groot
2. van hoog na laag.
Watter afleiding kan jy maak?
STRYKINSTRUMENTE
| | | | | |
| --- | --- | --- | --- | --- |
| 1. Klein na groot | | | | |
| 2. Hoog na laag | | | | |
Assessering
LEERUITKOMS 2: REFLEKSIE Die leerder kan krities en skeppend op kuns- en kultuurprosesse, -produkte en -style in vergange, asook huidige kontekste reflekteer.
Assesseringstandaard
Dis duidelik wanneer die leerder:
2.4 maatslae soos vier-vier en drie-vier kan herken;
2.5 na musiekinstrumente luister en hulle kan identifiseer in terme van voorkoms, naam, wyse van klankproduksie, timbre en algemene toonhoogteklassifisering (hoog-laag).