This module shows how to edit the contents of a module. This includes the text, files, and metadata of a module.
This module contains Connexions documentation which is out-of-date. The contents of this module are provided here for historical purposes only and should not be considered accurate for the current version of the Connexions website. The current (English-language) version of this module can be located at (External Link) . If you have any additional questions or cannot find the answer to your question, please contact techsupport@cnx.org and we will be happy to assist in any way we can.
If you would like to assist Connexions by helping us update this module with an appropriate translation from the current English version, please contact us at cnx@cnx.org as we would appreciate your help with improving our support for non-English-speaking users.
モジュールとは?
 モジュールはConnexionsコースの基本的なブロックです。モジュールは、1つのトピックなどを記述してあるフォルダ、イメージ、およびCNXMLファイルとして考えることができます。モジュールの著者はモジュールのサイズを決定します。各モジュールは単独で機能するための、十分な情報を含まなくてはなりません。コースを閲覧している学生にとって、モジュールは特定のトピックに対する単純なWebページです。学生はモジュールにより、彼らのインストラクターが作成したコース経路を通ること、または彼ら自身の経路を見つけることができます。コースをまとめるインストラクターにとって、異なったトピックを異なったモジュールにしておくと、情報の簡単な選択とアレンジができます。コースを作成するとき、インストラクターは他のコースの既存モジュールか、他の専門分野のモジュールを含めることができます。
 新しいモジュールとしてのコンテンツの例は [link] で示されています。Manage Files画面のファイルタブをあらわしています。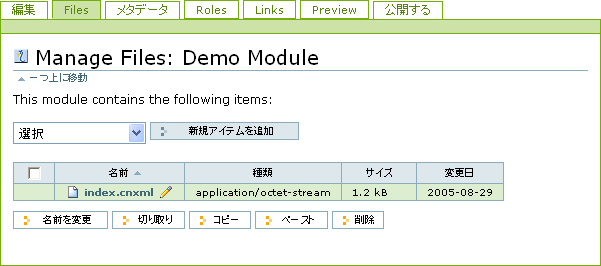 Module statusサイドバー
  "Module Status" サイドバーは、モジュールに関する状態情報と、モジュール編集に役立つタスクへのリンクを含んでいます。このサイドバーはモジュールコンテンツの右にあり、以下の項目を含んでいます。
State - モジュールの現在の状態
Last action - 最後にモジュールに対して実行された行動、行った人、日時
Actions - 新しいモジュールのため、この項目はContent Commonsにモジュールを公開し、現在の操作を放棄するために、Connexionsページへのリンクを表示します。既存のモジュールを編集するとき、この項目はオリジナルの著者に編集を提案する 編集の提案 のリンクや、既存モジュールの 既存のモジュールのコピーと利用 を作成するリンクを表示したりします。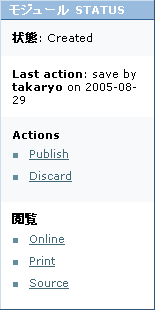 モジュールの編集
 ワークスペースに新しいモジュールを 作成 するか、既存のモジュールを 追加 すると、内容、ファイル、画像を追加するなどの編集をする必要があるかもしれません。Manage Files画面かModule Statusサイドバーのボタンで、これらの操作は実行できます。これらの操作を行うための手順は、以下に説明されています。
 モジュール編集のこれらの操作は、以下のパラグラフで紹介されています。
Cnxmlファイルの編集
 ファイルタブは、モジュールに関連しているすべてのファイルの一覧を表示するためのものです。そのファイルは、index.cnxmlというCNXMLでマークアップされたテキストを含んでいます。編集するにはファイル名をクリックしてください。 "Edit CNXML File: index.cnxml" 画面が表示されます。この画面で、ファイルに対して以下の操作を行うことができます。

 また、他の種類のファイルを インポート/エクスポート し、モジュールをプレビューすることができます。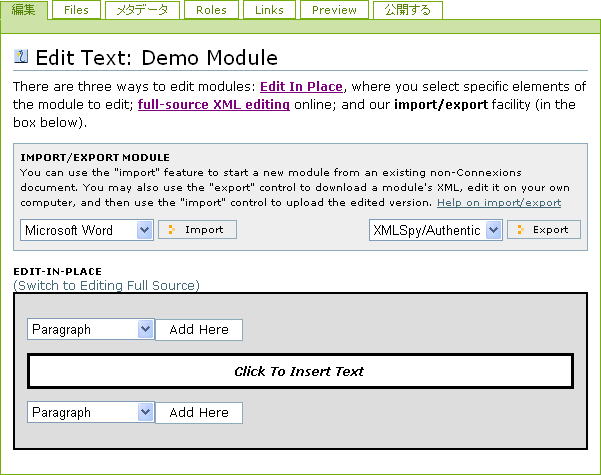 Xmlエディターへのインポート/エクスポート
 ファイルを編集する適した方法が、XMLファイルを編集するために特別に設計されたソフトウェアパッケージにあります。これを行うため、index.cnxmlファイルは変更されることにより、XMLエディターで読めるようになります。そして、そのファイルはConnexionsからエディターにエクスポートされます。編集を完了すると、ファイルはConnexionsにインポートされ、エディターの読みやすさのため、変更が取り除かれます。モジュールの "Import/Export" タブでインポートやエクスポートの機能を使うと、ディ他の読みやすさのために、自動的に変更を追加・削除します。現在、ConnexionsによってサポートされているXMLエディター形式は、 Altova xmlspy ®エディターかAltova authentic ®エディターだけです。