Technology
Grade 7
Working with wind and water
Module 8
Making a water-wheel
INVESTIGATION
Problem situation
You are required to lift a certain number of drawing pins over a distance of 60 cm. Your power source is 4 ℓ of water that is supplied 1,5 m above the rotor in a 3 mm plastic pipe.
Design limitations
You may use any one of the following:
For the rotor:
a cork stopper or
two cardboard circles, each with a diameter of 20 cm or
an empty cotton reel
For the axle:
two toothpicks or
a knitting needle or
a 15 cm nail or
a long rounded pencil or
a kebab skewer
For the blades:
two egg boxes from which the "cups" have been cut out or
thick cardboard or
an empty 2 ℓ plastic cool drink bottle from which the blades can be cut or
a plastic margarine punnet from which the blades can be cut or
plastic teaspoons or
plastic ice-cream scoops (the flat kind)
Examples of water-wheels: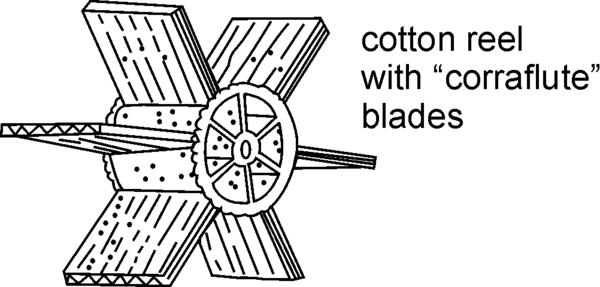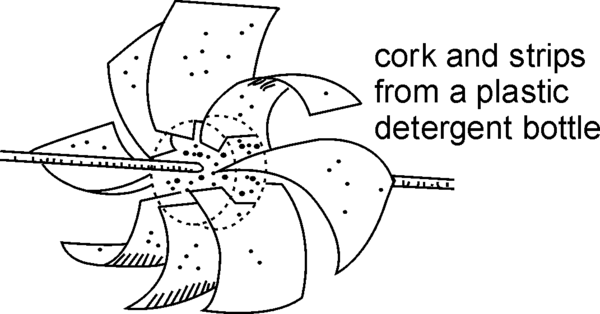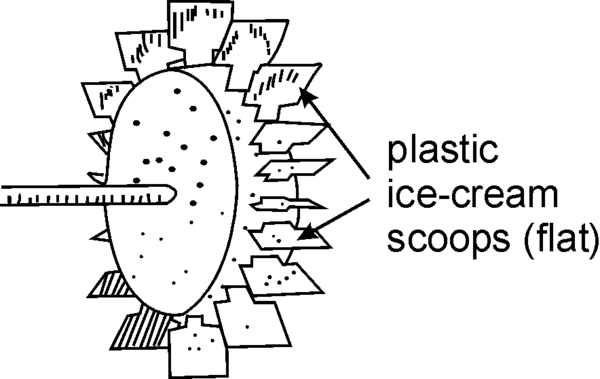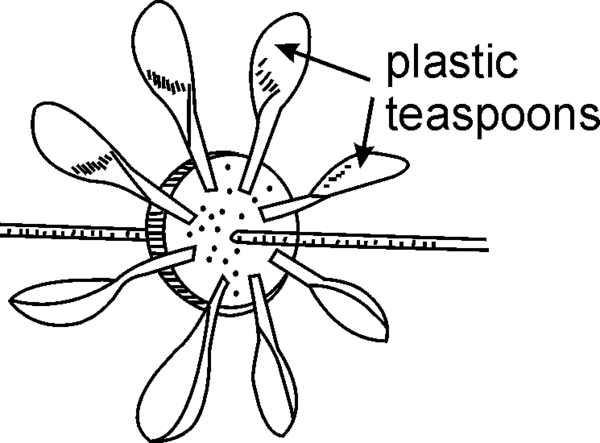 For the stand:
a ruler with wire that is fastened to the axle at both ends or
a piece of wood with string that is fastened to the axle or
an empty 2 ℓ plastic bottle with the bottom cut out or
a large plastic juice bottle or
a 2 ℓ plastic milk bottle
To supply the water source:
a jug that is marked in litres
a length of plastic tubing (1,5 m long, 3 mm in diameter) fastened to a funnel
To catch up the water: a large, flat plastic bowl
To lift the drawing pins (the hoisting apparatus):
string or
wool
a bowl with a flat bottom for the drawing pins
an eyelet
You will also need:
a pair of scissors
Prestik
plasticine
adhesive tape
a knife
glue
waterproof paint and varnish
a paint brush
a stapler
a pencil
a ruler
a stylus
a protractor (for positioning the blades)
Assignment 1:
To analyse a situation
[lo 1.5]
Let us analyse the situation and write a design proposal. (A design proposal is a short statement that could describe a probable solution.)
Complete the following:
I am going to design and make a ________that will be capable of lifting a
number of __________over a distance of _________cm vertically
by using some of the suitable material and tools that have been mentioned.
Design
Assignment 2:
To do research on hoisting apparatus and turbines
[lo 1.4]
Do research on hoisting apparatus (pulleys) and turbines (water-wheels) and draw or paste pictures of existing or antique machines. Briefly explain how they worked. (Find out more about the Egyptian shadoof or the water-wheels of Archimedes.)
Name the reference sources you made use of________________
Memorandum
Assignment 1
water wheel/crane (hoisting apparatus)
drawing pins
60cm