Kuns en kultuur
Graad 5
Persoonlike en sosiale vaardighede
Module 2
Om ritmies en met gepaste dinamiek saam met musiek te speel
Aktiwiteit 1
Om ritmies en met gepaste dinamiek saam met musiek te speel
[lu 3.5]
Luister na Any dream will do en klap die volgende patrone saam: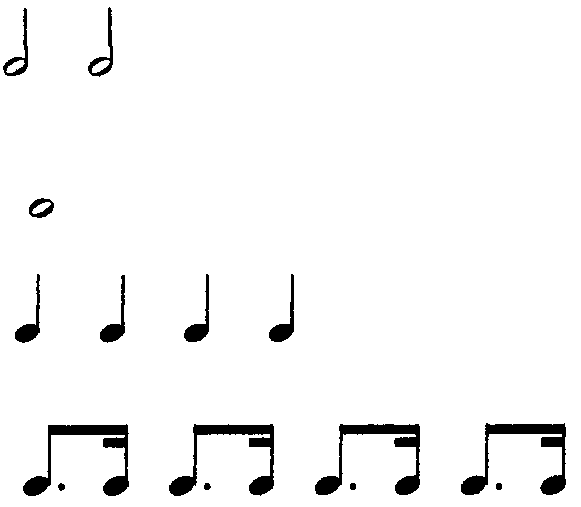 Om die lied te begelei moet jy die opvoeder se instruksies noukeurig volg.
Jy moet aandagtig luister na die musiek. Die musiek sal vir jou sê
Hoe vinnig jou begeleiding moet wees
Hoe hard of sag jou begeleiding moet wees
Of daar gedeeltes is wat herhaal moet word
Sing die lied. Hier volg 'n gedeelte van die lied:
Any dream will do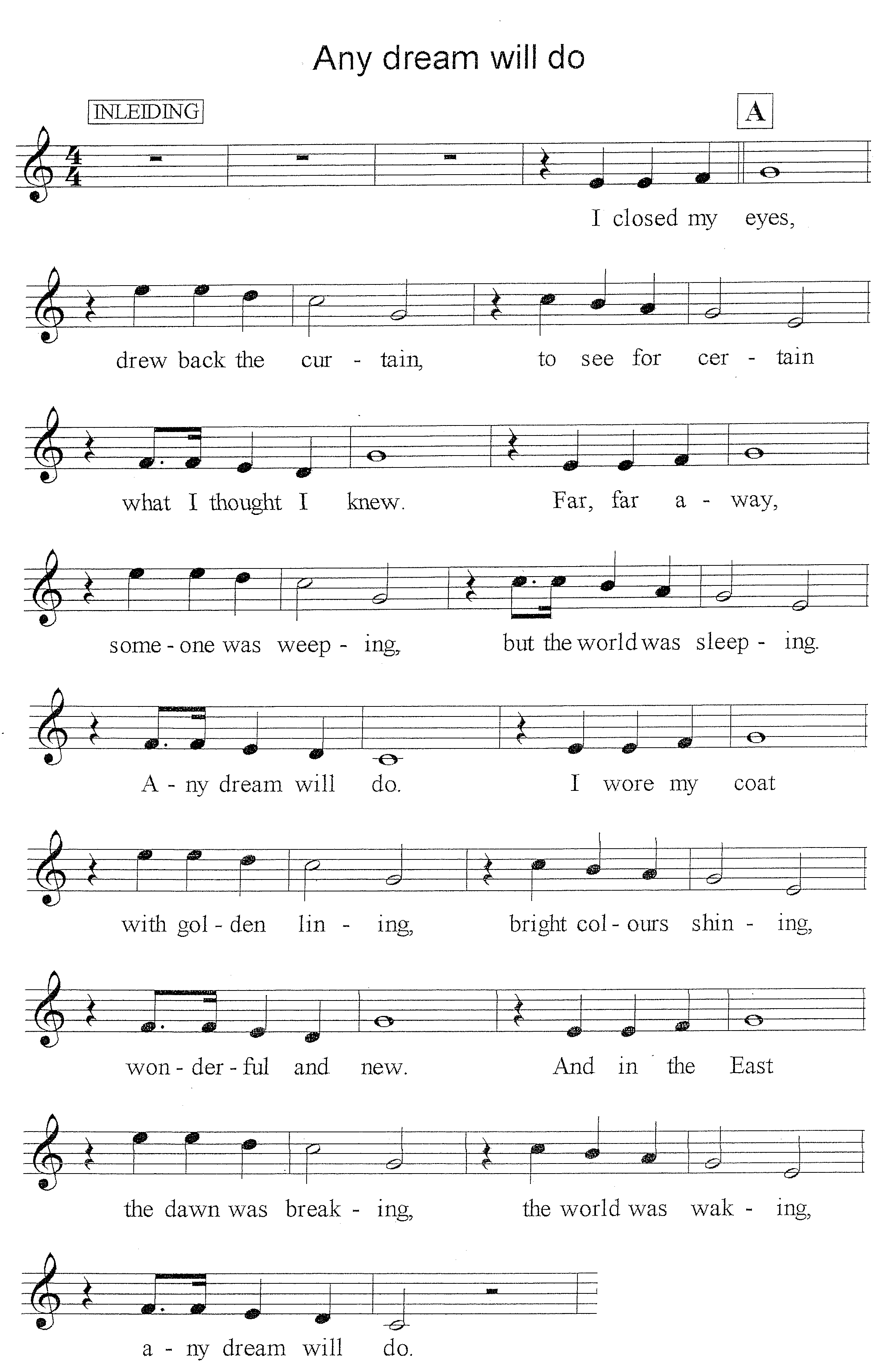 Aktiwiteit 2
Om tekstuur te ondersoek
Lu 3.5
Wat is tekstuur?
Hoe verkry mens verskillende teksture in musiek? Trek die onderstaande blokkie op jou papier of in jou werkboek. Vul hierdie blokkie in nadat julle die aktiwiteit voltooi het.
S tap 1
Verdeel die klas in drie kleurgroepe: groen, pers en oranje. Sê en klap die ritmiese patrone voordat julle dit op instrumente probeer. Almal in een groep gebruik dieselfde instrumente. Hoe verskil die klank van die drie groepe?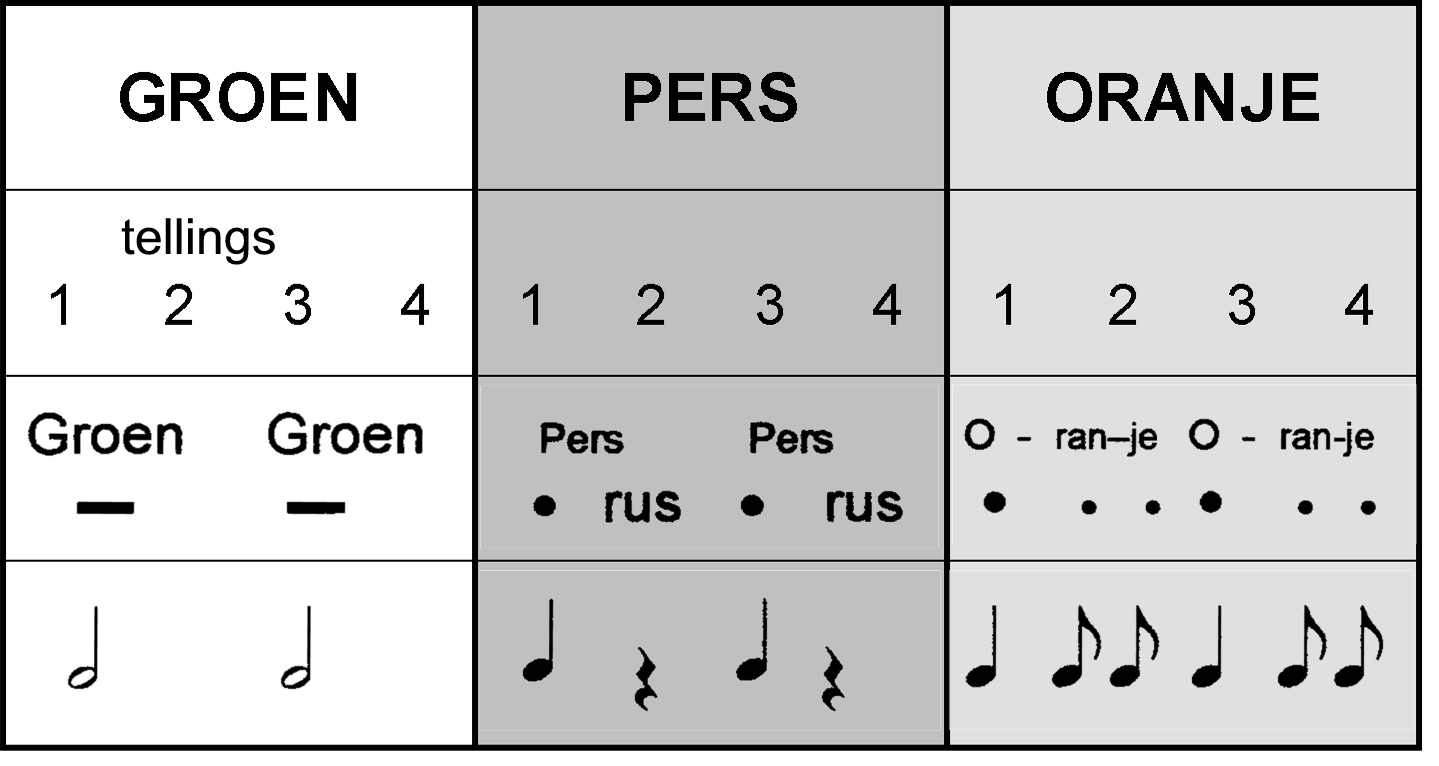 S tap 2
Speel of klap julle patrone saam met die musiek. Die groen groep voer die groen patroon uit; die pers groep die pers patroon en die oranje groep die oranje patroon!
Stap 3
Kom ons maak langer patrone! "Las" twee kleure aanmekaar.

Kopieer die onderstaande blokkie en vul in.
My groep se keuse: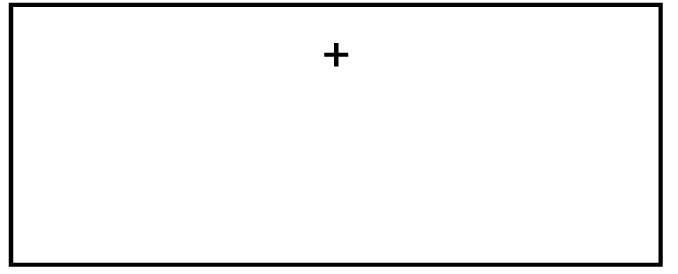 Hierdie patroon word oor en oor herhaal.
Ons noem dit 'n OSTINATO.
S tap 4
Elke groep speel hulle ostinato vier maal agtermekaar. Besluit hoe julle dit gaan speel deur te kies uit die volgende moontlikhede en nommer dit van 1 tot 4. Julle kan ook verskillende kombinasies doen soos bv. legato en sag , of solo en staccato .
Hard of sag
Geleidelik harder of geleidelik sagter
Legato (gebind) of staccato (los van mekaar)
Ensemble (die groep) of solo (een persoon)
Kopieer die volgende tabelle en vul dit in. My groep se keuse:
| | | |
| --- | --- | --- |
| Voltooi die volgende kontrolelys: | JA | NEE |
| Ek kan klank produseer (klank maak) | | |
| Ek kan die ritmes speel | | |
| Ek kan saam met my groep die ritmes speel | | |
| "Om te musiek" is lekker! | | |
Assessering
LU 3
DEELNAME EN SAMEWERKING Die leerder is in staat om persoonlike en sosiale vaardighede te toon deur individueel en in groepe aan kuns- en kultuuraktiwiteite deel te neem.
Dit is duidelik wanneer die leerder:
ALGEMEEN
t.o.v. 3.1 – 3.7 hieronder, die volgende toon:
saamwerk met ander lede van 'n groep gedurende kunsaktiwiteite;
die vermoë toon om eie bydraes binne groepverband te lewer;
aanvaarding van medeleerders toon;
MUSIEK (3.5, 3.6)
in 'n groep sing en/of 'n instrument speel met gepaste ritme, toonhoogte en dinamika, in enige musiekgenre;
'n aantal meloritme-instrumente (trom, marimba) kombineer om tekstuurvermengings te skep;