Afrikaans eerste addisionele taal
Graad 5
Kom ons vier fees
Module 17
Feeste en feesdae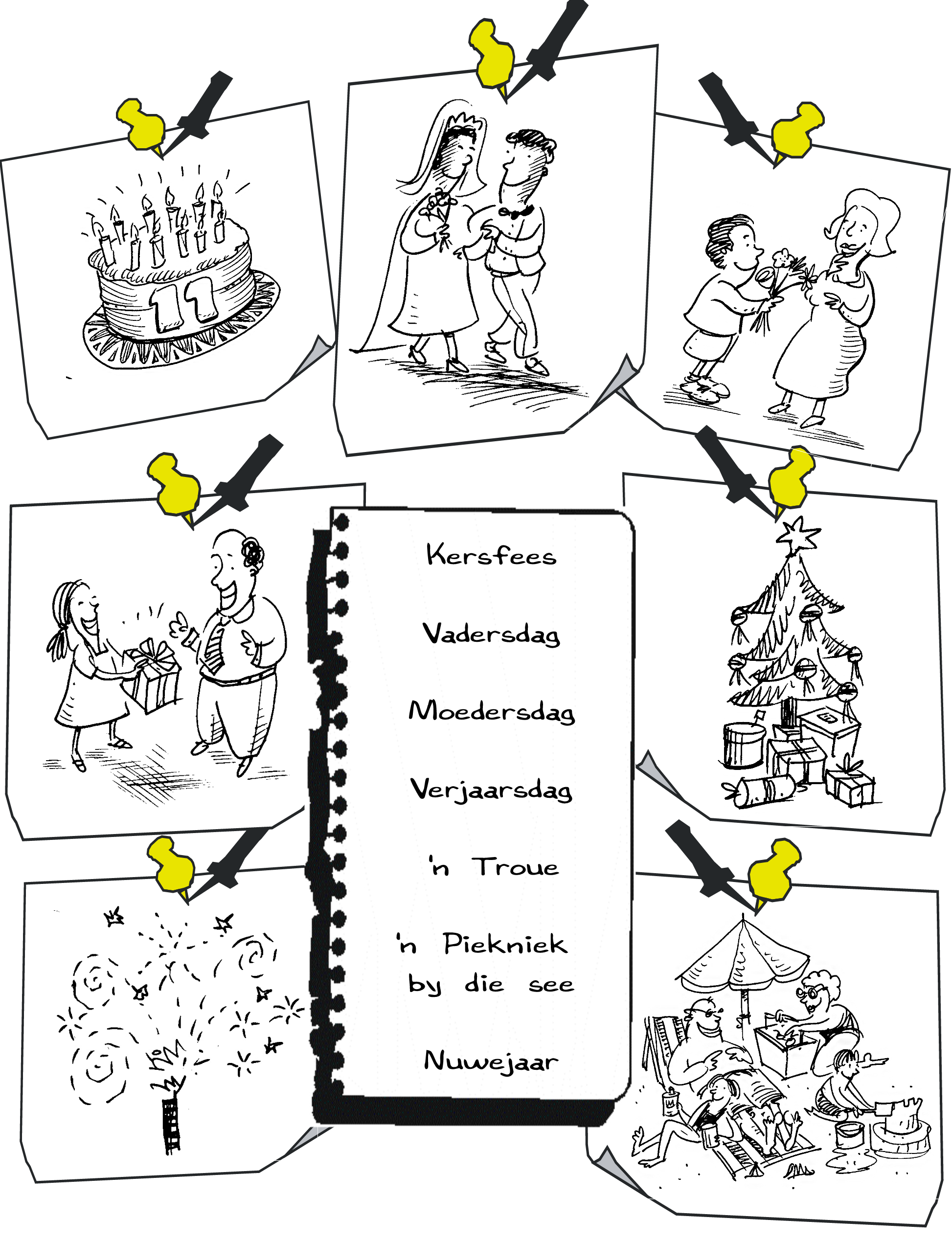 Ons kan baie spesiale tye saam met ons gesin of vriende deurbring! Verdeel in julle groepe en gesels oor die volgende:
Feeste (festivals or feasts)
Besluit watter woorde by watter prentjies op die vorige bladsy pas en skryf die korrekte byskrifte onder elke prentjie neer.
Wat doen julle as gesin, familie of vriende saam wat ook baie lekker of spesiaal is?
Vier julle enige godsdienstige feeste?
Hoe vier julle hierdie feeste?
Maak 'n lys van al die spesiale tye, dae of feeste wat in julle groep bespreek is:
Daar is byna elke dag 'n spesiale viering (celebration) of fees wat êrens in die wêreld gevier word. In ons eie land, Suid-Afrika, is daar ook baie spesiale dae of feeste wat gevier word. Daar bly so baie verskillende mense in ons land dat sommige mense, byvoorbeeld verskillende godsdienstige groepe, nie al die dae of feeste vier nie.
[LU 2.1.2; 2.2.3]
Feesdae en feeste in suid-afrika
Hier volg 'n lys van sommige van die feeste en spesiale dae of feesdae wat ons in ons land vier. Die dae en feeste word genoem in die seisoene waarin hulle voorkom. Bestudeer dit baie goed en beantwoord dan die vrae wat volg deur W(Waar), O(Onwaar) of OB(Onvoldoende besonderhede) neer te skryf. Die Engelse name van sommige van die dae word ook genoem.
STILLEESTOETS

Walvisfees in Hermanus (Hermanus Whale Festival)
Erfenisdag (Heritage Day): Op hierdie dag vier ons al die mooi en goeie dinge wat ons as Suid-Afrikaners geërf het, bv. ons kuns, musiek en verhale of stories.
Diwaldo: 'n Fees wat deur mense van die Hindoegeloof gevier word.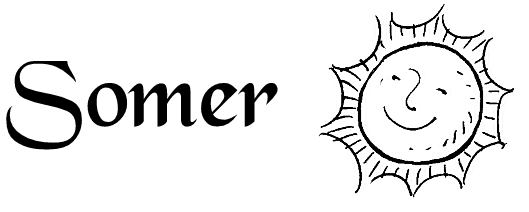 Versoeningsdag (Day of Reconciliation): Op hierdie dag vier ons die manier waarop al die verskillende mense in ons land mekaar aanvaar, verstaan en saamleef.
Kersfees (Christmas)
Nuwejaar (New Year)

Goeie Vrydag; Paassondag en Gesinsdag (Good Friday, Easter Sunday and Family Day): Goeie Vrydag en Paassondag word deur Christene herdenk.
Joodse Paasfees (Passover): 'n Fees wat deur mense gevier word wat aan die Joodse geloof behoort.
Ramadaan: Die mense wat aan die Moslemgeloof behoort, vier hierdie fees.

Jeugdag (Youth Day)
Nasionale Vrouedag (National Women's Day)
Skryf nou slegs W, O of OB langs elke stelling neer.
| | |
| --- | --- |
| Die Walvisfees word in die lente gevier. | |
| Erfenisdag word in Hermanus gevier. | |
| Diwali: word deur die mense van die Hindoegeloof gevier. | |
| Op Versoeningsdag is ons bly oor al die mooi en goeie dinge wat ons geërf het. | |
| Kersfees en Nuwejaar word in die somer gevier. | |
| Goeie Vrydag word deur Christene herdenk. | |
| Die Joodse Paasfees word deur die Joodse geloof gevier. | |
| Ramadaan is 'n spesiale fees vir die Moslemgeloof. | |
| Jeugdag en Nasionale Vrouedag word slegs deur die jeug en vroue gevier. | |
| Die spesiale dae en feeste soos hierbo genoem, is ál die geleenthede wat ons in Suid-Afrika vier. | |
Totaal: 10
[LU 3.3.3]
Ons leef almal saam
Wat vier ons nou weer op Versoeningsdag? (Raadpleeg weer die Stilleesstuk by no. 2.)
Dit beteken ook dat ons maats of mense van 'n ander geloof of kultuur moet aanvaar en respekteer.