Geography
Grade 5
Climate and vegetation regions of south africa
Module 14
Climate regions and summary
When we have taken all these climatic elements into consideration and see how they feature in South Africa, we can divide the country into different climatic regions. A map is ideal to depict the regions.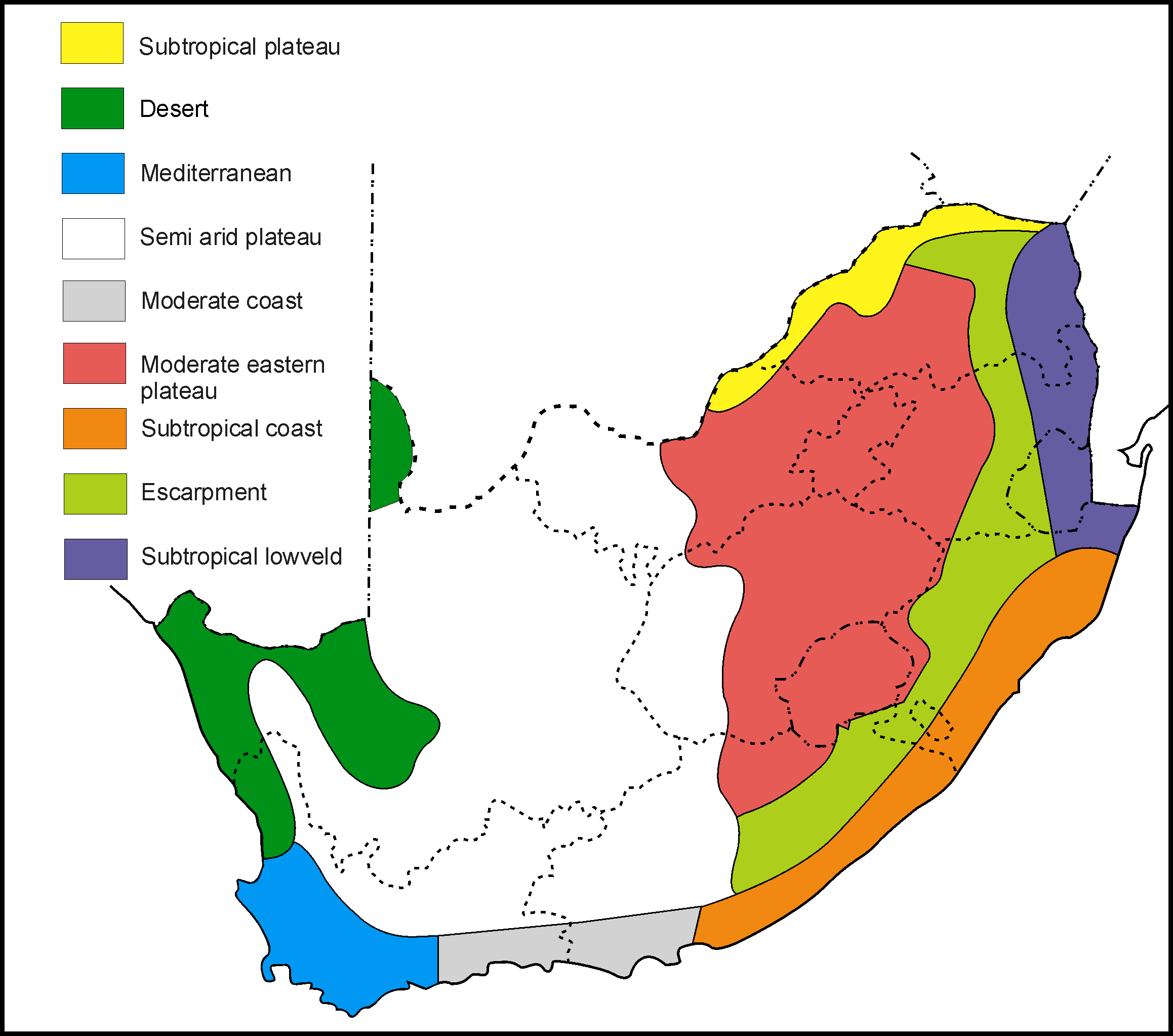 Climate regions in South Africa
Summary
We are now going to make a stimulation summary of the facts that we have learnt up to now to remember them better.
What are the characteristics of a good summary?
Words must be used economically (just phrases).
Main points must stand out.
This limits the facts that you have to remember.
The facts are organised neatly and orderly.
How do you go about making such a stimulation summary?
It is actually very similar to a mind map:
Read through the piece quickly again to get an overall idea of what it is about.
Then read it carefully and make sure that you understand everything. (Ask your teacher if necessary.)
Take a ruler and a pencil and underline just the core words – only one or two words at a time.
Write down the core word of the sub-heading and just the core phrases that you have underlined below it.
Check your own summary to see if you understand everything.
You must be able to rebuild some of these phrases into your own sentences.
Example:
PHYSICAL STRUCTURE OF THE RSA
Coastline
Land and sea meet
RSA: few harbours – this causes regular coastline
Norway: broken coastline
Coastal plain
Low regions at coast
RSA narrow
SW Cape and Natal widest
Make a similar summary of the climate of South Africa.
Assessment
LO 1
GEOGRAPHICAL ENQUIRY
The learner will be able to use enquiry skills to investigate geographical and environmental concepts and processes.
We know this when the learner:
1.1 with guidance, selects and uses sources of useful geographical information (including graphs, maps and fieldwork outside the classroom) [finds sources];
distinguishes between facts and opinions [works with sources];
categorises information [works with sources];
draws sketch maps and/or plans from field observation and measurements [works with sources];
1.7 demonstrates knowledge and under-standing of the issue through projects, discussion, debate and charts [communicates the answer].
Assessment
LO 2
GEOGRAPHICAL KNOWLEDGE AND UNDERSTANDING
The learner will be able to demonstrate geographical and environmental knowledge and understanding.
We know this when the learner:
2.1 identifies and describes major physical features of South Africa, including those of the home province [people and places];
2.2 identifies links between natural resources and economic activities in South Africa [people and resources];
2.3 describes ways in which the physical environment influences human activity and how human activity is influenced by the physical environment [people and the environment].