In Tibetan Buddhism, one important way to assume a religious role is by reincarnation . They believe that when their important religious leaders, like the Dalai Lama, die, they will come back in another body to lead them again. So, a few years after the leader's death, they send out a search party for the young boy who is the new appearance of the leader. He will then be trained to take up his position once again. This is a variation on the aristocratic theme. Once the process is complete, however, the Dalai Lama will rule in a monarchic fashion.
Democracy
It is tempting to think that democracy is the obvious next step and one towards which all religions are striving. But that would be wrong. In fact, democracy is rare in the religious world. It arises only in certain unusual circumstances.
Nor should we think that any one of these ways of organising a religion is necessarily "better" than any other. In the political world, democracy is certainly very desirable. But even within a democratic state, there are many organisations that are not democratic, and this is accepted by all. The military and business worlds, for example, are oligarchic in nature – what the generals or the company directors want to happen, happens. Universities are also oligarchic. Some countries tried to democratise their universities back in the 1960s, with students setting standards and policies. All of those experiments have been quietly abandoned. They just did not work.
One should also consider that if a religion believes that it is ultimately under the rule of God, then in a way it will always be a monarchy, even if at a lower level it is structured in a democratic way. Christians, for example, pray "Thy kingdom come", not "Thy democracy come"!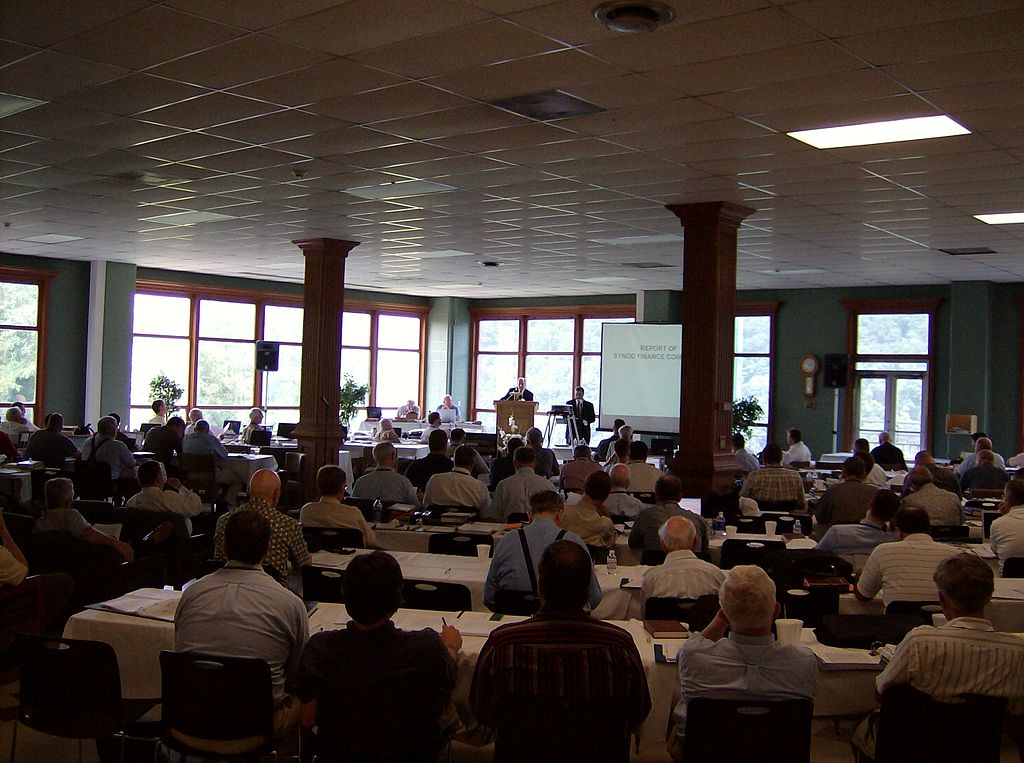 Where we do find religious democracies, they are often structured in a way similar to that of political ones. Members at a low level elect members to represent them at a religious "parliament", like a synod . At the synod, the representatives will then elect from among themselves a small number of people who act as the permanent "cabinet" of that organisation. They effectively rule the organisation until the synod meets again.
Why is this not an oligarchy, then? Because every couple of years the membership has the opportunity, if it wants to, to get rid of their representatives and elect new ones. Hindus can not elect a new Brahmin caste, nor can all the Catholics in the world elect a new Pope. But in democratic institutions, this can and does happen.
Christianity probably has the largest number of democratic organisations, but it is also prominent in the Baha'i Faith. In this religion, the Local Spiritual Communities in an area meet once a year to elect a representative to a National Convention. This convention then elects a National Spiritual Assembly for that country and for that year only. But every four years, the same process is repeated internationally to elect the Universal House of Justice, the highest authority in the Baha'i Faith, which meets in Haifa, Israel.
Many Protestant churches are of the congregational type. They are self–governing local churches who are sometimes affiliated into a cooperative body so that they can work together on large programmes of shared concern. These include Baptists, Mennonites, and many of the independent charismatic churches. The individual congregations remain independent. Other Protestant churches such as the Presbyterians and the Lutherans have democratic participation at the local church, but they also send representatives to national bodies, where top–level decisions are made.
The Society of Friends, or the Quakers, as they are also known, are an example of an extremely democratic organisation. They have no leaders and anyone in their meetings is allowed to speak at any time.
Mixed and transitional systems
Naturally, this neat system of ours does not always work out in practice. In many monarchic organisations, a certain amount of democratic practice is allowed at lower levels. And in some formally democratic systems, we see that the same individuals somehow get themselves elected again and again until the organisation starts to look more and more like an oligarchy.
There are also religions that seem to fall out of our system altogether. Islam is a good example. On some levels, Islam is extremely democratic. All Muslims are equal and pray together shoulder to shoulder. One is not born an imam , one cannot buy that status or get it simply by studying hard. You become an imam when the community at your local mosque decides that you are worthy of it. When that day arrives, they simply start calling you by your new title.
But Muslims do not elect representatives to a "parliament" of all Muslims to rule over them. Instead, Islamic law rules, and the interpreters of that law, who have studied it long and hard, serve as an oligarchic element that binds Muslims around the world together. In Islamic countries where the majority of the population are Muslim, there is often a co–operative relationship between politics and religion. The life of the population is governed by the Islamic law (the Sharia) and this often forms the basis of civil law as well. This aspect is theocratic.
So, this tells us that there can be "mixed" forms of religious governance, in which monarchic, oligarchic and democratic elements combine in various proportions. If a religion used to have one kind of governance, and it is clearly moving towards another, then perhaps right now it is in a "transitional" phase.