Mathematics
Mathematics in the world around us
Educator section
Memorandum
Critical and developmental outcomes:
The learners must be able to:
1. identify and solve problems and make decisions using critical and creative thinking;
2. work effectively with others as members of a team, group, organisation and community;
3. organise and manage themselves and their activities responsibly and effectively;
4. collect, analyse, organise and critically evaluate information;
5. communicate effectively using visual, symbolic and/or language skills in various modes;
6. use science and technology effectively and critically, showing responsibility towards the environment and the health of others;
6. demonstrate an understanding of the world as a set of related systems by recognising that problem-solving contexts do not exist in isolation;
7. reflect on and explore a variety of strategies to learn more effectively;
8. participate as responsible citizens in the life of local, national, and global communities;
9. be culturally and aesthetically sensitive across a range of social contexts;
10. explore education and career opportunities; and
develop entrepreneurial opportunities.
Integration of Themes:
Social justice: The story of the secret signs shows how history can be important. What are the advantages of knowing things about the past?
Learners can divide into groups, visit the library and do more research on the origin of our number system, the Roman numerals, etc.
Learners can do projects on Mathematics found in nature, in the classroom and in the home. They learn to work together in a team, listen to one another and to share ideas.
Discuss whether so called "bargains" are always bargains. What is your attitude towards "sales" in shops? Is it always necessary to give / receive birthday presents? Why do you give presents? When would not giving presents be acceptable?
With the inclusion of the story of the secret sign at this stage, learners are able to understand the significance of the "0" as "place holder" (indegrated with Literacy).
The patterns with addition and subtraction of 6, 7, 8 and 9 are emphasised.
Telling the time in minutes become easy as learners count the minutes in 5's.
Codes are used to find the answer to a puzzle.
As preparation for the Christmas celebrations, the month of December is used for activities involving the calendar.
Module 8 concludes with a game where crackers with number sentences are matched to lights on the Christmas tree.
Leaner section
Content
ACTIVITY: Telling the time [LO 4.1, LO 4.3]
Dad gave Des a present.
Now he can tell the time.
He counts the minutes past the hour in 5's.
He counts the minutes to the next hour in 5's.
He finds out that there are __________ minutes in an hour.

As the long minute hand moves to 1, Des says, "Five past one."
As the long minute hand moves to 2, Des says, " ...... past ...... "
As the long minute hand moves to 3, Des says, " ...... minutes past ......". This can also be "a quarter past one."
What time is it now?
________ minutes past ____________
________ minutes past ____________
________ minutes past ____________
Des must meet Mike and Tom to go shopping for presents.
He must meet Mike and Tom at 2 o'clock.
He watches the long hand and counts the minutes to 2 o'clock.
He says: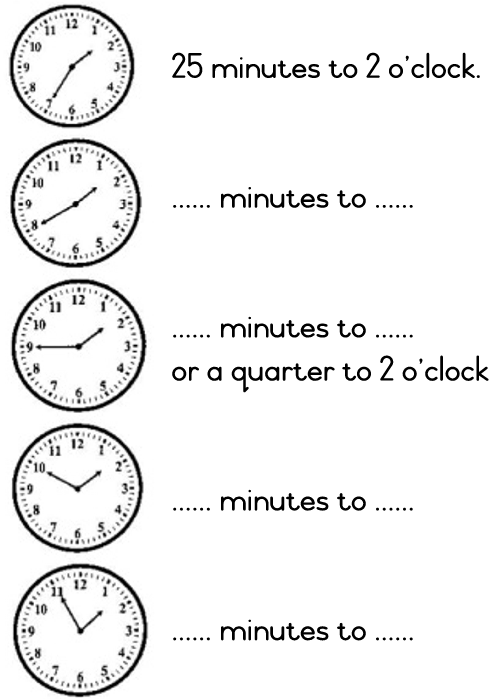 "Hip, hip hooray," says Des.
Only ...... more minutes to 2 o'clock.
And off he went to meet his friends.
Assessment
Learning Outcome 4: The learner will be able to use appropriate measuring units, instruments and formulae in a variety of contexts.
Assesseringstandaard 4.1: We know this when the learner reads analogue and digital clock time in hours and minutes;
Assesseringstandaard 4.3: We know this when the learner calculates elapsed time.