A number of theorists have focused their research on understanding social motives (McAdams&Constantian, 1983; McClelland&Liberman, 1949; Murray et al., 1938). Among the motives they describe are needs for achievement, affiliation, and intimacy. It is the need for achievement that drives accomplishment and performance. The need for affiliation encourages positive interactions with others, and the need for intimacy causes us to seek deep, meaningful relationships. Henry Murray et al. (1938) categorized these needs into domains. For example, the need for achievement and recognition falls under the domain of ambition. Dominance and aggression were recognized as needs under the domain of human power, and play was a recognized need in the domain of interpersonal affection.
Maslow's hierarchy of needs
While the theories of motivation described earlier relate to basic biological drives, individual characteristics, or social contexts, Abraham Maslow (1943) proposed a hierarchy of needs that spans the spectrum of motives ranging from the biological to the individual to the social. These needs are often depicted as a pyramid ( [link] ).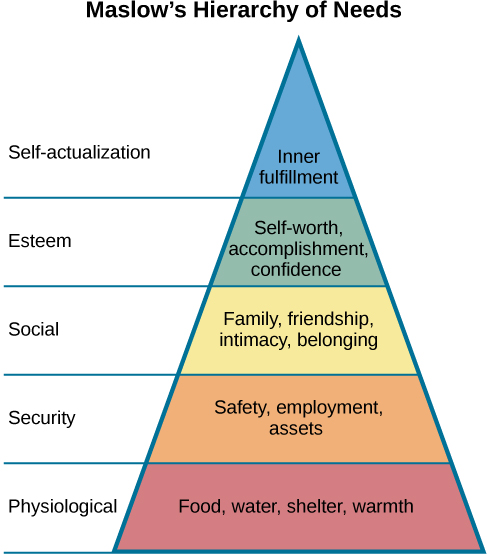 At the base of the pyramid are all of the physiological needs that are necessary for survival. These are followed by basic needs for security and safety, the need to be loved and to have a sense of belonging, and the need to have self-worth and confidence. The top tier of the pyramid is self-actualization, which is a need that essentially equates to achieving one's full potential, and it can only be realized when needs lower on the pyramid have been met. To Maslow and humanistic theorists, self-actualization reflects the humanistic emphasis on positive aspects of human nature. Maslow suggested that this is an ongoing, life-long process and that only a small percentage of people actually achieve a self-actualized state (Francis&Kritsonis, 2006; Maslow, 1943).
According to Maslow (1943), one must satisfy lower-level needs before addressing those needs that occur higher in the pyramid. So, for example, if someone is struggling to find enough food to meet his nutritional requirements, it is quite unlikely that he would spend an inordinate amount of time thinking about whether others viewed him as a good person or not. Instead, all of his energies would be geared toward finding something to eat. However, it should be pointed out that Maslow's theory has been criticized for its subjective nature and its inability to account for phenomena that occur in the real world (Leonard, 1982). Other research has more recently addressed that late in life, Maslow proposed a self-transcendence level above self-actualization—to represent striving for meaning and purpose beyond the concerns of oneself (Koltko-Rivera, 2006). For example, people sometimes make self-sacrifices in order to make a political statement or in an attempt to improve the conditions of others. Mohandas K. Gandhi, a world-renowned advocate for independence through nonviolent protest, on several occasions went on hunger strikes to protest a particular situation. People may starve themselves or otherwise put themselves in danger displaying higher-level motives beyond their own needs.
Check out this interactive exercise that illustrates some of the important concepts in Maslow's hierarchy of needs.
Summary
Motivation to engage in a given behavior can come from internal and/or external factors. Multiple theories have been put forward regarding motivation. More biologically oriented theories deal with the ways that instincts and the need to maintain bodily homeostasis motivate behavior. Bandura postulated that our sense of self-efficacy motivates behaviors, and there are a number of theories that focus on a variety of social motives. Abraham Maslow's hierarchy of needs is a model that shows the relationship among multiple motives that range from lower-level physiological needs to the very high level of self-actualization.
Personal application question