In [link] , if it is assumed that the first day is Monday, write a matrix that gives probabilities of a transition from Monday to Wednesday.
Let denote that Professor Symons walks and denote that he rides his bicycle.
We use the following tree diagram to compute the probabilities.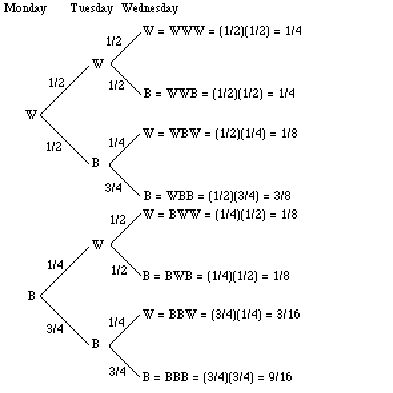 The probability that Professor Symons walked on Wednesday given that he walked on Monday can be found from the tree diagram, as listed below.
.
.
.
.
We represent the results in the following matrix.

Alternately, this result can be obtained by squaring the original transition matrix.
We list both the original transition matrix and as follows:
The reader should compare this result with the probabilities obtained from the tree diagram.
Consider the following case, for example,
It makes sense because to find the probability that Professor Symons will walk on Wednesday given that he bicycled on Monday, we sum the probabilities of all paths that begin with and end in . There are two such paths, and they are and .