Refinements and enhancements of X-ray techniques have continued throughout the twentieth and twenty-first centuries. Although often supplanted by more sophisticated imaging techniques, the X-ray remains a "workhorse" in medical imaging, especially for viewing fractures and for dentistry. The disadvantage of irradiation to the patient and the operator is now attenuated by proper shielding and by limiting exposure.
Modern medical imaging
X-rays can depict a two-dimensional image of a body region, and only from a single angle. In contrast, more recent medical imaging technologies produce data that is integrated and analyzed by computers to produce three-dimensional images or images that reveal aspects of body functioning.
Computed tomography
Tomography refers to imaging by sections. Computed tomography (CT) is a noninvasive imaging technique that uses computers to analyze several cross-sectional X-rays in order to reveal minute details about structures in the body ( [link] a ). The technique was invented in the 1970s and is based on the principle that, as X-rays pass through the body, they are absorbed or reflected at different levels. In the technique, a patient lies on a motorized platform while a computerized axial tomography (CAT) scanner rotates 360 degrees around the patient, taking X-ray images. A computer combines these images into a two-dimensional view of the scanned area, or "slice."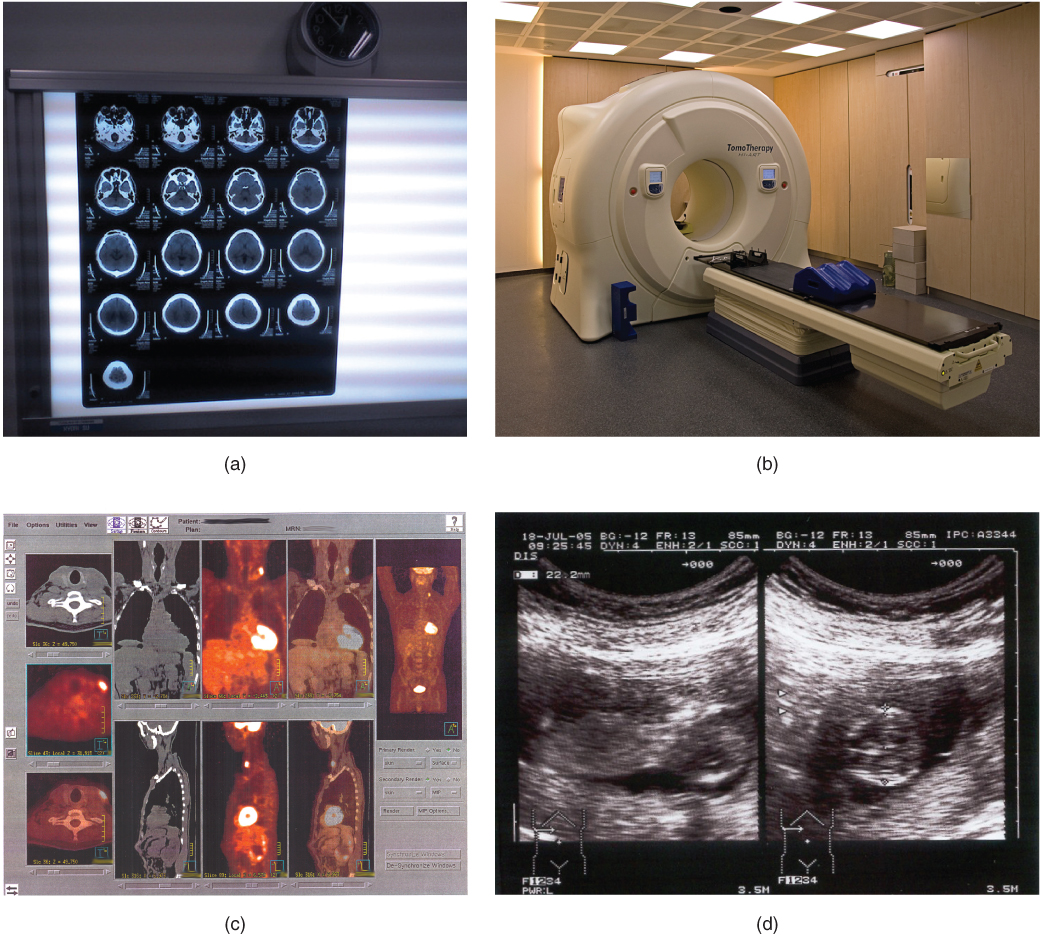 Since 1970, the development of more powerful computers and more sophisticated software has made CT scanning routine for many types of diagnostic evaluations. It is especially useful for soft tissue scanning, such as of the brain and the thoracic and abdominal viscera. Its level of detail is so precise that it can allow physicians to measure the size of a mass down to a millimeter. The main disadvantage of CT scanning is that it exposes patients to a dose of radiation many times higher than that of X-rays. In fact, children who undergo CT scans are at increased risk of developing cancer, as are adults who have multiple CT scans.
A CT or CAT scan relies on a circling scanner that revolves around the patient's body. Watch this video to learn more about CT and CAT scans. What type of radiation does a CT scanner use?
Magnetic resonance imaging
Magnetic resonance imaging (MRI) is a noninvasive medical imaging technique based on a phenomenon of nuclear physics discovered in the 1930s, in which matter exposed to magnetic fields and radio waves was found to emit radio signals. In 1970, a physician and researcher named Raymond Damadian noticed that malignant (cancerous) tissue gave off different signals than normal body tissue. He applied for a patent for the first MRI scanning device, which was in use clinically by the early 1980s. The early MRI scanners were crude, but advances in digital computing and electronics led to their advancement over any other technique for precise imaging, especially to discover tumors. MRI also has the major advantage of not exposing patients to radiation.