Natuurwetenskappe
Graad 5
Energie en verandering
Module 35
Energie as 'n bron van hitte
Aktiwiteit 1:
Om energie as bron van hitte te kan bespreek
[lu 1.3.1; 2.1]
Kom ons kyk hoe ons van direkte sonlig kan gebruik maak.
As 'n eerste stap kan jy gerus 'n klein oefening doen om die KRAG van sonlig (die hoeveelheid energie wat dit bevat) te bepaal.
Gebruik 'n vergrootglas en brand jou naam op 'n stuk papier uit.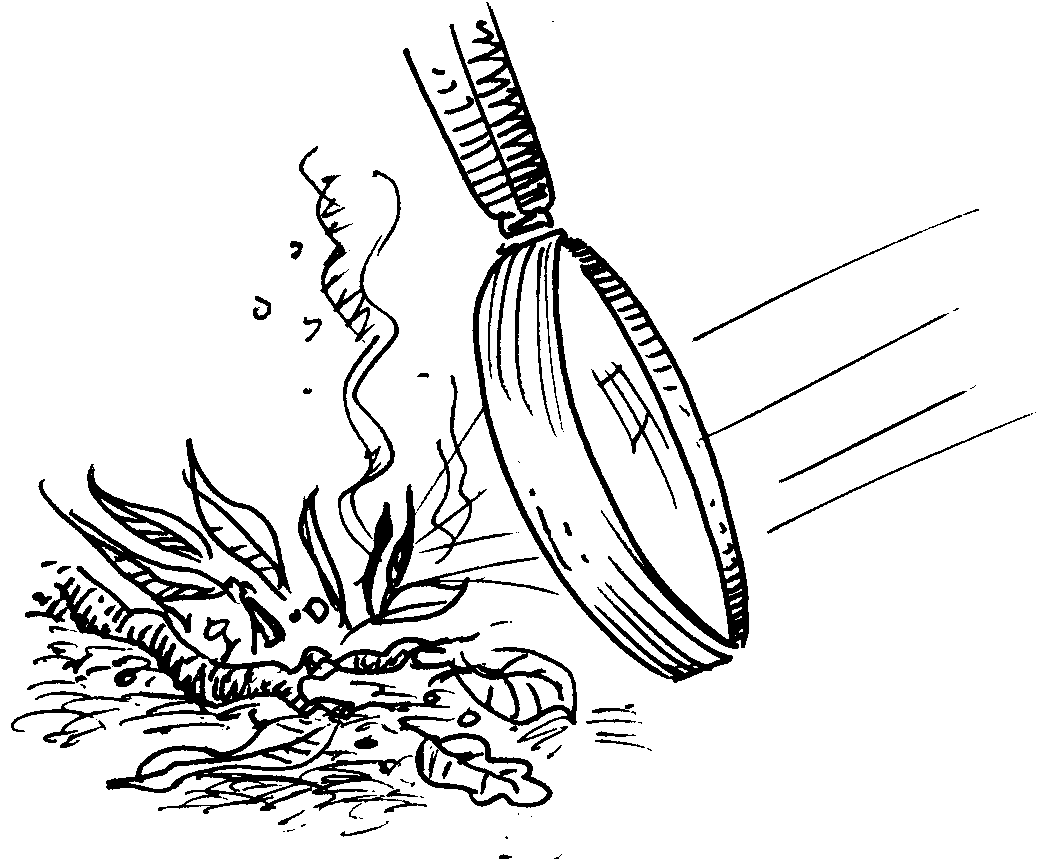 Beskryf wat gebeur (gebruik die woorde sonligenergie, konsentreer, hitte, brand):
Hoekom moet leë glasbottels nie in die veld gegooi word nie?
Aktiwiteit 2:
Om die gebruik van sonligenergie vir waterverwarming deur middel van sonpanele te kan bespreek
[lu 3.1.1]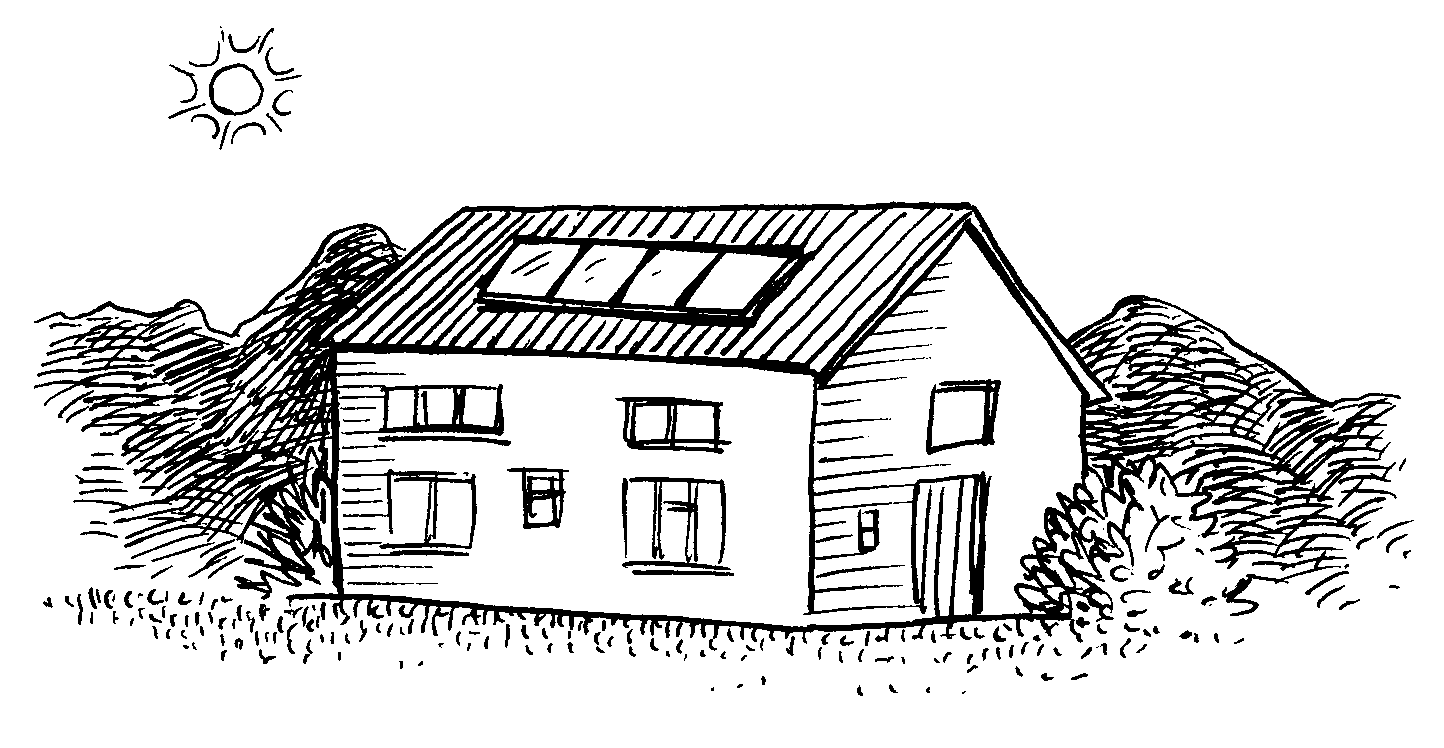 Hierdie sonpanele vang sonligenergie op. Op hierdie eenvoudige manier kan 'n huis van warm water voorsien word sonder die gebruik van elektrisiteit. Die panele bestaan uit lang pype wat teen mekaar gevou lê om die oppervlak wat bestraal word soveel moontlik te vergroot. Die pype is gekoppel aan die waterstelsel in die huis.
Ongelukkig skyn die son egter nie dag en nag nie en in sekere seisoene, byvoorbeeld winter, is die hitte van die son onvoldoende. Ons moet dus planne beraam om ook van ander bronne gebruik te maak.
Aktiwiteit 3:
Om die gebruik van gestoorde energie vir verwarming te kan bespreek
[lu 3.1.1]
Die mees algemene manier van hitteverskaffing vir verwarming was in die verlede om 'n stof te verbrand sodat die gestoorde energie as warmte of hitte vrygestel word.
Hout word veral in landelike gemeenskappe steeds algemeen gebruik. Oop vure en vure in kaggels of konkas verskaf aan baie mense warmte in die winter. Suid-Afrikaners is ook bekend vir hul liefde vir braaivleis.
Ongelukkig gebruik mense dikwels waardevolle hout wat hulle in die veld versamel. Hierdie hout behoort te verweer sodat die bestanddele daarvan weer in die grond beland waar die boom dit oorspronklik gekry het om te kon groei. As die hout egter opgetel en verbrand word, verarm die grond en kan daar uiteindelik nie meer plante groei nie. Dit lei daartoe dat die balans van die natuur versteur word en afwykings soos aardverhitting ontstaan.
Gelukkig gebruik mense egter dikwels hout van bome wat as plantasies aangeplant is.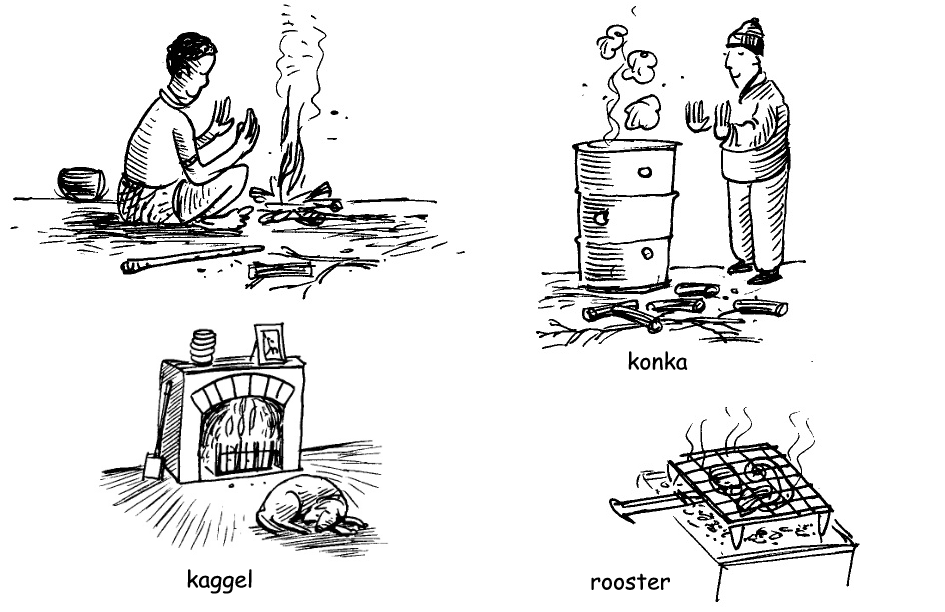 Steenkool word steeds in sekere outydse stowe en kaggels verbrand om hitte vir verwarming of kookdoeleindes te verkry. Interessant om te dink dat dit eintlik sonligenergie van miljoene jare gelede is wat dan verbrand word!
Paraffien word nog algemeen deur mense in afgeleë gebiede gebruik. In sulke gebiede is daar dikwels nog nie elektrisiteit nie en maak die mense gebruik van 'n primus. Paraffien word in die toestel verbrand om energie vry te stel wat die kos laat gaar word.
Beskryf in vyf sinne hoe die mense se metodes om gestoorde energie deur verbranding vry te stel, met verloop van tyd verbeter het.
Aktiwiteit 4:
Om die gebruik van wrywing vir die verskaffing van energie te kan bespreek
[lu 1.1.1; 3.1.1]
Wrywing kan ook gebruik word om gestoorde energie in die vorm van hitte vry te stel.
Vryf jou hande vinnig en hard teen mekaar. Wat voel jy?