Sosiale wetenskappe: aardrykskunde
Graad 7
Bevolkingsgroei en verandering
Module 6
Die faktore wat groei en verandering beïnvloed
Aktiwiteit 1:
Om vrae oor die verspreiding van die wêreldbevolking te beantwoord
[lu 1.5]
Die wêreldbevolking is nie eweredig versprei nie. Hoekom nie ? Bestudeer die wêreldkaart [fig. 2, bevolkingsverspreiding] en kaarte in jou atlas, en beantwoord die daaropvolgende vrae:
2. Die verspreiding van mense oor die wêreld
a) Om watter rede is daar 'n yl bevolking by a , b en c ?
b) Om watter rede is die bevolking by d en e ook besonder yl?
c) Het die Amasonerivier in Brasilië iets met die bevolkingsverspreiding in dié land te doen? (Verduidelik)
d) Verduidelik die oorsaak vir die bevolkingskonsentrasie in die noordoostelike hoek van Afrika.
e) Sou julle sê dat Australië in die geheel gesien verstedelik is?
3. Bevolkingstrukture
Die jong bevolking soos uitgebeeld met behulp van die bevolkingspiramide in figuur 1 was dié van Engeland en Wallis in 1881. Vyftig jaar later het die prentjie heelwat anders gelyk, en nog vyftig jaar later het dit verdere verandering ondergaan. Die verandering word demografiese oorgang genoem.
Belangrike kenmerke van 'n bevolking wat met 'n tipiese piramide (met 'n breë basis) aangetoon word, is (a) hoë geboortesyfer, (b) hoë sterftesyfer, (c) kort lewensverwagting.
Die toename in bevolking van enige groep ('n land of gemeenskap) word met die volgende formule bereken:
Bt = g – s (+ of – netto migrasie)
Bt is die B evolkings t oename
G is die G eboortesyfer
S is die S terftesyfer
immigrante word bygetel , en
emigrante word afgetrek
As die Bt 'n relatief hoë syfer is, sal die bevolkingstruktuur as 'n piramide met 'n opvallend breë basis aangetoon word.
Migrasie geld nie net vir lande nie, maar ook vir bepaalde gemeenskappe binne lande.
Aktiwiteit 2:
Om 'n afleiding wat betrekking het op bevolkingstoename te maak
[lu 3.2]
Is dit moontlik dat die Bt nie 'n toename nie, maar 'n afname kan beteken? Motiveer jou antwoord.
Aktiwiteit 3:
Om die verskille in bepaalde bevolkings in piramides voor te stel
[lu 3.2]
Wanneer geboortes en sterftes normaalweg voorkom in gemeenskappe, en mits daar nie groot getalle mense deur migrasie bykom of vertrek nie, sal die bevolkingstruktuur met 'n taamlik "normale" piramide voorgestel kan word, soos Figuur 1. Julle weet dit al, maar stel julle net 'n smaller basis voor.
Binne dié normale gemeenskappe met hul "normale" piramides kan kulturele, sosiale en ekonomiese faktore tot gevolg hê dat die samestelling ten opsigte van ouderdomsgroepe en die verteenwoordiging van die geslagte verander. Die vorm van die piramide waarmee die bepaalde gemeenskap dan voorgestel word, sal van die "normale" een begin afwyk. As daar jaarliks 'n paar duisend jong Turkse mans uit 'n deel van Turkye weggaan om in Duitsland, byvoorbeeld in die stad München, te gaan werk, sal die strukture van die Turkse streek sowel as dié van München mettertyd verander.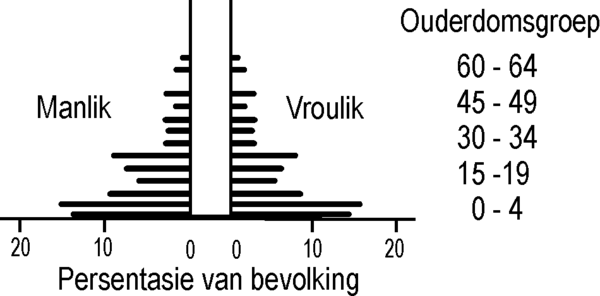 Die piramide vir gemeenskappe met 'n hoë geboortesyfer , hoë sterftesyfer en 'n kort lewensverwagting , sal steeds 'n "normale" piramidevorm hê, maar met 'n laer bopunt en opvallende inkepings aan die kant.